A Custom 2017 Honda Fit idea comes from Europe
With the Paris International Auto Show scheduled for the first two weeks in October, world-auto-manufacturers and regional European makers alike will present their best to a well dressed group of most discerning world media and Parisian Autophiles. Paris is the show that kicks of a mega-car-show season expected to bring no fewer than 50 new model reveals to Los Angeles, my personal ground zero.
Honda drops the sheet off of the all new Civic Type R
I know, we've beaten this Honda hatchback thing into the ground at Torque News. And, my fellow auto writers are jabbing Honda P.R. just a tad for double dipping the reveal of the all new 10th generation Civic world-compact platformed 5-door Civic Hatchback.
Yes, in the case of the 10th generation Civic, what you see in the U.S. is essentially what you get in Europe. Check out our coverage of the SEMA Honda Fit Customization competition here.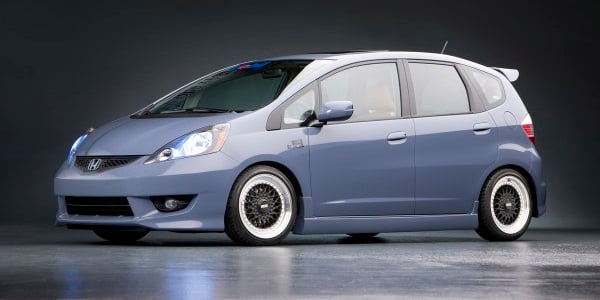 Flipping the page, I like what Honda's doing with this limited edition Jazz
Also on the Honda stage will sit this mildly customized 2017 Honda Jazz Spotlight Edition, a Fit by another name. Sporting a limited edition paint scheme, custom rims, tires, and a brass plated detail or two, I could see one of these, or something similar, giving Honda Fit sales a boost in the U.S.. Hey, offer a 1.5 liter turbocharged sport edition and I'll buy one. Who knows, there could be a limited edition Honda Fit coming down the production line in Japan headed for the U.S.. Honda's not saying!