600,000 Honda CR-V owners subject to latest Technical Service Bulletin
Well, that depends. Generally, a "recall' as such, is more often than not generated by an in house or agency promoted automotive-safety-issue. Brakes, leaking gasoline, airbags, wrist pins, you get it, safety. A "Technical Service Bulletin" is generated to dealership service departments as an 'allowed' and manufacturer-compensated corrective measure, prior to any recall, as such.
Why isn't my new car or light truck perfect?
600,000 CR-Vs manufactured in 2 years: American Honda Motors holds some of if not the highest quality production standards in the Auto industry. However, with the unprecedented development and integration of new technology in today's cars and light trucks, stuff happens!
In an age of very high tech computer managed engines and transmissions, every now and then, as with your desk or laptop computer, a software-control glitch occurs. This is the subject of an August 3 " Technical Service Bulletin" that's now finding its way to late model Honda Accord and CR-V, CVT specific owners in September. I drive CR-V with 10,000 miles showing on the odometer.
Your 2015, 2016 Honda CR-V may be subject to Honda's August transmission related service bulletin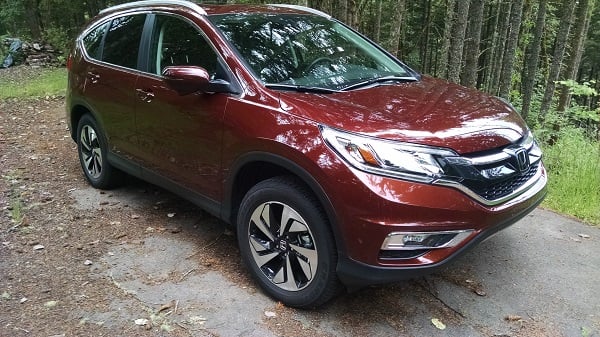 This notification points to an "incorrect learning value" in the PCM that regulates the controlled belt slippage of relatively new CVT (continuously variable transmission) technology. CVT is now widely employed in the auto industry to transfer torque in tandem with today's low displacement, fuel injected, 4 cylinder gasoline engines.
CVT works well in tandem with your engine towards increasing fuel efficiency by eliminating high-rev shift points, while increasing across the RPM range, usable torque. How's yours holding up?
Back to the service bulletin
As brought to my attention Tuesday morning by Torque news reader Ann, and substantiated through an Edmunds.Com forum, 600,000 CR-V may be subject to Honda's latest CVT related technical service bullitens. Here's the recap: Honda issued Technical Service Bulletin 16-053 on August 3, 2016. It applies to 2015-16 Accord (L4 with CVT) and 2015-16 CR-V (ALL with CVT).
Background: "An incorrect learning value in the PCM may cause a pressure problem in the CVT under certain driving conditions, causing a surge in RPM because the CVT belt slips at highway speeds and eventually setting DTC P1890 (CVT speed control system)."
Customer Notification: "Owners of affected vehicles will be sent a notification of this campaign. Do an iN VIN status inquiry to make sure the vehicle is shown as eligible. Some vehicles affected by this campaign may be in your used vehicle inventory. Repair these vehicles before they are sold."
Corrective Action: "Do the inspection and depending on if DTC P1890 is set or not, update the PGM-FI software or replace the transmission and update the PGM-FI software."
In other words, if your dealer service department finds an error code, they need to replace the transmission. If they do not find an error code, then they need to update the software.
Note: Have you received a letter from Honda? Open it! While this is not necessarily dangerous, it certainly could be a huge inconvenience. I'm assuming that all cost associated here would be covered under your vehicle warranty. For further information, you may contact American Honda Motors here.