2018 Honda Odyssey takes flight as America's most innovative minivan
With Monday came the Detroit International Auto Show reveal of 2018 Odyssey. And with the latest manifestation of the best selling family minivan in the U.S., Honda took flight with an exciting, segment busting reinvented family transporter. In effect 2018 Odyssey takes flight as America's most innovative minivan, with features rivaling a well equipped corporate jet.
The short story here: No other minivan offering, including Toyota Sienna, and the well received Chrysler Pacifica, comes close to the innovative, tech driven, feature rich environment presented through Honda Odyssey -- not one!
No shortcuts noted as ride and drive performance meets unprecedented ease of connectivity
While the exterior remains identifiable as an Odyssey minivan, it's been streamlined a bit as to roof line, side panel design, grill, lighting and rear hatch integration. As far a minivans go, 2018 Odyssey sheds the 'box' look of minivans past, with a jet-like body line that hints of things to come. Carrying the new generation "Honda look" into the next decade, this well balanced take on the family hauler redefines the minivan, much as the 10th generation Civic has done for the compact car segment.
Featuring a more powerful, fuel efficient 280 horsepower. Naturally aspirated (no turbocharger) best in class fuel efficiency, a low emissions V6, 2 new transmission options, including Honda's first "made in America" 10 speed automatic transmission, re-engineered rear suspension, improved braking, and thanks to active and safety noise mitigation, what Honda's John Mendel refers to as the quietest interior in the segment, the reinvented Odyssey impresses -- just a very small peek at what Honda's latest and greatest take on the minivan brings to the segment. Read my cross country Odyssey adventure here.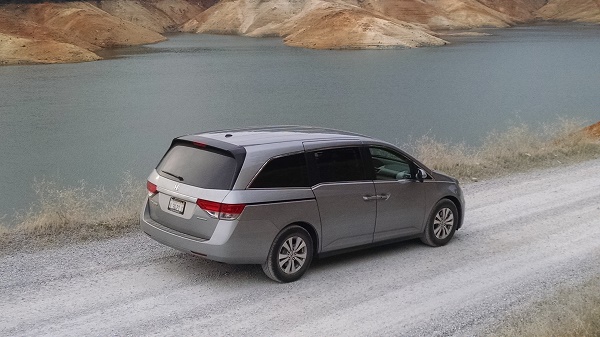 The Odyssey drive and ride experience will rival that of the Honda Jet with greater comfort
All the way down to the glass screen entertainment control center: Although Honda's not saying: I believe that engineering took their inspiration for 2018 Odyssey's interior, and driver-to-passenger ease of communication and connectivity from modern aeronautics.
For 2018, Odyssey's driver will effortlessly communicate with 2nd and 3rd row passengers through wireless headphones, while monitoring the cabin with Odyssey's dash mounted touchscreen command center via a ceiling mounted overhead camera. Gone is the split-screen center-stack, replaced with an oversized command module -- cool stuff!
2nd and 3rd row Passengers can now enjoy the option of seemingly limitless smartphone to vehicle connectivity, participatory music selection, and individual cabin temperature control through an available smartphone application -- as well as tracking a road trip's progress. That "when are we going to get there?" query just went the way of the iconic Ford LTD station wagon.
Ease of 3rd row access through side-slip "magic seat" transformer capability
For 2018, Honda Odyssey comes to the segment with several "firsts" including side-track adjusting and configurable 2nd row seating. The advantage here is ease of 3rd row access, an available 2nd row tall object floor to ceiling loading capability, with a seemingly endless choice of seating configuration options. Simply move your chosen seat over to the right, left, forward or back and go for it. Furthermore, with 3rd row seating folded into the floor and 2nd row seating removed, Odyssey becomes a fully functional ease of maneuverability near flat-deck utility van.
I'm assuming that the rear vacuum option remains
True to initial auto show reveals, we will not be privy to date of availability, specifications, and MSRP for a month or so. But, what we do know based on Monday's reveal at NAIAS, is that when released to the public sometime in the late summer of 2017, the " Made in the U.S.A." reinvented Honda Odyssey will effectively reinvent the minivan segment. I leap out on a precipice here and predict that 2018 Odyssey will come to market with a beginning MSRP within $500 of the 2017 offering.* $30,350 + How cool is that!
* Thank you Davis