I'd been drooling over the next generation Honda Clarity hydrogen fuel cell electric car for several years of international car show concept reveals. When it finally came to market fruition earlier this year, Clarity FCV not only far exceeded the expectations of car aficionados worldwide, but on first drive, proved to be a stunning drive and ride experience justifying nearly a decade of pre-production development and refinement.
Unfortunately, you may never see a Honda Clarity running the streets of your neighborhood. And frankly, that's a shame. Allow me to digress a bit. The now available 2017 Clarity hydrogen FCV, is currently outselling Acura's NSX supercar, the Toyota Marai, and any other hydrogen fuel cell car or SUV available for sale or lease in the U.S.. From what we've heard around the water cooler, Honda is not meeting demand. That may change in the near term with some Honda electrified car manufacturing transitioning to the U.S.. -- Clarity is manufactured for worldwide distribution in Japan.
According to our friends at American Honda, thousands of consumers are willing and able to lease Clarity, they live in California, mostly Los Angeles metro, with many want to be Clarity owners waiting on a corporate, state partnership funded expansion of a hydrogen fueling network that has progressed painless slow, not in small part to the 1 million dollar per station capital outlay -- and the non-subsidized, real cost of retail liquefied hydrogen fuel. Honda's offering an alternative. I first drove Clarity FCV in Santa Barbara , California.
3 Clarity Electric variants
With 300 + Clarity FCV's driving the freeways of Los Angeles, sometime in August 2017, Honda will launch the 2018 Clarity BEV (battery electric vehicle) Built on the same 5 passenger platform as the fuel cell Clarity, comfort, style and of the light high torque output is guaranteed. The fly in the ointment here for many electric car fans will be Clarity EV's stated between charge travel range of 80 miles or so -- right in line with the rare as hen's teeth Honda Fit EV.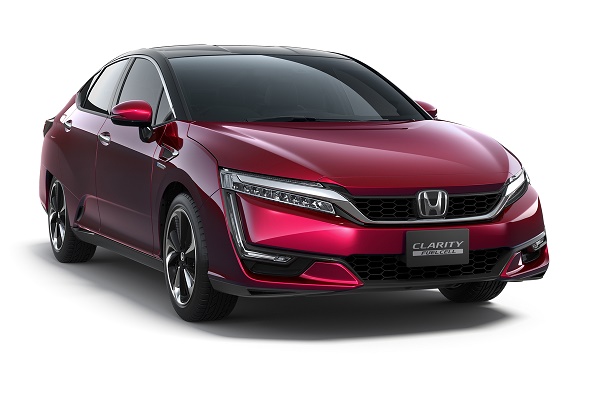 No worries, the second generation Clarity EV targets returning Fit EV leases, as well as millions of in-city short commuters that would gladly trade off an egg-like Leaf, of compact Fit, for the comfort, quiet, and luxury, of what Honda calls their most refined personal convenience produced to date.
No hydrogen, no worries, 2018 Honday Clarity BEV is visually, aesthetically identical
Here's the thing. Although Honda hasn't announced an MSRP for 2018 Clarity BEV, our friends at Auto Week stepped out on a ledge and threw a rock a dart at $35,000. Isn't that the estimated MSRP for Tesla 3?
Anyhow, In a recent real-world test of the underappreciated KIa Soul EV, your's truly discovered that on any given weekday, my chore-route was no more than 50 miles, well within Clarity BEV's between charge travel-range.
Here's the deal: For our readers living in California or Oregon, 2018 Clarity is available on a 36 month lease for $269 per month, with $1999 due at signing. Honda claims a very reasonable 80% quick charge in 30 minutes, with a 100% charge completed in under 3 hours -- reasonable. Honda's logic is financially sound when one take into account the heft, interior accommodations, active safety features, and segment leading head turning good looks.
With Honda Clarity you get 3
Rounding out the Clarity electrification trio will be the plug-in gasoline/electric hybrid, no doubt the sales leader of the three. Reportedly offering 40+ mile electric-only drive range, 2018 Clarity plug-in hybrid will bring Honda's most dynamic body design to the mainstream. Honda has yet to announce a roll out date for the plug-n Clarity.
Photo Attributions Parks McCants 2017 / American Honda Motors 2016