2017 Mazda3: Winter snow tires increase road to cabin noise
Transitioning from full size premium cars and SUVs to subcompact and compact car offerings can cloud a car review guy's judgement when it comes to the real world road assessment of cabin quiet. In rolls Mazda 3 is one of the better looking, near premium performance sedans in the under $30,000 compact sedan segment. Unbeknownst to me, our test mule was wearing winter treads.
Without exception, Mazda builds a quality product. Their car and light truck offerings meet or exceed the best fuel efficiency and engine performance numbers in their respective segments, and yes, Zoom, zoom, applies to Mazda 3 -- affordable, fuel efficient and sporty enough, yet family accommodating when called on to do so.
Recently, I called 2017 Mazda 3 excessively noisy on the interior, based on a rather extensive Winter week-long drive review. Followed by a phone call from our friends at Mazda, I stepped out the back door of our too often wet Eugene, Oregon location, and examined the tires worn by an otherwise road worthy, and relatively comfortable Mazda 3 compact sedan -- they weren't O.E.M.. What can I tell you? I drive a full time all-wheel drive on all-weather tires. I wasn't looking for Bridgestone Blizzak snow tires in Mazda3's rather wide wheel well.
Road sticky on icy, snow covered roads, Blizzak snow tires are road noise generators
With that said, Last week, Mazda provided Torque News with an O.E.M. tire equipped 2017 Mazda 3 on the streets of Seattle, Washington. With Ms Nancy King sitting in the driver's seat, we eagerly set out on a mission of sorts, from Sea-Tac Airport for the wilds of downtown Seattle. Was Mazda3's interior measurably quieter on factory specific radial street tires?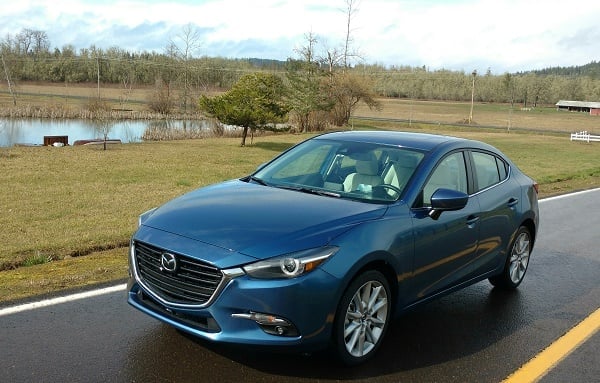 TorqueNews Discoveries of 2017 Mazda3
Here's what we discovered: While not the quietest compact sedan in the sub premium 4-door segment. Mazda 3 presents a powerful, great handling urban explorer, with very easy maneuvering and parking tendency. The interior noise level varies with transitioning road surface, as do all cars on the market today.
The top of segment power adjusted driver's seat, balance of interior color and finish composition, as well as a measurably refined engine, transmission paring, out scores any concerns as to road to cabin noise transfer. And certainly, with a full car, and the stereo turned up to a reasonable volume level, Mazda3 rolls with the best offerings in the segment.
At the end of the day, it all comes down to the qualified opinion of the automotive review driver. Could Mazda3 be quieter on the interior? Sure. But then again, for those of us that want a bit more refinement of accommodation without breaking the bank, there is Mazda 5.