2017 HR-V Epitomizes Honda's Roots of Affordable Car Value
Not the biggest, "baddest," or techiest offering in the segment, 2017 Honda HR-V continues to attract buyers in record numbers. It's refreshing to return to the reason most of, if not all of us, were initially attracted to the Honda Automotive brand. 2017 HR-V crossover takes us back to Honda's roots, or founding principles if you will. 'Produce a good car at an affordable price point,' that's HR-V. It is in essence, Honda's answer to a consumer's call for affordable car value.
Granted, as an automotive journalist, I spend much time obsessing over technological firsts, engine performance, drive dynamics, and automotive safety, it's generally what reader's demand from an auto review, I can dig it! But truthfully, for most of us, sprint-speed and a 2 to 3 MPG variance in fuel efficiency doesn't make or break the decision to purchase a specific car or light truck.
In our modern world of car-sharing, fiscal frugality, and one-car per family realities, today's car must pull double and triple duty. Daily commuter, family work and fun utility vehicle, with the occasional ' pedal to the metal' sprint through the yellow light, or a back road slalom run. Read my initial HR-V drive and ride experience here.
Coupe-like looks, decent interior, and enough go-power when needed
You won't find a turbocharged engine option for HR-V. Honda's very capable sub compact CUV, employs a normally aspirated 1.8 Liter i-VTEC 4 cylinder engine design (141 horsepower/ 127 lb-ft torque) that goes back well over a decade. But, when coupled to what is arguably the best working CVT in the industry today, HR-V is powerful enough for most drivers today - as is the combined driving 29 MPG fuel efficiency. HR-V's near mechanically bulletproof reliability has an appeal in itself, as does the transformer-like convertibility of the second row magic seat, and best in class flat-deck load capacity.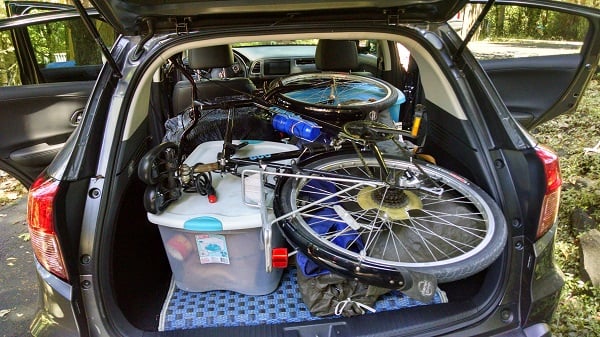 Low MSRP is the hook, but it's the total package that reels you in
With a beginning MSRP of $19,465 +, and an available all-wheel-drive option, HR-V continues to lead the subcompact CUV segment in sales. Once again Honda HR-V records yet another record sales month for February. Along with 2017 CR-V, and Fit, Honda's entry-portal, and light truck lineup continue to buck the auto trends. But for me, the proof is in the drive. We've taken a road trip or two in HR-V. Read our weekend lake adventure here.