Tesla and Relations with Panasonic After The Battery Day
Tesla has a history of cutting out suppliers to bring core competencies in house. And in doing so has amassed a long list of companies laid by the wayside. In a Report, Reuters talks to unnamed ex-employees and previous suppliers to ask, if this fate will also befall its battery supplier Panasonic.
Start Of A Relationship
Panasonic first partnered with Tesla way back in 2009. At that time, the decision was seen as a huge vote of confidence for the California upstart. In the deal, the two companies decided to develop the next generation of automotive-grade batteries together.
The Investment That Paid Off
In November, the following year, Tesla announced it had sold $30 million worth of its common stock to Panasonic. The transaction was at a price of, post stock split-adjusted, $4.23 per share. Tesla's stock price currently hovers at around $450. That is an 11,000% return for Panasonic. Or in other words, a $3.5 billion profit.
"An Honor For Tesla To Work With Panasonic"
Soon after Panasonic's investment, the duo started to reap the fruits of their deepening relationship. In a 2011 blog post, Tesla announced "Panasonic Enters into Supply Agreement with Tesla Motors to Supply Automotive-Grade Battery Cells". In this announcement, Tesla agreed for Panasonic to supply the batteries for its Model S sedan.
At the time Elon Musk was quoted as saying "It is a powerful endorsement of our technology that Panasonic, the world's leading battery cell manufacturer, has chosen to partner with Tesla"
The Giga Factory
In 2014, their relationship grew even stronger. Tesla, having already debuted the Model S, was planning its next phase of expansion.
In June of the same year, Panasonic and Tesla announced their initial agreement to build the Nevada Gigafacotry. At 35 gigawatt-hours of capacity, this factory alone would have more than double the entire world's lithium-ion battery supply.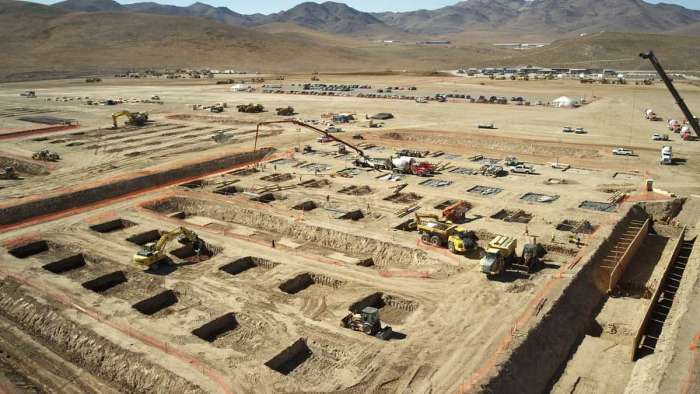 In 2016, Tesla's affordable sedan, Model 3 gets announced, The vehicle was sporting the 2170 cells developed in partnership with Panasonic. By this time the two companies had reached the height of their relationship.
Maxwell Technologies
In February of 2019, Tesla announced its intent to purchase a battery cell manufacturing technology company called Maxwell Technologies. This started the rumors, Tesla, forgoing Panasonic, will bring battery cell manufacturing in house.
Cracks Start To Form
Not helping to quiet the rumors, A report from Nikkei came out suggesting, due to lack of demand, Panasonic had decided to freeze its Nevada Gigafactory expansion.
Elon Musk, responding to this report, blamed the decrease in deliveries, a 30 percent decline in Q1 2019, on Panasonic. Writing in a tweet, Elon Musk said, Panasonic's production line has been a constraint on Model 3, and Tesla is the one freezing investments till Panasonic achieves the 35GWh potential capacity of the already built production lines.
Incorrect. Pana cell lines at Giga are only at ~24GWh/yr & have been a constraint on Model 3 output since July. No choice but to use other suppliers for Powerwall/Powerpack cells. Tesla won't spend money on more capacity until existing lines get closer to 35GWh theoretical.

— Elon Musk (@elonmusk) April 13, 2019
Master Of Our Destiny
Tesla's desire to be self-reliant for its battery supply is once again brought forth at the 2019 shareholder meeting. Talking about their acquisition Elon musk said, "We think this is quite strategic, this is a very important technology that will have a big effect on the cost and scale of cell production. And Tesla's newly hired CTO, Drew Bagelino said "We'll be the Masters of our destiny"
Battery Day
After 12 years, Tesla's complicated partnership with Panasonic is yet again at a crossroads.
Currently, it's all but confirmed Tesla is going into cell manufacturing on battery day. But, even with few days to go till the September event, it is still unclear whether Tesla plans to involve Panasonic in its plans. But, despite all the rumors, Panasonic seems confident of its partnership.
"There's no doubt our partnership will continue to innovate and contribute to the betterment of society," said a spokeswoman for Panasonic when asked about this by Reuters.
For more information: Check out all the ground-breaking things we expect will be announced at Battery Day. Also check out a video of our coverage of Berlin, Gigafactory.
Tinsae Aregay has been following Tesla and The evolution of the EV space on a daily basis for several years. He covers everything about Tesla from the cars to Elon Musk, the energy business, and autonomy. Follow Tinsae on Twitter at @TinsaeAregay for daily Tesla news.