You Won't Be Riding on Hyundai i30 N's Tailor-Made P Zero Tires In the US
Earlier this year, Hyundai unveiled the i30 N hot hatch performance fans really want but won't be able to get. It's being sold in Europe where they get all the fun new performance hatches. It's due to launch in Europe by the end of 2017, but U.S. enthusiasts can only look and not touch. The hot hatch will be riding on new special "HN" performance tires from Pirelli designed just for the i30 N for Europeans.
The all-new Hyundai i30 N was designed to be a performance car with a sporty dynamic for driving enthusiasts and looks like the South Korean automaker succeeded in a big way. It's so hot, they had Pirelli engineer a tailor-made version of its P Zero tire for the new performance hatch just in time for its European launch. The new P Zero tire has been marked with 'HN' on the tire's sidewall by Hyundai Performance N to denote its OE fitment for the i30 N.
US fans want one
The i30 N is powered by a 2.0-liter turbocharged engine delivering 275 PS (271hp) and 353 Nm torque (260 lb. ft of torque) and 378 Nm with the Overboost function). This hatch should be fun to drive in the curves. Hyundai says they developed the car for the racetrack where "performance were key priorities in the i30 N vehicle's development." The South Korean automaker recorded over 6213 miles of testing on the Nordschleife at the Nurburgring circuit.
Unfortunately, Hyundai never intended the i30 N for the U.S. market. But, Hyundai could be developing something specifically for Americans and they are bringing a race model to the U.S. for a reason. Performance fans in the U.S. can see the Hyundai i30 N on U.S. soil at the SEMA Show 2017.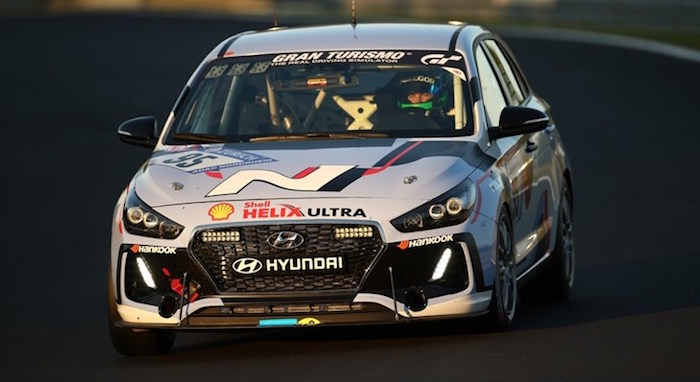 Hyundai just announced they are bringing the i30 N race car to this year's show in Las Vegas. This is the actual car that successfully took part and completed the grueling 24 Hours of Nurburgring endurance race last May. Performance fans in the U.S. could be getting a version of the Hyundai i30 N hot hatch after all. Stay tuned.
Photo credit: Hyundai Motor Europe