What used to be a weakness for Subaru, the new 2020 Legacy sedan now turns into a strength. In a recent interview with Automotive News, Subaru of America CEO Tom Doll told the automotive journal the previous-generation Legacy interior kept buyers away from the brand but that will be very different with the 2020 model change.
Subaru unveiled the new Legacy 2020 model change at the Chicago Auto Show in February and the sedan didn't appear to change much on the outside, but inside it's a different story. The interior could bring the biggest upgrade of all.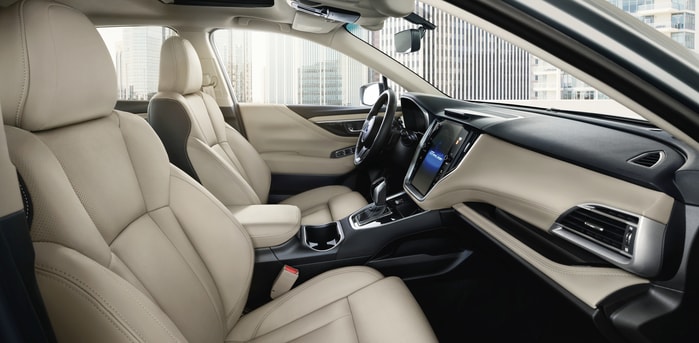 2020 Subaru Legacy upscale cabin
When asked what he sees happening with the newly-redesigned Legacy the new CEO had a revealing response. Doll told AN, "Based on our research, one of the reasons why people may have shied away from the Legacy sedan may have been because of the interior. If you look at the Legacy interior now, it's second to none."
2020 Subaru Legacy 11.6-in tablet
Legacy now features a revamped upscale interior highlighted with a new 11.6-inch tablet-style full HD multimedia display, the largest, most advanced infotainment screen ever in a Subaru. The cabin is larger and offers more legroom, now offering 41.1 inches of rear legroom, (more than Accord, Camry, Altima, Malibu, and Sonata) and features higher-grade materials, and the new Legacy Touring trim gives customers genuine Nappa leather. The Touring 2020 model change also brings with it a heated steering wheel, heated and ventilated front seats, and heated rear seats.
Subaru has certainly come a long way with its interiors. The Japanese automaker's interiors were the weak point for all their all-wheel-drive cars but the brand has come a long way since they had more hard plastic inside than anything else. Subaru interior materials were cheap and the fit and finish were poor. Those days have changed with the introduction of the 2020 Legacy and especially the Touring trim.
What changed?
Subaru learned their lesson with the Tribeca that was a failure for the brand. They brought the new Ascent family hauler and gave it luxury customers were asking for. The top trim Ascent Touring comes with a power driver's seat, Panoramic dual glass moonroof, rear privacy screen, second row fold-and-slide captains chairs, heated and ventilated front seats, heated second-row seats, Carmel cream wood accents, driver assistance steering wheel controls, a large center stack screen, and ambient lighting.
When the new 2020 Subaru Legacy sedan arrives in September, customers won't shy away from it anymore because of a cheap interior. Legacy will get luxury upgrades like the new Ascent 3-Row. Doll went on to say, "When you look at the price point where the Legacy competes, and what you're getting at that price point, I think customers are going to be very impressed."
Please, click to subscribe to Torque News Youtube channel for daily Subaru and automotive industry news analysis.
You Might Also Like: Why New Subaru Impreza Gets an A+ for Best Interior; The Old Model Got a Failing Grade
Bookmark my Subaru page and be sure to follow the latest 2020 Subaru Legacy model change reports on Facebook, Twitter, Instagram, Subaru Report. Tweet your Subaru news tips to us @SubaruLegitNews and we'll give you a shout out! Be sure to check back tomorrow for more Subaru news and updates.
Leave your comments below, share the article with friends and tweet it out to your followers!
Photo credit: Subaru USA