The 2024 Subaru WRX TR arrives, and it completely underwhelms performance fans. Here are three sad but true takeaways from the WRX TR reveal at Subiefest Florida. Keep reading for fan comments about the WRX TR. 
1. First, Fans are not excited about a WRX manual with EyeSight drivers assist safety technology. 
The WRX with Eyesight is a good safety feature, but performance fans are unlike Outback customers looking for the safest model for the family. WRX fans are interested in one thing: performance. And there were no engine upgrades.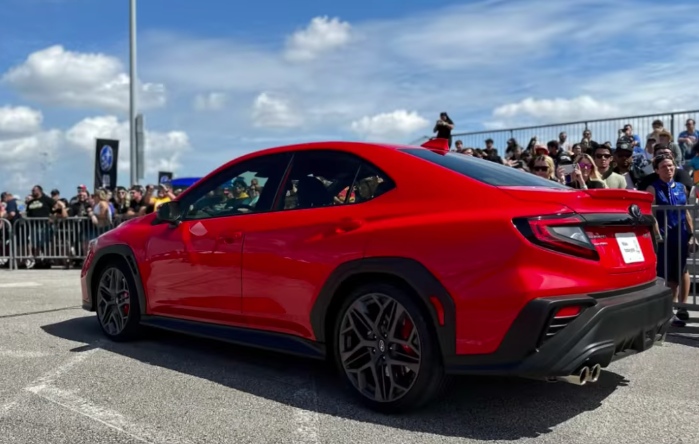 2. The WRX TR has the same power as the other trim levels.
Subaru Corporation could easily give the WRX more power, which they should have with the 2024 WRX TR they revealed this past weekend at Subiefest in Florida. But the WRX TR stays with the same 271 horsepower and 258 lb-ft of torque as the standard model. It didn't get fans excited. 
I think Subaru should have named the WRX TR the WRX STR. That would have been the perfect trim level to get additional power and give it more than the 310 horsepower the former STI had. The WRX TR already has other performance goodies with an upgraded suspension, tires, steering, and larger high-performance Brembo brakes to support the added power. Performance fans would have lined up in droves to buy a higher-performing WRX STR.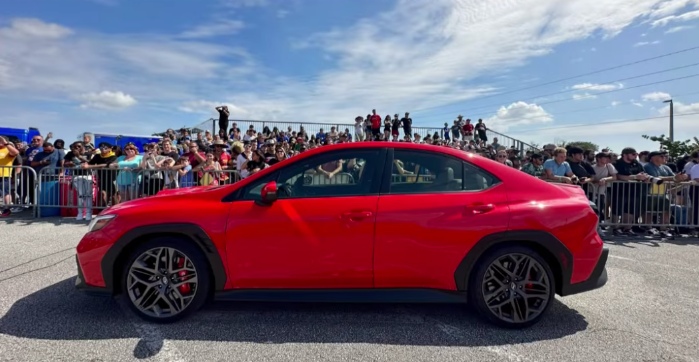 3. Fans want a Subaru WRX hatchback body style
Most fans remember when it was the Impreza WRX. Subaru dropped the Impreza name from WRX the same year (2015) they dropped the WRX hatchback. So it's time the WRX gets back to its Impreza roots and for Subaru Corporation to drop the WRX sedan and give it the hot hatchback body style.
Subaru could have given the WRX TR a hatchback body style, and that alone would have created a buzz around the new performance car that would have lasted for years. A hot WRX TR hatch would have sent sales through the roof and off the charts. 
The hatch offers more utility, and it's sportier than the sedan. Sedans are out as more buyers choose the crossovers and hatch models. But the WRX is still in the dark ages.
It's precisely what Subaru of America needs to ask Subaru Corporate for. An updated 2025 WRX hatchback body style and drop the sedan. Like the Impreza, the hatch offers more utility and is sportier than the sedan. But, unfortunately, WRX sales fell again in September. 
Subaru's game-changing move was to drop the Impreza sedan and bring a hot Impreza RS hatchback trim level. Will Subaru listen and do the same for the 2025 WRX? This automotive journalist says no. Let us know your opinion in the comments below.
Fans sound off on the Subaru WRX TR.
Performance fans sounded off about the new WRX TR, and they weren't happy. Here are a few comments from Subaru's social media pages. 
Patric Rybakiewicz. "Wow….! So many changes! No STI, no increase in HP. No hatchback. It's a Subaru 2022 WRX."
Allan Ayala. "Subaru wants to appeal to a broader market and stay almost the same as their competitors. It used to be; they pushed the edge of having a unique car that suited the enthusiasts."
Tim Davis. "So unexciting. I had a 2011 SWP hatch with the moonroof. I loved how it looked factory. Everything since has been weaksauce."
Claude Smith. "There's more excitement seeing it draped than seeing what's underneath the cover!"
Tyler Grigg. "Subaru needs to quit farting around and bring the STi back."
Sal Marchese. "Subaru of America, why do you insist on releasing these disappointing cars? This is not what the people want."
Todd Milo Jr. "Yea. Send it all the way back to Japan."
Matthew Donnelly. "The comment section on your IG says all that's needed. Most are disappointed. It's underwhelming and brings what should've come w/ the car from launch. Besides Eyesight, the last generation had all of this. Couldn't even come out with a special edition color?"
Cody Jones. "Took away the STI, gives us an underwhelming red WRX. woooo."
The new 2024 WRX TR was underwhelming for most Subaru fans. While performance enthusiasts wait for a new WRX STe, all-electric STI to arrive in four to five years, Subaru could have had a stop-gap WRX STR to hold fans over until 2027 when they reintroduce the STe eco-performance all-electric sports car.  
I can find fault with Subaru's decisions with the WRX, but Subaru has always marched to a different drummer. It's been this way in the two decades I've been covering Subaru, and it likely won't change anytime soon.
Thanks for reading, everyone. I hope you enjoyed this WRX TR report. See you tomorrow for my latest Subaru Report.
For additional articles related to the Subaru WRX and STI, here are a few of my top stories. 
Check out this YouTube video from Autotrader: 2024 Subaru WRX TR – Not So Tuner Ready Anymore?
Denis Flierl - I have over twenty years of Subaru and automotive journalism experience. I enjoy bringing you, the Subaru fans and customers, the most up-to-date Subaru news, reviews, and new model information. You'll find the latest Subaru stories on the Subaru page. Follow me on my The Dirty Subaru website, Subaru Report, All Subaru and WRX STI social media channels:  Also Facebook, Social Platform X, and Instagram. 
I've got you covered! - I cover all Subaru all the time. 
Please leave your comments below, share the article with friends, and post X to your followers!
Photo credit: Subaru