How the 2018 Toyota C-HR Caused Us To (S)wear Our Seat Belts
When Toyota axed the Scion brand, we thought the fun models would come to an end. Enter the 2018 Toyota C-HR. The new model is one of the most bold new compacts in recent memory, especially when it comes from Toyota who is best known for their generally conservative products. We aren't quite sure what Toyota was thinking with the seatbelt alarm, but we'll get to that later.
What's new for 2018?
The 2018 Toyota C-HR is an all-new new vehicle from the Japanese automaker, and it stands apart from other small crossover utilities with bold new looks and a high-riding stance. C-HR stands for Coupe, High Riding. It really isn't a coupe but it looks like one with the rear door handle hidden high above next to the roof line.
Toyota calls the C-HR a crossover, even though the new "coupe" doesn't offer all-wheel-drive. It's really a compact five-door hatch that's taller than most with a higher seating position.
The all-new C-HR competes against the Mazda CX-3, Honda HR-V, and the all-new 2018 Subaru Crosstrek. All are geared toward the millennial generation and all-wheel drive is available on all those models, but not the C-HR.
Features and options
The 2018 Toyota C-HR XLE ($22,500) comes with fabric seat upholstery, power windows/locks, 18-inch alloy wheels, dual-zone climate control, 7.0-inch touchscreen audio, leather-wrapped steering wheel, cargo cover, and rearview camera. Power mirrors contain turn-signal indicators.
This tester came with the optional Color Keyed Body with White roof ($500), Removable cross bars ($299), Universal tablet holder (99), TRD oil cap ($75), Carpeted floor and cargo mats ($194), Mudguards ($129), Paint protection film ($395), Emergency Assistance kit ($59), Rear Bumper protector ($79), and Wheel locks ($75). Total MSRP including destination: $25,364.
Interior highlights
Compared to other small hatchbacks, the Toyota C-HR's cabin scores high with good quality materials, some soft-touch surfaces ,and the all-black cabin is attractive and well laid out. It's quite spacious inside, front and back, and the C-HR is wider than we expected. The front seats are well-bolstered and comfortable, and taller drivers won't have a problem finding a good cruising position.
Along with the contemporary exterior styling, the cabin is also designed to appeal to younger buyers. The central control pod is called MeZone by Toyota and for good reason. The 7.0-inch touchscreen blends in with stylish-looking knobs, controls and switches, and attractive diamond shapes can be seen throughout the cabin. Diamond patterns are molded into the plastic lower door panels and even stitched into the headliner fabric.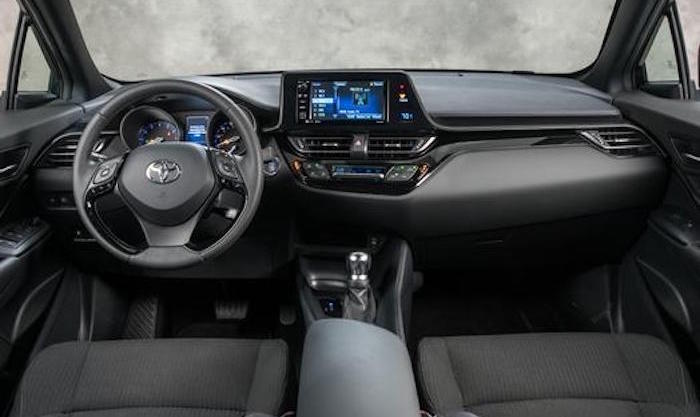 In the back, there is seating for three, but unlike many small hatchbacks only suited for two adults, three adults can actually fit on the back seat without undue discomfort in the C-HR. Rear passengers sit a bit higher too offering up a more comfortable upright position and extra foot space.
There isn't a lot of cargo space in the C-HR and doesn't match interior passenger roominess. Cargo volume is average offering up 19 cubic feet with the rear seat-back upright, growing to a modest 32.4 cubic feet when it's folded. The backseats fold flat to form a handy load floor, but it's fairly high, making it harder to squeeze in larger items.
Engine and fuel mileage specs
The 2018 Toyota C-HR, is powered by a 2.0-liter four-cylinder engine producing a paltry 144 horsepower and 139 pound-feet of torque, coupled to a continuously variable transmission (CVT). Front-wheel drive is the sole configuration.
The C-HR gets an EPA/DOT-estimated 27/31 mpg city/highway, and 29 combined mpg. Though adequate, those figures hardly constitute thrifty fuel-efficiency in a small front-wheel-drive car. A Subaru Crosstrek, for instance, manages an extra 2 mpg on the highway and that's with a 2.0-liter engine with CVT producing 152hp/145 lb. ft of torque and it offers all-wheel-drive.
Driving dynamics
When we first stepped into the C-HR, we started up the 2.0-liter engine and took off. We heard the seat-belt alarm give us one unobtrusive ding. Ok, that wasn't bad at all, and we kept driving. 30 seconds later, we hear a succession of five dings to let us know we hadn't clicked in our belts. 30 seconds later the annoying alarm was continuos and never stopped until we fastened the seat belts. We don't have a problem wearing our seat belts, but the annoying alarm on the C-HR is overdone and needs to be changed for sure. Go to Page 2.
After getting that settled down and quiet, our ride improved dramatically. The C-HR offers up satisfying driving dynamics with respectable handling and roadholding capabilities. We hit the tight mountain curves near Evergreen fast, and the hatch felt secure and kept us well-planted on the pavement. The ride on the highway is smooth and there's enough sound insulation to keep the drone of the CVT down to a minimum.
Where we notice the biggest issue with the C-HR is with its power output. The 2.0-liter engine's 144 horsepower is not enough for the high-altitude driving where we tested the car. We slid the gear shift into Sport mode hoping for better results, but still came away unsatisfied. For those living at sea-level, and on the flats, the hatch should be fine. Because of the bold-looking raked roofline, visibility to the rear and side is constricted and it doesn't matter where you live, it will be an issue when changing lanes in heavy city traffic. We would also like to see the new C-HR offered with all-wheel-drive for all-weather use.
Conclusion
When Toyota axed the Scion brand, they had to come up with a vehicle designed for younger buyers. Engineers came up with a cool design that attracted lots of positive attention and comments this week. We think Toyota hit a home run with the new styling language outside and inside. It will be easy for them to address the power issues by bumping up the horsepower in the 2.0-liter. The 2018 Toyota C-HR XLE comes well equipped and it's a good value for city dwellers who don't need all-wheel-drive.
Photo credit: Toyota USA