Kelley Blue Book has just released its Q3 Brand Watch Report, and the news is not good for Tesla. Among luxury-priced brands, Tesla has now dropped to the sixth most-shopped brand overall. KBB describes the reduced shopper demand for Tesla as "Plummeting."
During Q3, KBB's data shows that Tesla's shopper consideration dropped more than any other luxury-priced vehicle brand. BMW widened its lead over number two Lexus as the most-shopped luxury-priced brand.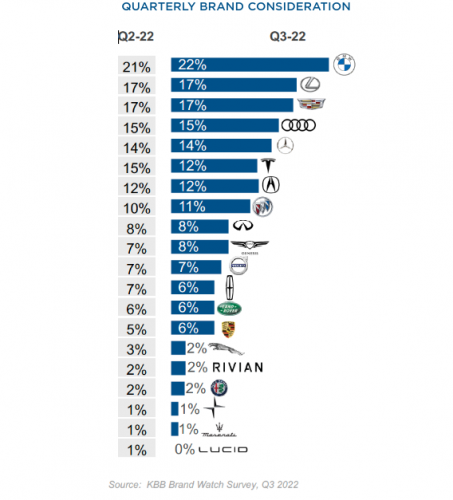 The Kelley Blue Book Brand Watch report is a consumer perception survey that analyzes consumer shopping behavior to determine how a brand or model stacks up with its segment competitors. KBB says that it uses a dozen factors key to a consumer's buying decision to determine shopper consideration.
Related Story: Tesla Model S/X Deliveries Drop By Half to Hit All-Time Low
The KBB report coincides with a dramatic drop in lead times for Tesla vehicles. Once approaching a year-long for some popular trims, Tesla's lead time for new vehicle orders for the Model 3 and Model Y is now just days for both Model 3 sedan trims and under a month for the Model Y Performance. Even the Model S supercar has a delivery time of less than a month, according to the Tesla ordering page.
KBB says that only 12% of shoppers in the market for a luxury-priced vehicle considered a Tesla. That is a decline from 15% in the prior quarter. This drop is the most significant of any luxury-priced brand, according to KBB. Even more ominous is the model-specific data. According to its research, KBB says that the Model Y fell off the Top 10 most-shopped luxury-priced vehicles list. This drop is meaningful because, for the prior two years, Tesla's Model Y had always been in the top 10. The Model S also dropped out of the top 10.
KBB theorizes that intensifying competition from other EV brands, Tesla's rapid pace of price hikes, and a long-term lack of inventory may have contributed to Tesla's cooldown. KBB also speculates that Elon Musk's controversial acquisition of social media platform Twitter may have contributed, but given the timing, that seems less likely to be a key factor.
The slowdown in shopper consideration is not common to the luxury-priced segment. Rivian, Lexus, Cadillac, Audi, and Mercedes-Benz all recorded the same percentage of shopping considerations as they had in the second quarter. BMW, Buick, Genesis, and Porsche all recorded gains in shopper consideration in Q3.
The news is not all bad for Tesla. KBB notes that Tesla's shopping numbers have dropped before and later recovered. Also, Tesla's lowest-cost vehicle, the Model 3, remains the number one vehicle considered by shoppers in the luxury-priced sedan class. Tesla also ranks highly among shoppers who put fuel efficiency at the top of their priority list. Tesla is first in this regard, followed by Rivian and Lexus. Tesla does not finish first, second, or third among shoppers for reliability, quality, durability, safety, exterior styling, or prestige. Tesla ranked third in interior layout after Mercedes-Benz and Cadillac.
If KBB's data and the reduction in Tesla lead times are not enough to convince skeptics that demand has softened for Tesla vehicles, perhaps the company's CEO can help. In Tesla's most recent earnings call with investors, Elon Musk said, "Demand is a little harder than it would otherwise be. But as I said earlier, we are extremely confident of a great Q4."
Image of Tesla retail location by John Goreham. Shopper consideration chart courtesy of Havas Formula and KBB.
John Goreham is a long-time New England Motor Press Association member and recovering engineer. John's interest in EVs goes back to 1990 when he designed the thermal control system for an EV battery as part of an academic team. After earning his mechanical engineering degree, John completed a marketing program at Northeastern University and worked with automotive component manufacturers, in the semiconductor industry, and in biotech. In addition to Torque News, John's work has appeared in print in dozens of American news outlets and he provides reviews to many vehicle shopping sites. You can follow John on TikTok @ToknCars, on Twitter, and view his credentials at Linkedin
Re-Publication. If you wish to re-use this content, please contact Torque News for terms and conditions.