Poll: Most Mazda CX-5 Buyers Report Paying Less Than MSRP
The Mazda CX-5 is one of America's top-selling crossovers. Mazda delivered more CX-5s in 2022 than Subaru delivered Foresters and Ford delivered Escapes. During the past 18 months or so, markups by dealers over the MSRP have been a hot topic on social media. Images and memes showing huge dealer markups over sticker price circulate and draw the ire of many shoppers and fans of various brands. We decided to see what Mazda owners report paying.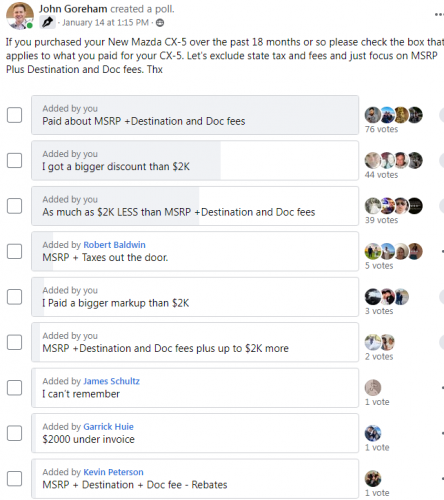 Related Story: Poll: Most Toyota RAV4 Hybrid Buyers Paid MSRP Or Less
To get some idea of how much Mazda owners paid for their CX-5 over the past 18 months, we turned to the Mazda CX-5 Club (USA) on Facebook. The club has over 16,000 members, making it one of the larger clubs of its type. It is also a very well-run club and very active. We created the simple poll that you see below. As you can see, The majority report paying less than MSRP. Very few Mazda owners report having paid more than MSRP.
Related Story: Huge Dealer Markups May Not Be What They Seem
The overwhelming majority of those who participated in our informal poll that ran for three days, including a weekend, report that they paid about MSRP. One-quarter of owners reported that they "got a bigger discount than $2K" off of the price of their new CX-5. Only 3% of owners reported that they paid more than $2K above MSRP.
We'd love to report the average transaction price of the Mazda CX-5, or tell you precisely what the average final cost was relative to MSRP, but automakers and their dealer-partners hold those cards close to the vest. Mazda is no different than any other automaker in that regard.
Although inventory is without a doubt at a historic low point right now, Mazda owners are reporting that for the most part, Mazda's dealers are not taking advantage of this situation by gouging shoppers. We wanted to get some sort of local confirmation of this so we spoke to one Metro Boston area Mazda dealer in person. We did not identify ourselves and asked about buying a new CX-5. The salesperson we spoke to was the dealership's longest-working salesperson and he knew the CX-5 backward and forwards. He confirmed that this dealership does not add any market adjustment to the cost. He explained that all vehicles right now are pre-purchased. Not really ordered. The vehicle is purchased from arriving inventory and the delivery takes a few weeks in most cases.
If you own a Mazda CX-5 you purchased over the past 18 months or so, and would like to add your new-vehicle purchase experience to the story, please feel free to do so in the comments below. Adding your state and vehicle trim would make the comment more meaningful.
Mazda CX-5 Fast Facts:
-One of the top-selling two-row crossovers in America
-IIHS Top Safety Pick Plus
-Has earned a score of either 4 or 5 every year since 2013 on the Consumer Reports reliability scale (5 is best)
-Optional Turbo trims have over 310 lb-ft of torque
-Uses a geared transmission - NOT a CVT
-Standard AWD for 2022 Model Year
Mazda dealer image courtesy of Mazda. Mazda CX-5 poll image courtesy of Facebook.
John Goreham is a long-time New England Motor Press Association member and recovering engineer. John's interest in EVs goes back to 1990 when he designed the thermal control system for an EV battery as part of an academic team. After earning his mechanical engineering degree, John completed a marketing program at Northeastern University and worked with automotive component manufacturers, in the semiconductor industry, and in biotech. In addition to Torque News, John's work has appeared in print in dozens of American news outlets and he provides reviews to many vehicle shopping sites. You can follow John on TikTok @ToknCars, on Twitter, and view his credentials at Linkedin
Re-Publication. If you wish to re-use this content, please contact Torque News for terms and conditions.