The Insurance Institute For Highway Safety (IIHS) is the agency that conducts the most rigorous automotive safety testing in America. In a new, more difficult-to-pass side-impact test, the Mazda3 Sedan and Mazda3 Hatchback were the only small vehicle models of the 11 tested to earn the highest rating of "Good."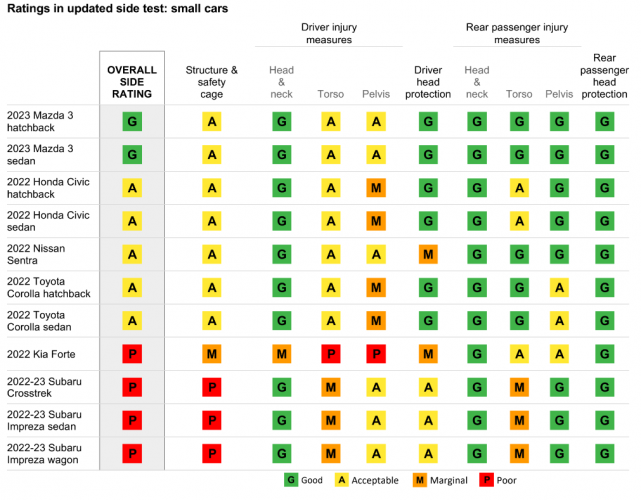 In earlier testing, Mazda's CX-5 was the only five-passenger crossover to score Good. In a test of three-row midsize SUVs, the Mazda CX-9 also earned the top, "Good" rating, standing out as one of only two vehicles in the segment to do so. The biggest surprise is that brands widely respected as those with the safest models, such as Subaru, are having so much trouble keeping pace with the ever-increasing safety standards set by IIHS. Mazda is apparently designing its cars to a higher safety standard than other brands.
IIHS Senior Research Engineer Becky Mueller, who spearheaded the development of the evaluation, seems to agree that some manufacturers have made strides toward a higher level of safety. Ms. Muller commented following the most recent test, saying, "Smaller, lower vehicles are at a disadvantage when struck by the new test barrier, which is a more realistic representation of the front end of a typical modern SUV than our old barrier. Clearly, some manufacturers have already figured out how to provide sufficient protection in a crash like this even for occupants of small cars." Every vehicle Mazda makes that has been tested by IIHS earns the IIHS 2022 TOP SAFETY PICK+ designation. "We are proud to add Mazda3 to the list of Mazda's top-performing vehicles in side impact safety," said Mazda Manager of Vehicle Safety Compliance, Planning, and Development Jennifer Morrison. "We took lessons learned from CX-5 and CX-9 to offer an equal level of occupant protection in our small car, the Mazda3." Subaru had three models, a sedan, a hatchback, and a crossover that scored Poor, and Kia had one car model that scored Poor. As the chart breaking down the individual aspects of the test shows, Subaru had problems with the safety structure of the vehicle, and Kia did poorly due to the overall rating for likely injuries. Toyota, Nissan, and Honda all had models that earned Acceptable overall scores. IIHS updated its side crash test to use a heavier barrier traveling at a higher speed to simulate an SUV striking a vehicle. The new barrier weighs 4,200 pounds, about the weight of a midsize SUV. The barrier and test vehicle come together at 37 mph. In the old test, a 3,300-pound barrier traveled at 31 mph. Notably, all of the 11 vehicles for which results were released today earned a score of Good on the prior test. The new test requires that the test vehicle withstand a significantly higher impact force. Starting in 2023, a Good rating will be required to earn the IIHS TOP SAFETY PICK+ designation. Currently, only Mazda has proven it can do so. Image and chart courtesy of IIHS. John Goreham is a long-time New England Motor Press Association member and recovering engineer. John's interest in EVs goes back to 1990 when he designed the thermal control system for an EV battery as part of an academic team. After earning his mechanical engineering degree, John completed a marketing program at Northeastern University and worked with automotive component manufacturers, in the semiconductor industry, and in biotech. In addition to Torque News, John's work has appeared in print in dozens of American news outlets and he provides reviews to many vehicle shopping sites. You can follow John on TikTok @ToknCars, on Twitter, and view his credentials at Linkedin Re-Publication. If you wish to re-use this content, please contact Torque News for terms and conditions.