Electric vehicle chargers (EVSEs) are becoming better every day. And prices are steady or declining, even with steep inflation. One brand we feel offers great value is Lectron. When I first began testing EVs many years ago, I found that more than a few of the EVs I tested had faulty portable chargers in the trunk. To make my life easier, I turned to Amazon to find a backup in case the EV I was testing would not charge using the Level 1 charger it came with. Buying a Level 2 portable charger from Lectron was the best thing I ever did in my business. The charger was affordable, compact, and easy to use, and it worked flawlessly for many years. I gifted it to a new homeowner when I moved my home. 
Related Story: Lectron V-Box 48A EV Charger Review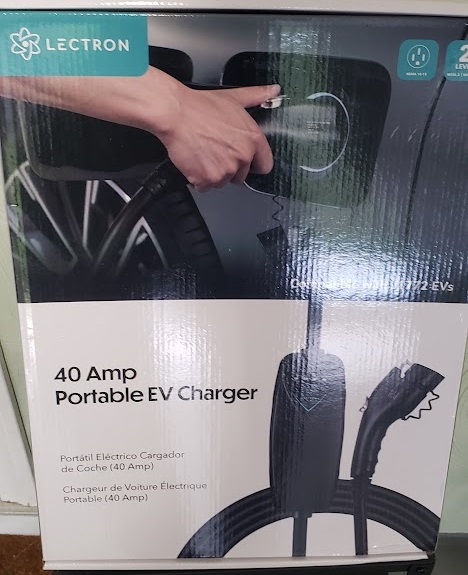 This week, I'm testing a new portable charger from Lectron. The Level 2 Portable 40 amp charger is all the things my original charger was. Let's start with simplicity. The charger comes in a box with no overpacking at all, inside of which the charger is neatly coiled inside of an attractive carrying case you can store in your trunk or garage.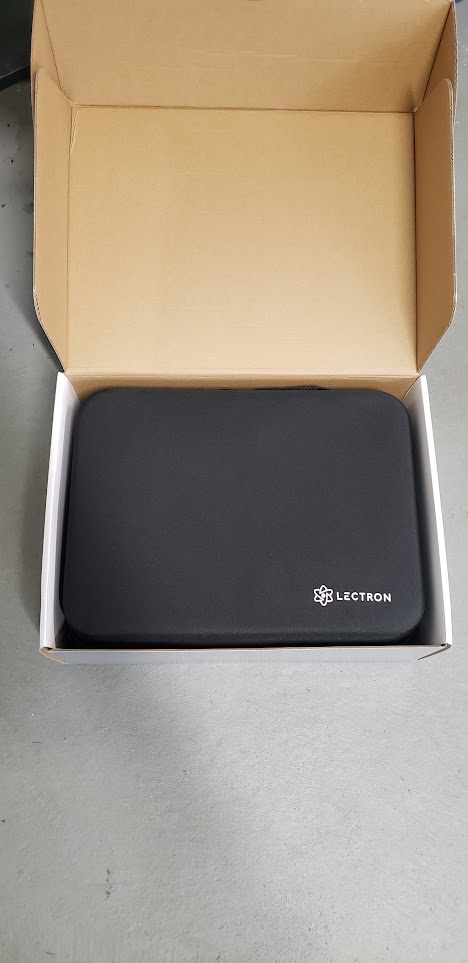 I opened the packaging, plugged the charger into my NEMPA 14-50 outlet, and plugged the J-plug into a Mercedes EQS 580 that I am testing this week. Charging began. No fuss, no directions needed (though they were in the box), and the charger put the juice into the vehicle. How could charging possibly be easier?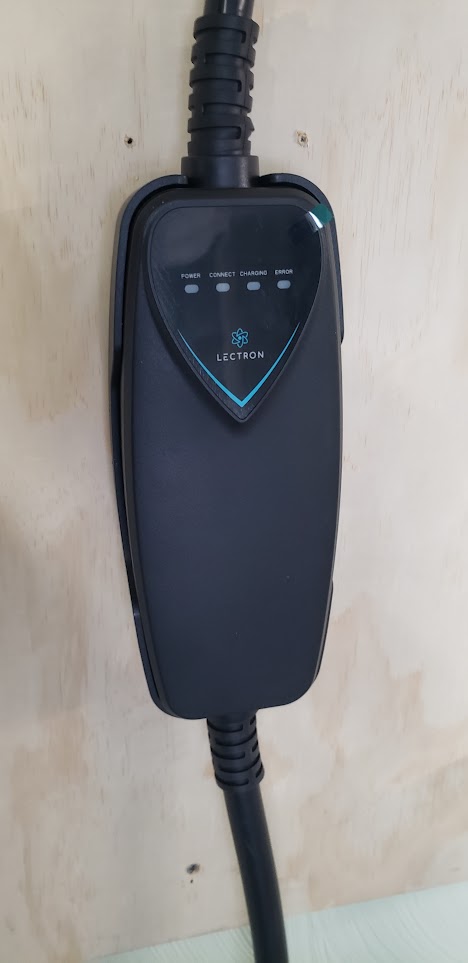 Lectron Portable 40 amp Charger - Mounting
Should you wish to use this as your home charger, it would work just fine. Lectron provides a mounting bracket that the portable charger can clip into. Lectron also sells separate J-plug holders and cable harnesses for a few bucks. I used a portable charger mounted to a garage wall for years with no trouble. This one could work that way as well. I had it zipped up onto my test backboard in under a minute, and it worked great.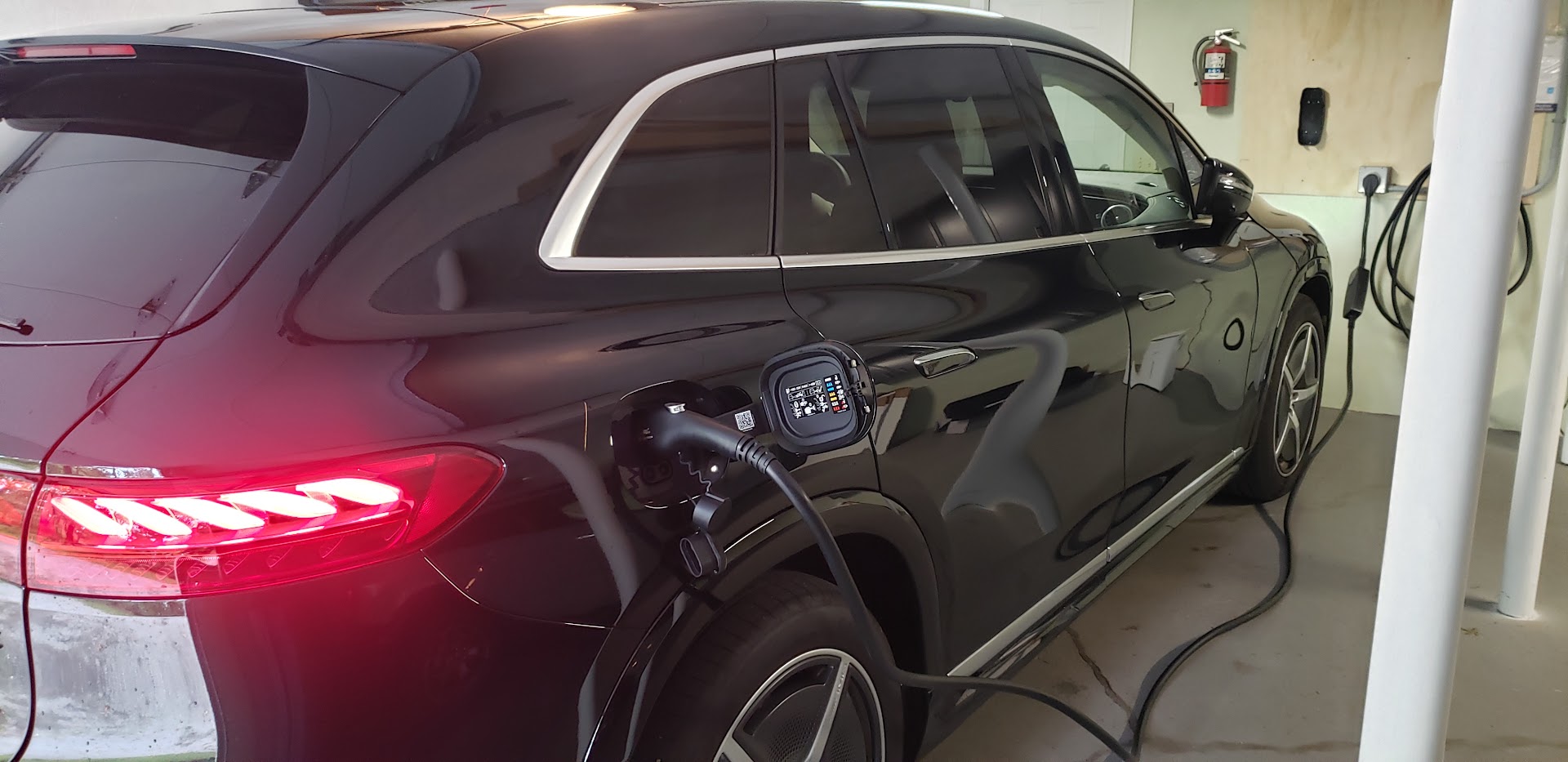 Lectron Portable 40 amp Charger - Pricing & Availability
The 16-foot corded Portable 40 amp charger sells at Amazon for just $259. Prime days are just a couple weeks away, and we bet one might find a nice discount on the unit during those special offer periods. That price makes this the least expensive of all the chargers I have ever tested.
In addition to Amazon, if you are a Home Depot fan, you can pick up this charger, as well as many other Lectron products, in person at your local store or via the company's online store. Home Depot has listed the charger at $279.
Psst... You can pay less for this charge today by getting it directly from Lectron at this link.
Lectron Portable 40 amp Charger - Features
The 16-foot cable length is at the shorter end of the market, but it could reach the rear charging port on a huge Mercedes EQS just fine. The J-Plug is solidly built and has a very high-quality feel. It mated with the Mercedes power port very smoothly. LED lights show you your charging status at a glance. The cable itself is pliable and feels substantial. The unit comes Energy Star certified for efficiency.
The NEMA 14-50 plug makes good sense, and if you use a 50-amp circuit, you can charge using this unit just as fast as any other 40-amp charger, regardless of cost. Lectron makes a wide variety of other Level 2 chargers in this style with other plug ends rated for other lower amperages if your power supply differs.
Lectron Portable 40 amp Charger - Safety
The Lectron Portable 40 amp charger has overvoltage, overcurrent, and short circuit protection and is rated for dust and water resistance.
Lectron Portable 40 amp Charger - Charging Speed
We used the Lectron 40-amp charger multiple times and found that it added in the expected power. The rate at which a charger can add energy is limited by three things. First, the charger itself. This one is rated at 240 volts and 40 amps, so your charging rate is a nominal 9,600 watts. Second, the vehicle. Some vehicles accept charge more rapidly than others and the state of charge dictates speed to a degree as one approaches 100%. Third, the power supply. In our case, our EV charger test setup's circuit is rated for 50 amps of continuous duty. 
Read About Lectron and the NACS Switchover Plan Here
Lectron Portable 40 amp Charger - Conclusion
We can think of many situations where the Lectron Level 2 40 amp Portable EV charger would be ideal. Those who did not receive a Level 2 charger with their vehicle could carry this one in their trunk. Owners who want simplicity could purchase this charger and use it at home daily would find it a great low-cost alternative to a wall-mounted unit. EV owners with a second home or cabin could use this as their "away" charger as well. Portable chargers are handy, even if you have a hard-wired, wall-mounted charger at home. 
Author Note: This product was provided to us at no charge for testing by the manufacturer. As with all of the products we accept for reviewing, we have offered to return it at the conclusion of testing. 
 
John Goreham is an experienced New England Motor Press Association member and expert vehicle tester. John completed an engineering program with a focus on electric vehicles, followed by two decades of work in high-tech, biopharma, and the automotive supply chain before becoming a news contributor. In addition to his eleven years of work at Torque News, John has published thousands of articles and reviews at American news outlets. He is known for offering unfiltered opinions on vehicle topics. You can follow John on Twitter, and connect with him at Linkedin.
Images of Lectron Portable charger in use during testing by John Goreham.