Car Talk Helps Bust the Myth That Soy Is Why Rodents Are Eating Your Car's Wires
When my neighbor first had me over to show me his vintage 1908 Buick Roadster we were in for a surprise. When he lifted the car cover off of it mice scurried away revealing a pile of stuffing from the car's seats and a bunch of half-eaten wiring. Jim told me this is something he had struggled with since his family owned the car. No, it wasn't soy-based wiring that attracted the mice to chomp on Jim's 113-year-old car. Rather it was instinct and the need to keep a chewing habit satisfied.
The myth that car wiring is being eaten by mice and other rodents due to the industry's ubiquitous use of modern wiring that contains soy has been discounted by experts who have been in the auto industry the longest. In his most recent Car Talk column, master mechanic Ray Magliozzi* (pronounced Mal-Yotsee) says there is no evidence linking the covering formulation of wires today and the rodent damage that has been happening since the dawn of the automobile.
Commenting on the idea that it is a new additive that is causing today's rodent damage, Ray says, "...while this is a plausible-sounding theory and may prove to be correct someday, we haven't seen any evidence we can cite that blames soy content in wires." Ray goes on to say, "We know they like warm places to make nests, like engine compartments. And we know they like to gnaw on stuff, because their teeth are always growing."
While you may disagree with one of America's most respected and best-known mechanics, what is not up for debate is that one specific brand is using a specific wiring type that is the cause of your vehicle's damage. Simply search "Rodent damage in cars" to see the many brands that are affected. By our estimation, it is every brand. From every part of the world. "One brand's novel soy wire" is not the cause of rodent damage in cars. Furthermore, rodents eat more than just elastomeric wire coverings in cars, They eat hard plastic components such as windshield washer tubing, induction plumbing, and even hoses.
A class-action lawsuit against Toyota related to rodent damage was dismissed by a judge due to lack of evidence.
Need more proof? The folks that produce soy commissioned a formal scientific study. Hey, why would they lie? In the study, researchers exposed elastomers and plastics with and without soy-based ingredients to mice. The mice chomped on both types quite happily. Sometimes science isn't all that difficult to conduct.
Consumer Reports calls rodent damage to cars an "age-old problem." The group also spoke to the pest control company Terminix, which also says that soy has no role in rodent wire gnawing.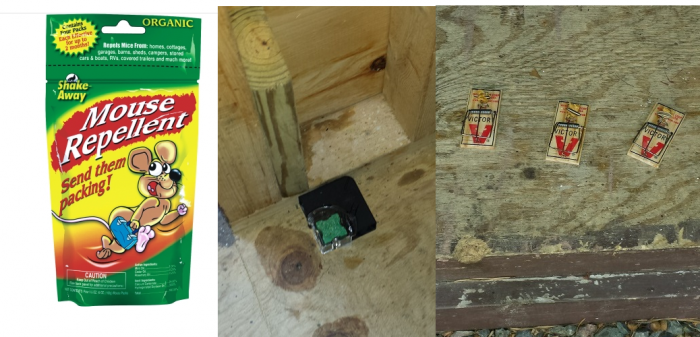 If your car's wires have been eaten by rodents contact your insurance provider. Most auto policies with comprehensive coverage do cover damage of this type, less your deductible of course. If you'd like to prevent your vehicle from being eaten by mice, start now by controlling the rodent population where you most commonly park your vehicle.
About Ray Magliozzi: Ray is a Cambridge, Massachusetts native and MIT graduate. Along with his late brother Tom, Ray ran two auto repair businesses, the better known being the Good News Garage. Tom and Ray hosted a popular PBS radio program called Car Talk, which earned a Peabody Award. The two have also appeared in many films. Ray is presently still part of the Car Talk team and you can read and hear his wisdom at CarTalk.com.
Images by John Goreham.
John Goreham is a long-time New England Motor Press Association member and recovering engineer. John's interest in EVs goes back to 1990 when he designed the thermal control system for an EV battery as part of an academic team. After earning his mechanical engineering degree, John completed a marketing program at Northeastern University and worked with automotive component manufacturers, in the semiconductor industry, and in biotech. In addition to Torque News, John's work has appeared in print in dozens of American news outlets and he provides reviews to many vehicle shopping sites. You can follow John on TikTok @ToknCars, on Twitter, and view his credentials at Linkedin
Re-Publication. If you wish to re-use this content, please contact Torque News for terms and conditions.