2023 is the year that Honda finally caught up to many of its peers with regard to off-pavement capability. The 2023 Honda Pilot AWD TrailSport has it where it counts and doesn't go over the top. If you drive on trails, head to a cabin, go skiing, or like to camp, the new Pilot is ideal for these and many more missions.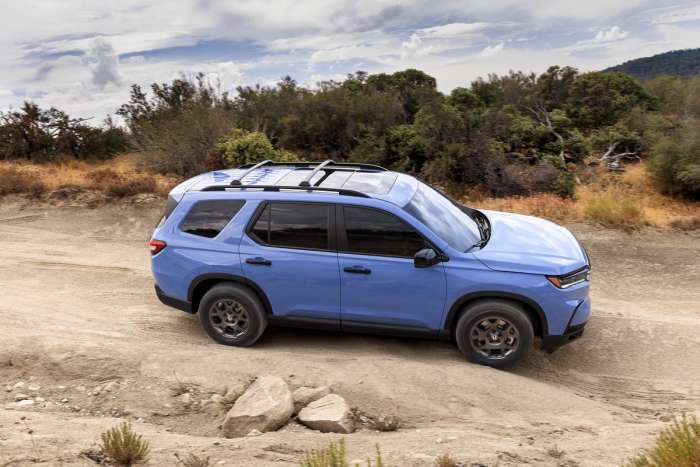 2023 Honda Pilot AWD TrailSport - What Is It?
The Honda Pilot is a top-selling very popular three-row crossover SUV. It can be configured with up to eight passengers. The standard seating in the Pilot is "six plus two." the extra two are middle seats in the second and third rows. This is the very best way for a three-row SUV to be configured. The "TrailSport" part is a special trim that nearly a quarter of all Pilot buyers order or buy and enables better performance off-pavement with zero compromises.
2023 Honda Pilot AWD TrailSport - What Changes For 2023?
Pretty much everything. The new Pilot looks chonkier, is larger by a meaningful amount, gets an all-new engine, all-new body panels, and a ton of new off-pavement goodies. Well, about four to be truthful.
2023 Honda Pilot AWD TrailSport - How Much Does It Cost?
The Pilot line of SUVs starts at around $41K in its base FWD configuration. The as-tested price of the one we sampled was $50,150, including the destination and handling charge.
2023 Honda Pilot AWD TrailSport - What Powers It?
The all-new 2023 Pilot is powered by a silky-smooth and all-new V6 engine. It's a gem. The transmission is geared. The only downside to a traditional gas engine for 2023 is the mileage. The EPA says the Combined fuel economy will be about 22 MPG. We saw around 20 MPG in mixed driving. The lack of a standard hybrid system is the only thing missing from this vehicle.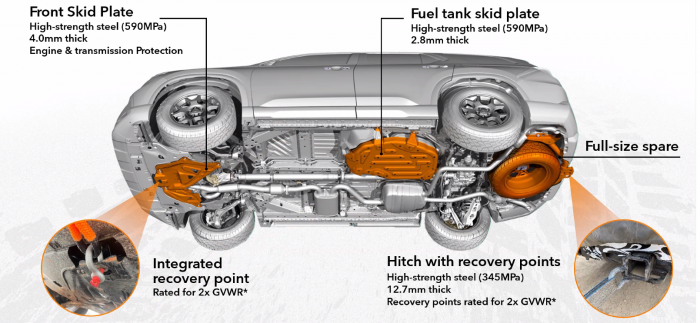 2023 Honda Pilot AWD TrailSport - Let's Talk About Cool Features
If you take your SUV past where the pavement ends or do a lot of winter driving, you may want some of the following items that Honda supplies on the TrailSport trim:
-All Terrain tires
- Not one - two steel skidplates
-Full-Size spare tire (!)
-A recovery point up front (the tow hitch suffices in back)
-Hill Descent Control
-All-weather floor mats
-Heated Windshield
2023 Honda Pilot AWD TrailSport - The Drive
The Honda Pilot TrailSport is superb on the road and on muddy trails. The handling is just right. It's not just a sport SUV, it's an all-around great one. The tires don't add any noticeable interior noise, nor do they make the ride harsh. In fact, we suspect they do the opposite and smooth out some ruts. The powertrain is like butter. Silky smooth, just the right mix of power and refinement.
2023 Honda Pilot AWD TrailSport - Infotainment and Interior
The infotainment system in the Pilot has all the right features, including a large clear screen. Our only wish was that it would have woken up a bit quicker when we set off. This may be simply an early production thing. Try it when you test-drive one.
2023 Honda Pilot AWD TrailSport - Conclusion
If you loved the classic Honda Pilot and have been saying to yourself, "Gee, I wish it was just a smidge more capable past the end of the pavement and a skosh bigger in all ways possible," your wish has been granted. Head to your Honda dealer and pick your color.
Images of the 2023 Honda Pilot AWD TrailSport courtesy of Honda.
John Goreham is an experienced New England Motor Press Association member and expert vehicle tester. John completed an engineering program with a focus on electric vehicles, followed by two decades of work in high-tech, biopharma, and the automotive supply chain before becoming a news contributor. In addition to his ten years of work at Torque News, John has published thousands of articles and reviews at American news outlets. He is known for offering unfiltered opinions on vehicle topics. You can follow John on Twitter, and TikTok @ToknCars, and view his credentials at Linkedin