2022 Lexus NX 450+ vs. Toyota RAV4 Prime - Which Is Your Favorite PHEV?
Lexus divulged many of the facts about its new 2022 NX 450h+ plug-in hybrid-electric crossover today. This new model year is the biggest change year yet for the NX. The new NX and current RAV4 lines now both use the same TNGA (Toyota New Global Architecture) platform. Many aspects of the NX change, and Lexus filled us in on many of the details, but not all. Here is our comparison of the new '22 Lexus NX 450h+ to the '21 Toyota RAV4 Prime.
Related Story: This Percent of Toyota RAV4 Prime Owners Use It As An Electric Vehicle
Lexus NX 450h+ vs. Toyota RAV4 - Dimensions
The exact dimensions of the NX have not yet been released, and Toyota declined to tell us the interior passenger volume and cargo volume numbers. However, we can estimate them based on the video and images of the NX we have seen. We predict that the RAV4 Prime will remain larger in both passenger and cargo space, but that the 22 NX will be meaningfully larger than the outgoing 2021 generation.
Related: 5 Plug-in Hybrid EV Myths Battery-Electric Purists Wish Were True
Lexus NX 450h+ vs. Toyota RAV4 - Powertrains and Performance
The Powertrain of the NX 450h+ is basically identical to that in the RAV4 Prime. However, Lexus has told us that the EV Mode range is much lower. Lexus predicts 36 miles of EV range compared to the RAV4's official EPA estimate of 42 (which we validated in our own testing). The folks from Lexus also offered a 0-60 MPH time of 6.0-seconds. While this will make the 450h+ trim the quickest NX trim, it is a smidge slower than the 5.7 time of the RAV4 Toyota offers as its number, which has been validated by third-party testing. Car and Driver measured a 5.4 sprint to 60 in the RAV4 Prime. Motortrend recorded a 5.5 second time.
Lexus NX 450h+ vs. Toyota RAV4 - Infotainment
The infotainment screen presently found in the '21 RAV4 Prime is smaller than that which will appear in the '22 NX. However, Toyota has announced a new infotainment system, and it is basically that found in the '22 NX. It is not beyond doubt that the RAV4 Prime may get the new infotainment setup. Either this year or next or perhaps when it undergoes a refresh. Aside from the bigger screen, the most important benefit we see from the newer Lexus/Toyota infotainment package is that it offers wired Android Auto and Apple CarPlay. The present RAV4 Prime system offers only wired connectivity to these phone mirroring apps. Thankfully, the Lexus system has dropped the terrible mouse-pad styles we find so frustrating in so many past and present Lexus models.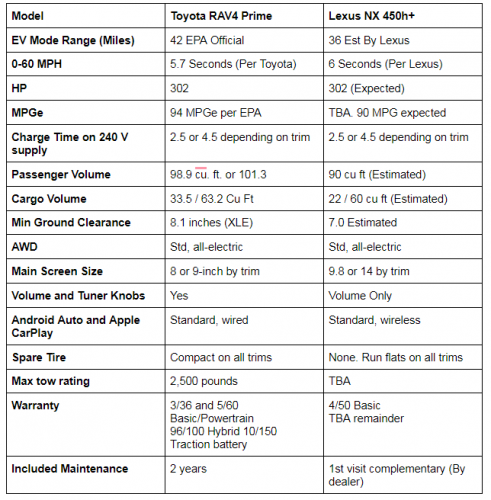 Lexus NX 450h+ vs. Toyota RAV4 - Warranty and Included Service
All Toyotas offer two years of included maintenance at no additional charge. Lexus has no such program. However, many dealers offer a complimentary first visit. Lexus has a one-year longer basic warranty, but Toyota's powertrain warranty is longer than Lexus'. In these hybrid models, it will be interesting to see what Lexus offers for its hybrid component and battery warranty. We've listed the Toyota offerings in our chart above.
Lexus NX 450h+ vs. Toyota RAV4 - Tires
One big advantage to the RAV4 Prime is tires. The Lexus will have taller, and we suspect lower-profile, tires. These have no upside for handling and a big downside when it comes to comfort and damage prevention. Lexus plans to offer only run-flats on the NX, a design we have come to dislike after testing/owning expensive and hard-to-find run-flat-equipped tires.
Thus far we don't have any information from Lexus on towing capacity or ground clearance, so how much utility the NX will offer is debatable.
Torque News was one of the first outlets to try out the NX when it was introduced in 2014. Our title was, "2015 Lexus NX 200t will dominate the premium crossover market." It did exactly that for a number of years.
Much has changed since 2014 in the premium two-row crossover class. Although Lexus maintains steady sales, battery-electric models dominate the mindshare of those who are looking for a modern crossover of this approximate size. The RAV4 Prime has been a huge success for Toyota. Although Toyota's total volume produced has been moderate, the RAV4 Prime was the fastest-selling crossover in America in March. Customers cannot get enough of the RAV4 Prime and owners love its PHEV capabilities. It will be interesting to see how many NX 450h+ PHEVs Lexus/Toyota opt to build, likely on the same production line as its RAV4 Prime sibling.
John Goreham is a long-time New England Motor Press Association member and recovering engineer. John's interest in EVs goes back to 1990 when he designed the thermal control system for an EV battery as part of an academic team. After earning his mechanical engineering degree, John completed a marketing program at Northeastern University and worked with automotive component manufacturers, in the semiconductor industry, and in biotech. In addition to Torque News, John's work has appeared in print in dozens of American newspapers and he provides reviews to many vehicle shopping sites. You can follow John on TikTok @ToknCars, on Twitter, and view his credentials at Linkedin