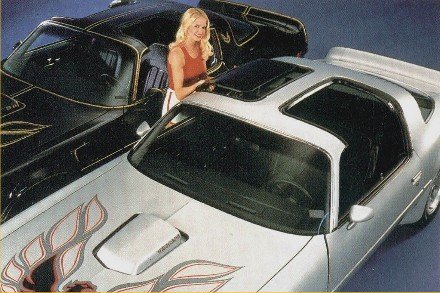 Top 3 fun but questionable features from back in the day
Please
SHARE
with friends and include TorqueNews in
Google Alerts
for tomorrow's interesting stories.
Those of us who grew up in the days before safety was a top priority remember things like optional seatbelts, riding around in the back of the pickup truck unsupervised and untethered, making modifications to our cars without having to get permits to drive them around afterwards, and the other things people could do that.. well, might not have been a good idea, but were really fun nevertheless.
Kids today don't have these options. You can no longer buy t-top kits to cut the roof off of your own car and add window glass in its place, bolt down optional rear-facing bed seats for your Subaru Brat or pickup truck, or add air shocks to the back of your muscle car to lift it way up for that nose-in-the-weeds look of a dragster (called hi-jacking, back before that term had anything to do with airplanes). No wonder kids are always in trouble now. Everything fun is illegal.
T-Tops - factory options or DIY hack jobs
Several vehicles in the 1970s and 80s came with T-tops. The Pontiac Trans Am Firebird (shown here) is probably the most famous example, but the idea was actually introduced in 1951 with the TASCO sports car concept and then adopted by General Motors for the Chevrolet Corvette starting in 1968. It was a popular option and actually caused GM to drop the convertible Corvette in 1975.
There were dealership options as well, sold as kits to the dealer based on replacement/repair kits for the factory option, that the dealer would add after sale. Eventually, after-market kits were sold to DIY modifiers too. These dealer-installed and DIY kits were hack jobs, literally, since no reinforcement was added to the roof to make up for all of the real estate being cut away to accommodate the glass t-tops. This, of course, lead to a lot of problems down the line.
No matter who installed the t-tops, though, they always had two features that went along with their cool look: they leaked like a dental patient's mouth and they squeaked horribly. It didn't matter if you had the high-end "Hurst" windows (which were smaller) or the larger Fisher option for the Trans Am (which were larger).. those t-tops leaked and squeaked every time.
Rear-facing passenger seats for the Brat
Subaru was the first to legitimize, as it were, the idea of putting seats in the bed of a pickup truck so that extra passengers could comfortably sit out in the open air. The Brat had optional molded plastic seats that were bolted into the bed - complete with seatbelts (that no one used) and everything. Up to that point and continuing on to today, bolting seats into the back of a truck bed (be it an El Camino, a Brat, or a full-sized pickup) was a common practice for beach goers, partiers, and rednecks. Which are not necessarily mutually exclusive groups.
Pages
Please
SHARE
with friends and include TorqueNews in
Google Alerts
for tomorrow's interesting stories.