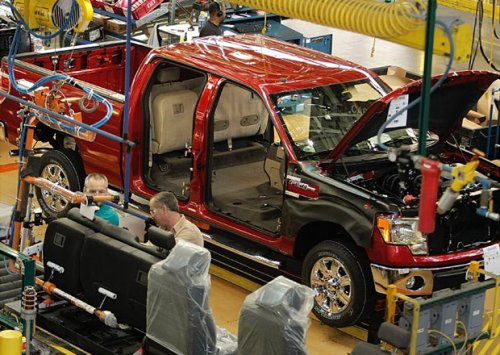 Summer vacation idea - auto factory tours
Please
SHARE
with friends and include TorqueNews in
Google Alerts
for tomorrow's interesting stories.
If you're vacationing this summer and want to take the family on a side trip for something unusual, why not find out where your car came from?
The great American road trip is a staple of our culture. We love piling the whole fam damily into the car and hitting the road, stopping at points of interest (and public restrooms of questionable repute) as we motor down the highway towards a final destination of sometimes dubious merit. If your vacations seem to end up more like the Griswolds than the Cleavers, maybe it's time to shake it up a bit. No matter where you're going, chances are there's an automotive factory that's open to your visiting and taking a tour.
Of course, not all of them are. Some manufacturers treat a few of their models with the kind of secrecy normally reserved for Top Secret military installations, usually in order to prevent corporate espionage or to keep a new car model under wraps. There are, however, several car assembly lines open to the public for tours by those interested. Here's a few of them from around the nation.
Ford - Dearborn Truck Plant, Michigan
If you're living in the automotive heartland, then you may be interested in touring one of Ford's largest domestic factories, which makes the best-selling F-150 line of pickup trucks. Called the Rouge Factory Tour this experience includes a look at the manufacturing process, documentary films explaining the history of the facility and the production process itself, and some time at the Henry Ford Museum to which buses from the factory tour take those interested. This is likely the most well-organized tour on our list and will take at least a full day to appreciate. You can get more information here.
General Motors - Bowling Green, Kentucky
The Bowling Green factory is responsible for the Chevrolet Corvette and that car only. The tour is a walk through (literally) of the assembly line showing how robots and humans combine to put together Chevy's storied sports car. Corvette buyers can opt to go through a more detailed tour, including seeing their own car being made. Go here for more information.
Toyota - Georgetown, Kentucky
This factory opened in 1986 and one of the things showcased during the tour is the first car made at the factory, a Toyota Camry, marking the company's first American-made auto. The plant is one of Toyota's largest, putting out over 300,000 vehicles a year with representatives of every popular model in the Toyota line of cars: Camry, Avalon, Venza, etc. The plant is so vast that visitors are taken through it on an electric tram. You can find out more by clicking here.
Pages
Please
SHARE
with friends and include TorqueNews in
Google Alerts
for tomorrow's interesting stories.