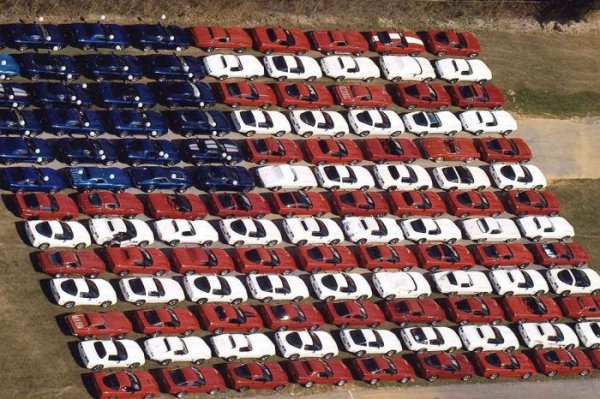 American-made doesn't mean it's from Detroit
Please
SHARE
with friends and include TorqueNews in
Google Alerts
for tomorrow's interesting stories.
Today is the Fourth of July, when Americans celebrate our independence from British rule. It's a day of barbecue, fireworks, parades and more. Most of which are things that weren't invented by Americans, but that's what makes our culture great: we embrace things that we love and make them American, even if their origins are elsewhere.
Cars are no different. Most of us love our cars, no matter the make or model, and many will argue endlessly over the merits of one car versus another in the same way we argue sports teams, political candidates, food choices, and so on. Yet when the argument turns to "American made," the default is to assume that if it was made by one of the Detroit 3, it's "American."
For nine years now, Cars.com has been running a study of which models made in that model year are the "most American made." The criteria are simple: to make the list as "Made in America," the vehicle must have a minimum of 75 percent American-sourced parts (which by federal definition means the part was made in the U.S. or Canada). Not surprisingly, this narrows the field considerably. Automotive manufacture is, after all, a global effort now.
What will surprise many is that only three of the top ten cars on that list are from Detroit. Two of those three are sports cars, the other is the best-selling vehicle in the U.S. The other seven vehicles on the list? They're all Toyota and Honda models.
Each of the Detroit 3 has one car on the 2014 American-Made Index. Ford has the F-150 in the top spot, Chevrolet has the Corvette Stingray in the number seven position, and Dodge has the SRT Viper in the number ten placement.
In between those, Toyota and Honda dominate the list. The Toyota Camry is second on the list, being made in Kentucky and Indiana. The Honda Odyssey minivan is number three on the list (made in Alabama). Toyota's Sienna minivan is fourth, assembled in Indiana. The Toyota Tundra is fifth, then the Avalon. Numbers eight and nine are both Honda vehicles, the Ridgeline and Crosstour respectively.
One thing to note about this list: these ten cars were literally the only ten that were eligible for the list. Of the hundreds of makes and models available on the American automotive market for 2014, only these ten had 75 percent or more of their parts sourced from American makers. That's down from 14 last year, 20 in 2012, and 30 in 2011.
Pages
Please
SHARE
with friends and include TorqueNews in
Google Alerts
for tomorrow's interesting stories.