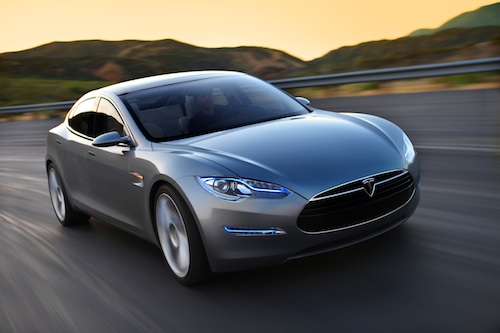 Tesla Motors expanding rapidly with 10 new stores in the U.S. and Canada
Tesla Motors announced on Friday plans to open 10 new stores this fall. The first of these opened, on Friday, at Roosevelt Field Mall in Garden City, New York. After these new stores open, the company will have 24 locations in the U.S. and 34 worldwide. Tesla says they will continue expanding with opening more stores in 2013.
Tesla follows a sales and distribution model very different from other automobile makers. Rather than distribute cars through independent dealerships, the company operates a direct sales model. Each of Tesla's stores are in retail shopping centers, and the purpose is education on the merits of electric vehicles rather than focus on sales. The actual sales process happens elsewhere, as does vehicle servicing.
While Tesla has described their sales model as "Transformative" for the industry, the company sometimes runs into legal hurdles making it hard to open new stores. The proposed Tesla store in Natick MA was one such instance when the local automobile dealers association raised some legal questions. The Natick store is due to open this coming week, indicating that the legal concerns have been settled.
Following the Natick store will be a second store opening in Chicago. Additional Tesla stores are planned to open at Westfield Garden State Plaza, Paramus, New Jersey; The Mall at Short Hills, Morristown, New Jersey; Westfield University Town Center, San Diego, California; Lincoln Road, Miami Beach, Florida; Tyson's Corner, McLean, Virginia and Westfield Topanga, Topanga, California.
Tesla will also open its first Canadian store at Yorkdale Shopping Center in Toronto, Ontario in November.
The Tesla Model S is the company's second all electric car, following the iconic Tesla Roadster. The Model S is an all electric luxury sedan with an all electric range of around 265 miles, and the sort of amazing performance you'd expect from Tesla.
"All retail locations have Tesla's Model S premium sedan on display, and many have dedicated test-drive vehicles where we will offer customers the opportunity to experience the exhilarating performance and superior handling of Model S," said George Blankenship, vice president of worldwide sales and ownership experience. "As we open locations throughout the country, our approach continues to be geared towards engaging and informing more people about Tesla and Model S and the technology behind it. Customers can walk into a no-pressure environment, ask questions and engage with informative product specialists to learn more about the many advantages of going electric. We know we've done our job when customers leave smiling."
Please
SHARE
with friends and include TorqueNews in
Google Alerts
for tomorrow's interesting stories.