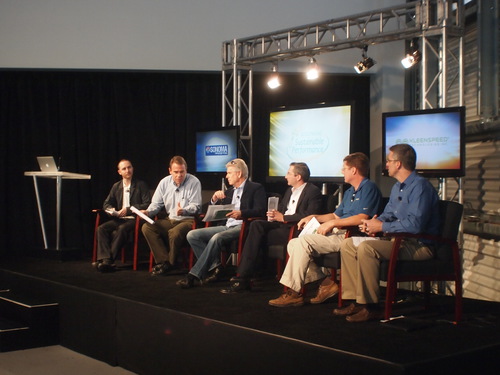 Sustainable Performance Metric ranks efficient cars with great performance
Yesterday, at Sonoma Racway's 2nd annual Accelerating Sustainable Performance summit, the "Sustainable Performance Ranking Metric" was unveiled. The question asked is, what if a driver wants both a "Green" and "Performant" car to drive? The Toyota Prius is a popular and highly fuel efficient car, but its "performance" (0-60 time, etc) is pretty weak. On the other hand a typical SUV can haul a boat, but gets poor gas mileage.
This initial Sustainable Performance Ranking Metric was defined by Joey Shepp, a sustainability consultant in the SF Bay Area, along with a small flock of GreenMBA students at the Dominican University of California. The goal was to develop a simple automobile ranking system demonstrating which vehicles balance both sustainability and performance.
The "green appeal" of electric or hybrid cars is all well and good, but is that the entirety of the purchasing decision? What about whether a vehicle is fun to drive (or ride)? Electric vehicles can be a lot of fun to drive, but there is a large stereotype against them, that they can only be slow boring ugly golf carts. While the Tesla Roadster and Tesla Model S do a lot to blow up that stereotype, one can then dismiss them as being too expensive for the average person, and get back to the slow boring ugly golf carts idea. That still turns out to be untrue, because the Nissan Leaf and Chevy Volt both have decent (but not stellar) performance. How can we measure these attributes in a way that makes sense to the consumer? Further, if consumers start demanding cars based on a sustainable performance metric, the automakers should respond.
The metric as it stands is regarded by the project organizers as "Beta" and looks only at static measurements like fuel efficiency, torque, horsepower, and power/weight ratio. It clearly leaves out dynamic measures such as handling or 0-60 times.
The project also received engineering review from Dr. Paul Erickson, an Associate Professor of Mechanical and Aerospace Engineering at UC Davis.
The results are:
Sedans / Coupes under $60,000: #1 Ford Mustang (V6) gasoline, #2 Toyota Camry LE Hybrid, #3 Lincoln MKZ Hybrid, #4 Chevy Camaro gasoline, #5 BMW 3-Series gasoline, #6 Mercedes-Benz E-Class gasoline, #7 Chevy Impala gasoline, #8 Kia Optima LX Hybrid, #9 Hyundai Sonata Hybrid, #10 Mercedes E350 Bluetec diesel.
The surprise in this list may be the Mustang, but the V6 version has a high fuel efficiency if you can keep from being a lead foot.
Sedans / Coupes under $30,000: #1 Ford Mustang (V6) gasoline, #2 Toyota Camry LE Hybrid, #3 Chevy Camaro gasoline, #4 Chevy Impala gasoline, #5 Kia Optima LX Hybrid, #6 Hyundai Sonata Hybrid, #7 Dodge Challenger gasoline, #8 Dodge Charger gasoline, #9 Volkswagon Passat TDI SE diesel, #10 Ford Fusion Hybrid.
The pattern in the numbers for these two groups is that the hybrids tend to have a higher sustainability metric (fuel efficiency and emissions) but a poor performance metric (torque, horsepower, power/weight). The gasoline or diesel cars are the other way around.
SUV's/Trucks under $60,000: #1 Toyota Highlander Hybrid, #2 Lexus RX450h Hybrid, #3 GMC Sierra Hybrid, #4 GMC Yukon Hybrid, #5 Mercedes ML350 BlueTec, #6 BMW X5 xDrive35d diesel, #7 Ford Edge gasoline, #8 Volkswagon Touareg Sports, #9 BMW X5 gasoline, #10 Cadillac SRX.
SUV's/Trucks under $30,000: #1 Ford Edge gasoline, #2 Ford F-150 gasoline (presumably the EcoTec), #3 Jeep Wrangler gasoline, #4 Ford Explorer gasoline, #5 Nissan Murano gasoline, #6 Chevrolet Traverse gasoline, #7 Dodge RAM Pickup 1500 gasoline, #8 Dodge Durango gasoline, #9 Honda CR-V 2WD gasoline, #10 Kia Sportage.
One observation is the benefit of hybridization shows more strongly in this class of vehicle. It may be, as some think, that the biggest bang for the buck in improving fuel efficiency and other sustainability metrics is not to be found in the small cars but in the large ones.
A couple examples are the 2013 Range Rover that will be sold with an optional turbocharged Diesel hybrid drive train that should deliver a 37 miles/gallon EPA fuel efficiency. Another example is the 2013 Mitsubishi Outlander PHEV (plug-in hybrid) SUV offering a 61 km/liter fuel efficiency.
But the "hybrid price premium" means that among the affordable SUV's and Trucks (under $30k), none were hybrid or plugin hybrid.
Hatchbacks/Wagons under $60,000: #1 Chevy Volt hybrid (in hybrid mode), #2 Toyota Prius hybrid, #3 Volkswagon Golf TDI, #4 Volkswagon Jetta Sportswagon TDI, #5 Audi A3 TDI, #6 Lexus CT 200h Hybrid, #7 Nissan Juke gasoline, #8 Audi A3 2.0 gasoline, #9 Honda Insight EX Hybrid, #10 Honda CR-Z Hybrid.
Pages