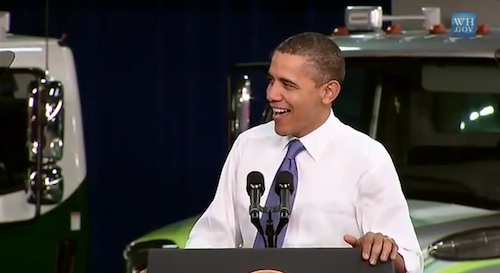 President Obama announces initiatives for reducing dependence on oil
Please
SHARE
with friends and include TorqueNews in
Google Alerts
for tomorrow's interesting stories.
President Obama visited Daimler Trucks North America manufacturing plant in Mt. Holly, NC, to discuss his Administration's all-of-the-above approach on energy policy, and to announce changes to the initiatives supporting adoption of advanced clean technology vehicles, such as the plug-in vehicle tax credit. The setting, a truck manufacturing plant, reflects one of the policy initiatives meant to incentivize further adoption of natural gas powered trucks with tax credits for natural gas and electric big trucks, as well as liquified natural gas corridors meant for long-haul trucks. The policies reflect the Obama Administration stance on energy policy and national energy security, through moving strongly towards alternatives to fossil oil on the one hand, while on the other hand supporting expanded production of fossil oil.
This announcement comes in a context of rising oil and gasoline prices, as well as criticism over the higher prices. In part, no President has much power to control, in the short term, the price of gasoline because short term prices are set by the free market. Where a President can influence gasoline prices is with policies, such as the ones President Obama announced today. Let's first look at the policy changes announced today.
National Community Deployment Challenge: This is a new $1 Billion program meant to assist 10-15 cities across the U.S. to invest in infrastructure, removing regulatory barriers, and create local incentives for deployment of advanced clean technology vehicles. The policy initiative is similar to legislation introduced by Senators Merkeley (D-OR) and Alexander (R-TN) last may, the "Promoting Electric Vehicles Act," in which the deployment communities would serve as models or "real-world laboratories". Obama's version of the policy is "fuel-neutral," allowing individual communities to choose between natural gas, electrification or even other alternative fuels.
One of the goals is to create five regional Liquefied Natural Gas (LNG) corridors enabling natural gas powered trucks to drive from coast-coast without burning oil, but more on that in a minute.
Making advanced vehicles more affordable: Perhaps this is in response to a critique of current electric vehicle incentives, that the current crop of electric cars are priced so only those with above-average wealth can afford them. In any case, there are four aspects to this change in policies.
First, is to expand eligibility for the tax credit to a broader range of vehicles. The fact sheet distributed by the Obama Administration doesn't explain this precisely, it likely means allowing natural gas vehicles to qualify. Currently the tax credit is for plug-in hybrids or electric vehicles.
Pages
Please
SHARE
with friends and include TorqueNews in
Google Alerts
for tomorrow's interesting stories.