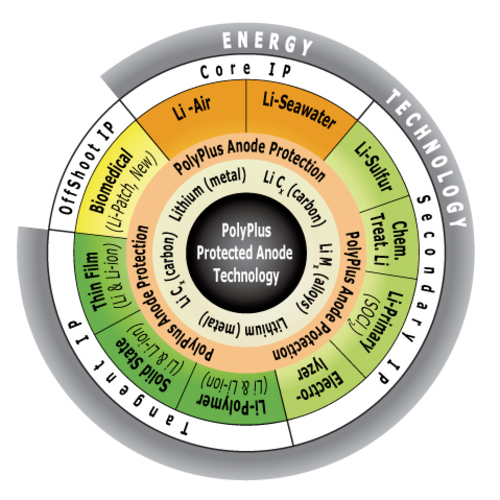 PolyPlus named Edison Awards finalist on lithium batteries for 500+ mile electric cars
Please
SHARE
with friends and include TorqueNews in
Google Alerts
for tomorrow's interesting stories.
Supposedly the achilles heel of electric cars is the range, and even though electric car owners know range anxiety disappears after a week of ownership, having a longer electric driving range would be handy. Tesla Motors repeatedly proves that a long range electric car is simply a matter of squeezing enough kilowatt-hours of storage onto the car, and then being able to charge a high enough price for the car to pay for the battery pack. Berkeley CA based PolyPlus is developing lithium-air and lithium-water battery technology to make it more practically possible to carry enough kilowatt-hours on-board a car to go 500 miles or more on a charge.
Today PolyPlus announced they'd been selected as a finalist in the Power Generation/Utilization category of the 2012 Edison Best New Product Awards. The awards are named after famed inventor, Thomas Alva Edison. Among Edison's own inventions was a nickel-iron battery that was to be sold in electric cars manufactured by Ford, if it weren't for a mysterious fire that destroyed the Edison factory complex.
Lithium is a highly reactive metal which is known to do catastrophic things when exposed to air or water. Lithium is not found in nature as a pure metal, but always bound to other chemicals. Lithium Ion battery chemistries are a way of binding lithium to other chemicals in a battery for safety (and other) purposes, but this comes at the cost of an energy density much lower than the theoretical maximums. The PolyPlus technology for lithium-air and lithium-water creates the same safety, while maintaining a very high energy density.
Energy density is the amount of energy (watt-hours) per kilogram of battery weight. Typical lithium-ion batteries used in cars today have energy densities in the 150-250 watt-hours per kilogram range. The PolyPlus lithium-water battery has achieved the highest recorded energy density of 1,300 Watt-hours/kilogram, or an almost 10x improvement over current lithium-ion batteries.
To put this into perspective, the Nissan Leaf has a 24 kilowatt-hour battery pack for a nearly 100 mile range. It's battery pack will weigh in the neighborhood of 96-160 kilograms. Using the 1300 watt-hours/kg energy density PolyPlus reports, storing the same energy storage would weigh 19 kilograms, and a 96 kilogram battery pack would carry 125 kilowatt-hours of energy storage, for 5x the energy carried on todays Nissan Leaf, which should offer a nearly 500 mile range.
PolyPlus is currently testing samples of its lithium-water battery and expects the product to be commercially available in 2013.
Pages
Please
SHARE
with friends and include TorqueNews in
Google Alerts
for tomorrow's interesting stories.