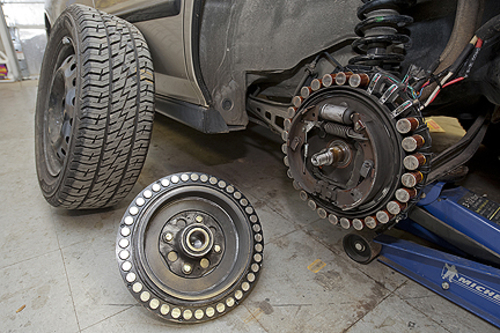 MTSU research team develops DIY plug-in hybrid conversion kit for nearly any car
Please
SHARE
with friends and include TorqueNews in
Google Alerts
for tomorrow's interesting stories.
Are you handy with tools and are anxious to have a plug-in hybrid electric car NOW rather than wait for the car makers to build the plug-in hybrid vehicle of your dreams? A team of students at Middle Tennessee State University have developed an inexpensive plug-in hybrid retrofit kit for any car. The kit, which has a projected $3,000 price, has been demonstrated to improve fuel economy by 50 to 100 percent.
MTSU's Dr. Charles Perry, who holds the Russell Chair of Manufacturing Excellence, oversaw a team of students who jointly developed the kit as part of a research project. The team involved the work of nine students over the last five years, some of whom have since graduated from MTSU. "The whole point was to demonstrate the feasibility of adding the electrical motor to the rear wheel of the car without changing the brakes, bearings, suspension — anything mechanical," Perry said.
The kit installs in place of the rear wheels on the car. One half of the motor attaches behind the brake housing, while the other half fits inside the wheel. A battery pack is installed somewhere like the trunk, and a pair of controllers drive these motors. The electric motors supplement power from the gas engine while driving the car. The technique does not interrupt the drive shaft, and does not replace the existing wheel. It is also transparent "performance-wise". The team took the usually empty space around the "rear wheel brake structure" and packaged in a brushless DC motor. The "stator magnets" are packaged around the brake rotor, these are electromagnets and are turned on-and-off rapidly by the controller as the wheel rotates. There are an array of 45 permanent magnets mounted on the "rotor" which is mounted inside the wheel. The motors create up to 200 ft-lb of torque, and there are two mounted on the test car each with their own controller.
The kit is designed to go after the market of the typical daily driving pattern, which is that most cars are driven 40 miles or less per day, at 45 miles/hr or less. While the team did not give precise specifications, the video implies that the motor system drives the car at speeds up to 40 miles/hr and then cuts off above that speed.
Pages
Please
SHARE
with friends and include TorqueNews in
Google Alerts
for tomorrow's interesting stories.