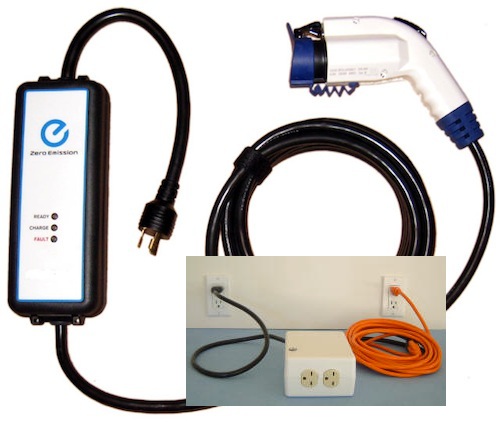 How to charge your electric car from 120 volt power outlets
Please
SHARE
with friends and include TorqueNews in
Google Alerts
for tomorrow's interesting stories.
What if the state of charge on your electric car is running low, and the Recargo or Plug Share app's do not show a nearby charging station? Are you out of luck and your only choice is to call a tow company and paying a large towing fee? Electricity is everywhere, but the powers-that-be decided electric cars must be charged through plugs designed for that purpose. The U.S. the ubiquitous outlet offers 120 volts through a plug that's not certified for electric cars, and in any case the low charge rate (1-1.5 kilowatts) on 120 volt outlets means an ultra-long recharge time. Some DIY types are taking matters into their own hands and developing adapters to recharge electric cars, at reasonable speed, through any 120 volt power outlet. But some care must be taken to do this successfully.
The first item to understand is the EVSE, which means Electric Vehicle Service Equipment. The EVSE is the technical name for the "charging station" and is the approved method for charging an electric car. It includes a number of safety features, such as an interlock preventing the car from driving if it is plugged into an EVSE. Obviously a "drive off" from a charging station could be dangerous, and expensive. You'll notice that electric cars do not have a normal power outlet, but instead have a J1772 charging port.
One of the hindrances to electric vehicle adoption is the rate at which EVSE's are being installed around the country. Charging stations aren't always where we need them to be, and some cities are seeing a low rate of EVSE installation. This creates a condition in which it's extremely desirable to work out a method for using normal 120 volt outlets to charge electric cars. This way electric vehicle owners can still charge their cars, even if their local EVSE network is insufficient.
Every electric car comes with a portable EVSE meant to plug into 120 volt outlets. These adapters support a modest charge rate of at most 12 amps, sometimes less. The 12 amp rate corresponds to a 1.4 kilowatt charge rate, which in turn is why charging at 120 volts could take as much as 20 hours for a full recharge. Still, if this is your only choice to charge your car it's what you'll do.
An 120 volt EVSE offers what's called "Level 1 charging". Level 2 charging is what's available at regular EVSE's.
Some electric car owners with short commutes find they can get along without a level 2 EVSE at home, and simply rely on the 120 volt EVSE and a normal power outlet in their garage.
Pages
Please
SHARE
with friends and include TorqueNews in
Google Alerts
for tomorrow's interesting stories.