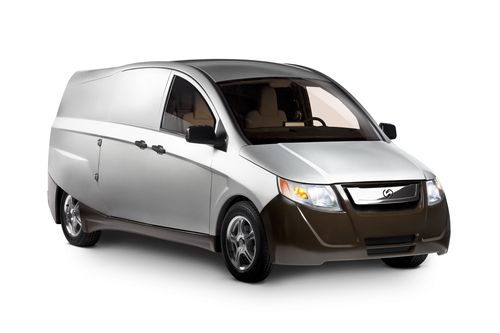 Bright Automotive goes dark citing onerous Dept of Energy loan terms
Please
SHARE
with friends and include TorqueNews in
Google Alerts
for tomorrow's interesting stories.
Indiana based Bright Automotive, a start-up company which hoped to sell hybrid-electric delivery trucks, has closed its doors citing outlandish terms required the Dept of Energy in the Advanced Technology Vehicles Manufacturing (ATVM) program. This makes at least the third company in recent weeks to complain about the terms of these government backed loans.
Bright Automotive was launched in 2008 from the Rocky Mountain Institute, the clean-technology analyst firm led by Amory Lovins. The companies primary goal was development of the IDEA, a plug-in hybrid delivery van explicitly focused on commercial fleets of urban delivery vehicles. In August 2010, GM Ventures, the venture capital firm operated by GM, made one of its first investments in Bright Automotive. On the heels of that announcement, Mike Donoughe, a 25 year veteran of Chrysler, joined Bright Automotive as the Chief Operating Officer. In April 2010, the company signed a contract with the Postal Service to develop and test an electric postal delivery vehicle. The company was staffed by industry veterans including some of the most experienced hybrid-electric vehicle and battery pack engineers in the industry. In short, at one time, the company was a rising star.
The Advanced Technology Vehicles Manufacturing (ATVM) program was a brain-child of the Bush Administration, and became part of the Obama green jobs strategy. Not ones to go quietly into the dark, CEO Reuben Munger and COO Mike Donoughe wrote a blistering letter to Energy Secretary Stephen Chu, detailing Bright's experience of the ATVM program.
Munger and Donoughe started off by saying "Bright has not been explicitly rejected by the DOE; rather, we have been forced to say 'uncle'", and that was just the first paragraph. Last week the company received the fourth Conditional Commitment letter since September 2010, which the pair described as containing "more onerous terms than the last" and that it "was so outlandish that most rational and objective persons would likely conclude that your team was negotiating in bad faith." Going on, the letter says that because of the Dept of Energy "lack of action", thousands of jobs which would have been created "will not see the light of day". The result is that the IDEA, which the pair says has "the lowest total cost of ownership" for fleet customers and would have saved "millions of barrels of oil each year" will not come to market.
Pages
Please
SHARE
with friends and include TorqueNews in
Google Alerts
for tomorrow's interesting stories.