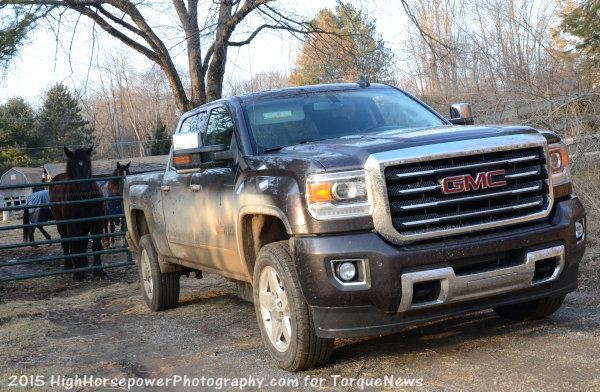 Putting the 2015 GMC Sierra 2500HD All-Terrain to Work
When the All-Terrain package was introduced for the 2015 GMC Sierra 2500HD, critics were quick to gripe that it wasn't an extreme enough upgrade to be referred to as an "all-terrain" pickup. I suppose that if you expected something like the Ram Power Wagon or the Ford SVT Raptor, the All-Terrain does fall short. However, the All-Terrain package clearly wasn't intended to attack the Power Wagon, instead adding some performance features along with a spread of comfort and appearance items to create a heavy duty pickup that serves as a great option for those who want a premium work truck while avoiding the high price of the Sierra 2500HD Denali.
So the 2015 GMC Sierra 2500HD All-Terrain looks great inside and out, but I wasn't concerned with how nice the truck looked sitting in my driveway or on the highway in rush hour traffic. As always, I was focused on how well this luxury level heavy duty ¾-ton GMC truck could handle the tasks that real truck owners perform every day. Well, at least these are the tasks that people who I know perform with their trucks every day – from handling sloppy, muddy roads with a heavy load in the bed to hauling the horse trailer, a load of hay and a cab full of horse show essentials to and from the event grounds.
The 2015 GMC Sierra 2500HD on All Terrains
Considering the name of this package, my first goal with the 2015 GMC Sierra 2500HD All-Terrain was to see how it handled some of the roughest local roads. Oddly, a great many of our local roads are unpaved and when it rains, these roads get very ripped up and very, very muddy. We are talking deep trenches that some small cars might get hung up should they try to cross them paired with mud that can get to be a foot deep in places. These are public roads, but they are not for the faint of heart during the rainy season and while I drive my own trucks on these roads, I avoid these rough roads when I have low-riding sports cars. These are roads that can batter some trucks and SUVs, so they serve as a great testing venue for new pickups – especially those which claim to be off-road ready.
The 2015 GMC Sierra 2500HD All-Terrain package includes the Z71 off-road suspension package with twin turbo Rancho shocks, an underbody skidplate and 18 inch wheels wrapped in all-terrain tires, but my test truck had the optional 20 inch wheels, also wrapped in all-terrain tires. This package isn't as extreme as some of the other models that are truly intended for serious offroading, but the suspension setup paired with the meaty 20 inch tires affords this 2500HD Sierra solid footing on these rough roads. This suspension system allows the Sierra to easily skim across even the deepest ruts in the roads, while the all-terrain tires dug through the deepest mud puddles without much effort.
At one point, I came upon a hard turn on a small dirt road where a truck must have gotten stuck where the road had flooded over. There wasn't so much a road as there was part of a pasture that had flowed across the road, leaving the entire 50 foot stretch buried in mud that was the consistency of thick chocolate pudding a foot and a half deep. With any two wheel drive vehicle and some smaller SUVs, I would have turned around and found a different route, but with the 2500HD All-Terrain, I was determined to see if it could make it to the other side. I put it in 4WD low and kept the truck moving, and with a fair dose of mudslinging, I made it to the other side of the washed out section of road. Once I knew that I could get through the mess with 4WD Low, I pulled through in 4WD High and it did just as well. Finally, I pulled into the deep mud and stopped, hammering the throttle and seeing if the All-Terrain would dig out of this sloppy road surface, and it did so with flying colors…mostly brown.
I finished up my All-Terrain testing by hitting a local fishing trail, which has mud and ruts that are a couple feet deep in some places as well as some steep, rocky hills that test the truck's ability to dig through loose, dry footing. While the Sierra 2500HD All-Terrain might not be a factory-built off-road race truck, this big, plush ¾-ton GMC made short work of everything I could throw at it.
All-Terrain 2500HD Towing and Hauling
After I was done playing in the mud with the 2015 GMC Sierra 2500HD All-Terrain, I headed back to the feed store, where the bed of the plush luxury truck was loaded with a thousand pounds of bagged horse grain. This thousand pound payload is nowhere near the hauling capacity of the 2500HD, so it should come as no surprise that the Sierra All-Terrain didn't break a sweat with the extra weight in the bed. From acceleration to cornering to stopping to basic ride quality – on both paved roads and the same loose, muddy roads mentioned above – the Sierra wasn't affected by the added weight out back. The Z71 suspension covered the paved and unpaved roads as just comfortably with the extra weight and there were absolutely no discernable decreases in acceleration or increases in braking distance, so this is most certainly a truck that I would recommend to someone who does a great deal of hauling.
Pages
Please
SHARE
with friends and include TorqueNews in
Google Alerts
for tomorrow's interesting stories.