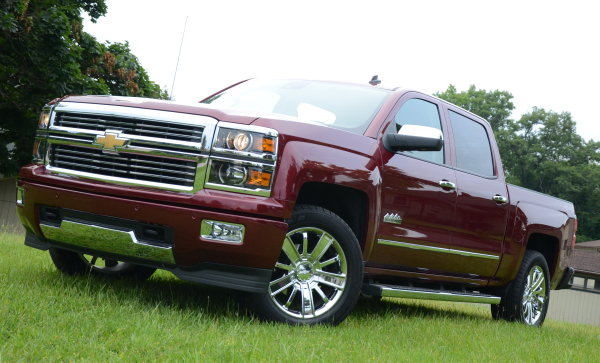 Next Chevy Silverado, GMC Sierra Could Go Aluminum
Please
SHARE
with friends and include TorqueNews in
Google Alerts
for tomorrow's interesting stories.
Ford Motor Company took a big risk in using aluminum to craft the bodies of the 2015 Ford F150 pickup and while there are still plenty of critics who aren't sold on the long term viability of the aluminum body, the concerns of the "change is bad" crowd hasn't slowed sales any. In fact, Ford hasn't been able to adequately fill the demand for the new F150, showing that consumers have no fears of a truck that is lighter, more efficient and more capable.
General Motors has replied to the early success of the aluminum bodied 2015 Ford F150 by launching an advertising campaign that highlights the strength advantages of steel over aluminum, although that commercial really doesn't do much good in showing that the steel Silverado is better than the aluminum F150. Perhaps GM is only trying to poke a little fun at Ford, as they don't want to trash talk technology that they are likely to use in the future.
Based on a report from Reuters, the next generation full size trucks from General Motors will make use of aluminum body panels as well as more high strength steel – just like the F150.
Investment in Flint Truck Plant
GM recently announced that they would be investing $877 million into their truck plant in Flint, Michigan to build future large trucks and sport utility vehicles. The information on the exact upgrades is short, but Reuters spoke with someone familiar with the company's plans and this $877 million will go to add all of the items needed to build aluminum bodied Chevrolet Silverado and GMC Sierra pickups.
When the Ford F150 plants in Detroit and Kansas City were upgraded to build the aluminum F150, it required extensive changes to the machinery in those plants and we can expect that the same will be true when GM shifts from trucks that are predominantly steel to bodies that are lightweight aluminum like the new F150.
Advantages of Aluminum
While moving to a Chevrolet Silverado or GMC Sierra body which is comprised heavily of aluminum will require expensive and extensive retooling of the production facilities while also increasing the base price of the trucks, the shift to aluminum in the next gen Silverado and Sierra should have the same key advantages as it did for Ford.
Since the body will be significantly lighter, the next gen Silverado and Sierra will have a lower curb weight without removing any of the functional components. A lighter truck leads to improved fuel economy and better use of the available power, so we can expect to see improved towing and hauling numbers as well as improved performance numbers – for those truck drivers who like to go fast.
Pages
Please
SHARE
with friends and include TorqueNews in
Google Alerts
for tomorrow's interesting stories.