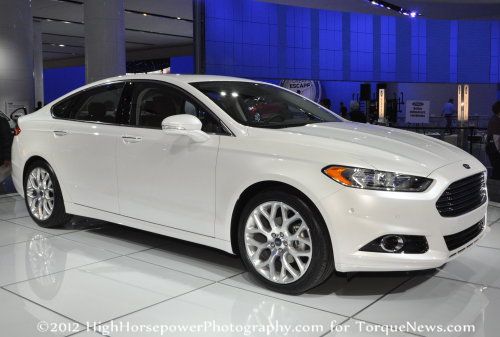 Ford Lincoln both show declines in short April 2012
Ford Motor Company moved 180,350 vehicles in April 2012 which shows itself as a 5% negative growth compared to April 2011 but when you look at the daily sales figures; FoMoCo actually was on pace to move roughly 7% more vehicles with almost 500 more vehicles per day sold in April 2012.
The Ford brand was the top performer from the Motor Company with a decline in growth of 4.7% but that was due to the shortened month as the Ford brand outpaced the daily sales figures from April 2011 by better than 7.2%. Ford was led in growth by the Ford Flex, which sold 41.4% more vehicles in April 2012 than in the same month in 2011. The family of Ford Heavy Trucks was second with 40% more vehicles sold last month compared to one year earlier and the midsized Edge crossover was third in growth with a 12.4% improvement. Ford was led in sales by the tried and true F Series pickup family which sent out a whopping 47,453 new trucks onto US roads (up 4.4%). The Ford Fusion was second in sales with 21,610 sedans sold (up 2%) and the Ford Focus was third in sales with 19,425 C segment sedans and hatchbacks sold (up 12.5%).
For those keeping tabs of what their local law enforcement uses to patrol the streets – Ford sold 547 examples of the Taurus based Police Interceptor and 667 Explorer based Police Intercept Utility models last month.
Things weren't quite to bright for the Lincoln brand in April 2012 with the luxury arm of Ford Motor Company showing an overall decline of 12.8% while also selling roughly 3% less vehicles per day. It wasn't all bad news, as the Lincoln MKS showed a positive growth of 56.8%, the Lincoln MKT grew by 43.4% and the Lincoln MKX grew by 1.2% - all in a month with 3 less selling days than April 2011. Lincoln was topped in sales by the MKX with 1,882 crossovers sold while the MKZ was second with 1,863 sedans sold and the MKS rounded out the top three with 1,298 units sold. The overall decline is due mostly to the downturn in sales from the MKX as the public waits for the new, refreshed models to reach dealerships while the discontinuation of the Town Car also presented a decline of 92% and almost 900 units sold. Once the new Lincoln MKX hits dealerships, we can expect to see new interest in this luxury brand as Ford continues to help keep Lincoln out of the red.
While things might be down for Ford Motor Company at the moment, the group has a spread of new models headed for showrooms that should have a massive impact on the industry. The 2013 Ford Fusion (shown above on the right) and Ford Escape offer refreshed versions of top selling vehicles – both of which feature changes that should help them be even more popular in the American market.
Please
SHARE
with friends and include TorqueNews in
Google Alerts
for tomorrow's interesting stories.