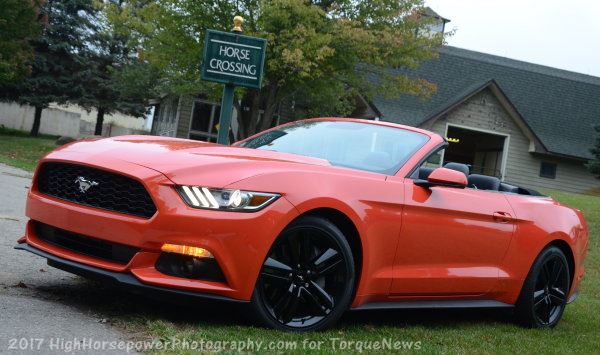 Ford Bringing Mustang Hybrid, F150 Hybrid with V8 Power by 2020
As part of their ongoing effort to improve fuel economy across their entire fleet, Ford Motor Company has announced plans to roll out a spread of new electrified vehicles over the next five years and the key vehicles included in this announcement are the upcoming Mustang Hybrid and F150 Hybrid.
This isn't fake news – there really is a hybrid version of the Ford Mustang coming by 2020 and it could share a drivetrain with the long-rumored F150 Hybrid.
The F150 Hybrid
The least surprising aspect of Ford's announcement today is that the company plans to roll out a hybrid version of their bestselling F150 by 2020. Unfortunately, the details from Ford are short right now. We know that the F150 Hybrid will be built at Ford's Dearborn Truck Plant for sale in North America and the Middle East. We also know that It will offer "powerful towing and payload capacity", while functioning as a mobile generator for those who use their F150 for work – or to power their homes when the power is out.
The Mustang Hybrid
The biggest surprise in today's announcement from Ford was that the company plans to offer a Mustang Hybrid, which will debut in 2020 in the North American market. Ford has stated that the Mustang Hybrid will be built with the rest of the Mustangs at Ford's Flat Rock, Michigan plant and when it arrives – the electrified Mustang will offer "V8 power and even more low-end torque". Of course, the Mustang Hybrid will surely be far more fuel efficient than a V8-powered pony car with similar power.
That is all we really know about the Mustang Hybrid and the F150 Hybrid, but we can make a few guesses as to what to expect when these two hybrid models hit the market.
Another Shared Drivetrain?
The Ford Mustang Hybrid is promised to deliver V8 power and more low-end torque, which means that it will be powered by something other than a V8. Also, with Ford talking about the F150 Hybrid being geared towards the type of drivers who will use their pickup as a worksite generator, it is likely that the Motor Company will pack the fuel-sipping F150 with V8 power and lots of torque. In short, these two vehicles could very well share a drivetrain.
Ford could call upon one of their EcoBoost engines – presumably the turbocharged 2.3L 4-cylinder or the twin turbocharged 2.7L V6 – and pair that engine with a hybrid version of their 10-speed automatic transmission. Essentially, Ford could take the 2.7L EcoBoost V6 from the current F150 and mount it to a 10-speed automatic transmission which also has a unique electric assist motor – leading to a drivetrain combination that is more powerful, more efficient and better in terms of low end torque.
If the Mustang Hybrid and F150 Hybrid do share a drivetrain, it will be another in a long line of engines shared by the F150 and the Mustang. Most recently, the Mustang and F150 shared the basic architecture of the base 3.7L V6 and the 5.0L V8, and with these two new hybrid vehicles having the "need" for similar levels of power – Ford could use the same high performance, high efficiency drivetrain for both of these upcoming models.
The bottom line here is that there are super-efficient versions of the Mustang and F150 on the way, and while they could be the most fuel efficient in their classes – they will still offer tons of power.
Please
SHARE
with friends and include TorqueNews in
Google Alerts
for tomorrow's interesting stories.