The Crown is a new addition to Toyota's lineup and that's why I don't have anything specific in my traditional coverage of "What's New for 2023" in my car reviews. It's already on sale in Toyota dealerships and comes in three different trims: XLE, Limited, and Platinum. The XLE Crown is offered at $41,045 MSRP. The Limited trim is offered at $46,645 and the Platinum trim comes with a $53,445 price tag. As I said above the Crown is a big, full-size expensive sedan.
All three levels of Crown are luxury-oriented and the vehicle is between the Toyota Camry and a Lexus sedan. Toyota will reportedly discontinue the Avalon in 2023 and the Crown has come to replace it. However, some Avalon owners have said in a discussion that they will not switch to the new 2023 Crown. So this is a vehicle that is a little more than a Camry and a little less than a Lexus. But It can also be seen as a bigger, bulkier Prius.
The decision to straddle the line between a car and an SUV is a strategic one. With the SUV segment gaining popularity and full-size sedans on the decline, Toyota aims to capture the interest of a broader range of consumers. This flexibility in design and purpose speaks to Toyota's ability to evolve with the market.
Exterior
The 2023 Crown makes a statement not just with its powertrain options but also with its distinctive design. Its three-box styling and high driving position create a unique aesthetic that harks back to raised sedans of yesteryear like the Subaru Legacy SUS and the Volvo S60 Cross Country. This design choice taps into a niche that has been left unexplored for too long, offering something truly unique in today's market.
So, as you can see the 2023 Toyota Crown boasts a stylish and modern exterior design that combines aesthetics with functionality. Here's a breakdown of some of its notable exterior features: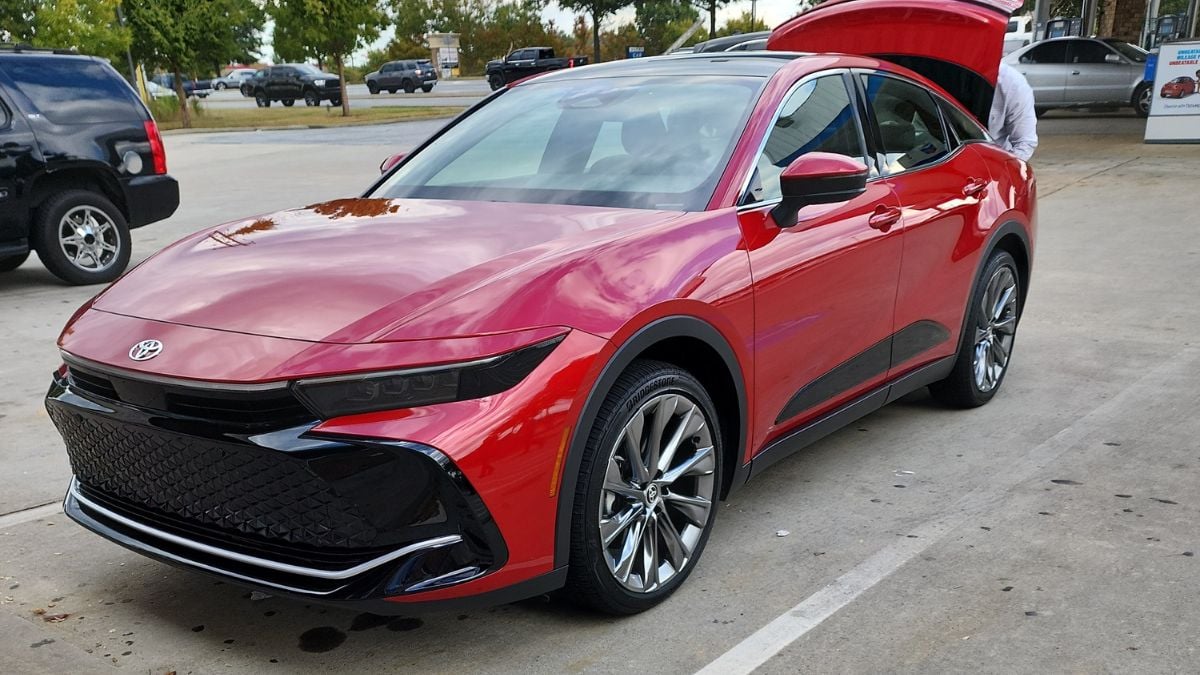 Quad LED Headlights and LED Daytime Running Lights (DRL) with Auto On/Off: The front of the 2023 Toyota Crown is adorned with quad LED headlights that provide superior illumination and a striking visual presence. These headlights not only enhance visibility during nighttime driving but also contribute to the car's contemporary look. Additionally, the LED Daytime Running Lights (DRL) not only serve as a safety feature but also add a touch of sophistication to the car's front fascia. The Auto On/Off feature ensures that the lights operate efficiently and are activated when needed.
19-inch Multi-Spoke Machined Finish Two-Tone Alloy Wheels: The wheels are often a focal point of a vehicle's exterior, and the 2023 Crown doesn't disappoint. It rides on 19-inch multi-spoke machined finish two-tone alloy wheels. These wheels not only provide a sporty and upscale appearance but also contribute to the car's handling and performance. The two-tone finish adds a touch of elegance, making the Crown stand out on the road.
Panoramic Fixed-Glass Roof: The panoramic fixed-glass roof is a standout feature, offering a sense of openness and airiness to the interior. It allows natural light to flood the cabin, creating a pleasant and inviting atmosphere for both the driver and passengers. Whether it's to enjoy the clear blue skies or gaze at the city lights at night, the panoramic roof enhances the overall driving experience.
Interior
Toyota has done a better job of integrating the two large screens into the dashboard than has been seen elsewhere. The screens are large, the images clear, and the system quite intuitive. Additionally, there are physical buttons for basic functions like audio and climate settings.
I have no complaints about the comfort of the seats either, and the ease of entry and exit made possible by the vehicle's high position will please the less agile among us.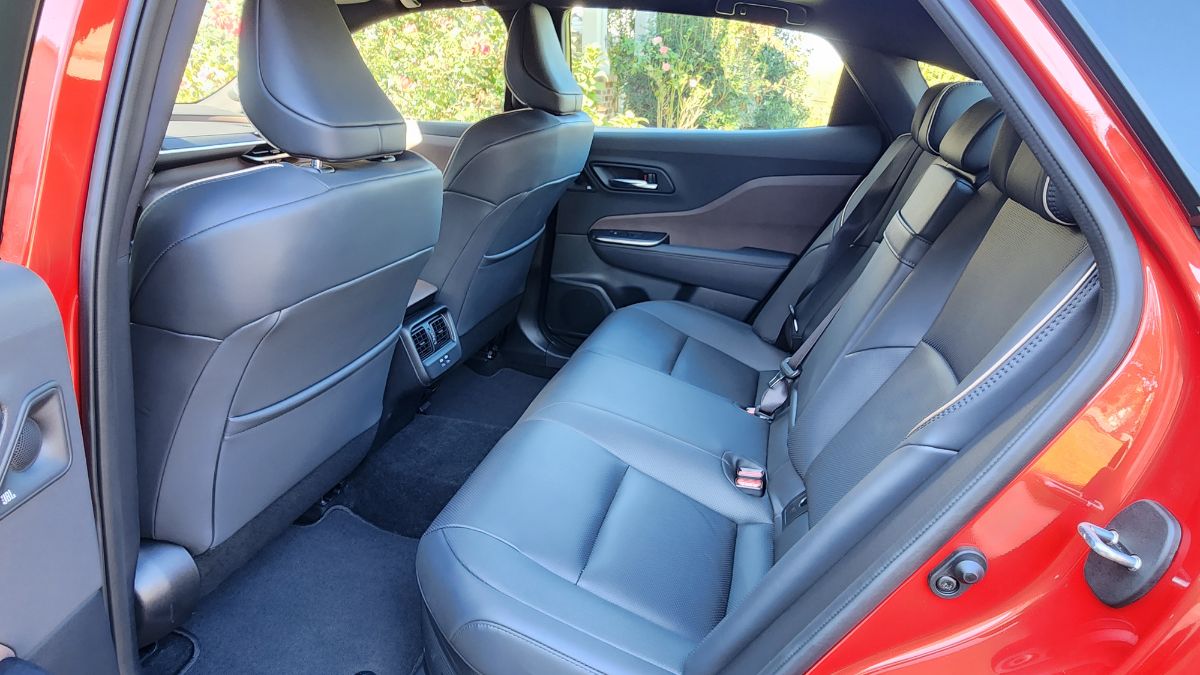 But for a large, heavy sedan, the interior space of the 2023 Crown isn't as vast as the exterior would suggest, particularly at the rear where headroom is somewhat compromised by the panoramic sunroof and styling. sloping roof. But, I drove the 2023 Crown from Charlotte to Atlanta and my backseat passengers had no complaints, except the tall guy, who was taller than us. The trunk volume is at 433 liters, which is pretty ordinary for a mid-size sedan.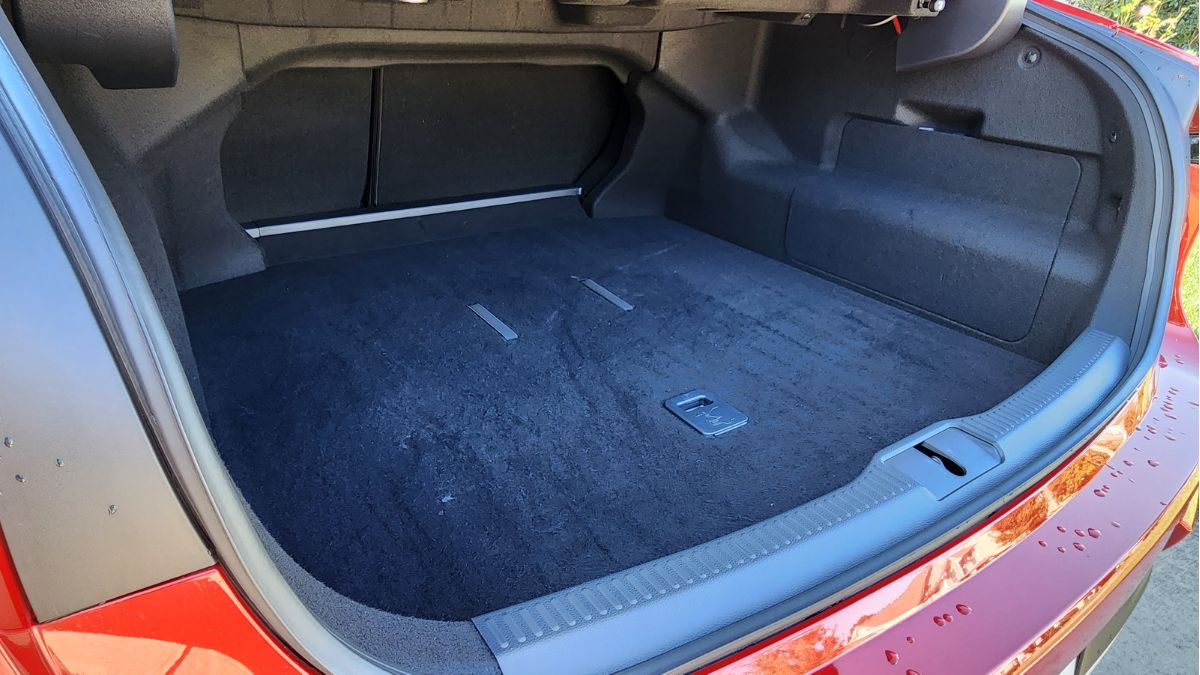 The materials used, are plastic here and there. I think wood trims would have been better for a $50K car, but that's Toyota's decision about which I don't complain.
However, I have a specific note about the Crown's phone charger. I find it to be a very good vehicle, but my Samsung S22 Ultra smartphone wouldn't charge unless I pushed it really hard and put something between the phone and the front wall to hold it for charging. First, I thought there was a problem with the phone charger. But my three passengers had no problem charging their iPhones using the same phone charger. So, this is something you may want to check with test-driving the Crown.
The Crown comes standard with a generous 12.3-inch infotainment touchscreen. This sizable screen is not only visually appealing but also provides an intuitive interface. Toyota has updated its software, resulting in a much-improved user experience. The touchscreen allows for easy access to various functions and controls.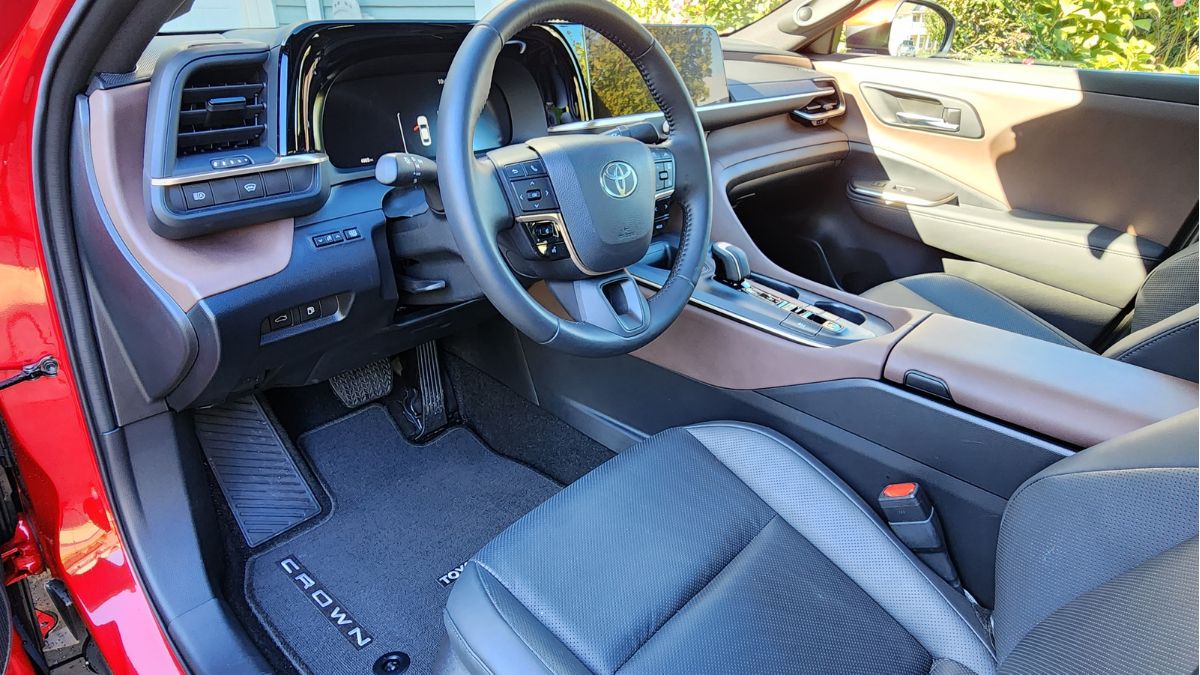 Apple CarPlay and Android Auto Integration: To cater to a broad range of smartphone users, the Crown integrates Apple CarPlay and Android Auto. What's notable is that these features work wirelessly, meaning you can seamlessly connect your smartphone to the infotainment system without the hassle of cables. This enables easy access to your favorite apps, navigation, and music directly from the car's interface. - But honestly, I don't like using the Apple Car-Play and Android Auto Integration because it eats your phone's battery life and displays all your recent calls on the screen. Not that I have something to hide, but hey, what about some privacy?
The vehicle is also equipped with USB-C ports, which are known for faster charging and data transfer. These ports are strategically placed for convenience and compatibility with a wide range of devices.
The base XLE trim comes with a six-speaker stereo, while the Limited and Platinum models take it up a notch with an 11-speaker JBL stereo. However, it's worth noting that in initial test drives, the JBL stereo was found lacking in richness compared to the setup offered in the Avalon.
How is the 2023 Toyota Crown Limitied different from the XLE trim?
The 2023 Toyota Crown Limited trim adds a number of features over the XLE trim, including:
Exterior: Rain-sensing wipers, quad-LED headlights, fixed dual-pane glass moonroof with power sunshade, Smart Key system with all-door operation, and matte black fender treatments.
Interior: Leather upholstery, heated and ventilated front seats, heated rear seat, heated steering wheel, ambient LED lighting, and 11-speaker JBL audio system.
Safety: Front and rear parking sensors, and reverse automatic braking.
Optional: Advanced Technology Package with 21-inch alloy wheels, 360-degree Panoramic View Monitor, and Toyota Digital Key.
Engine, Transmission and Power of the 2023 Crown
The 2023 Toyota Crown is an impressive blend of performance and efficiency, driven by a hybrid powertrain. Here's a closer look at what you can expect from its engine, transmission, and overall performance: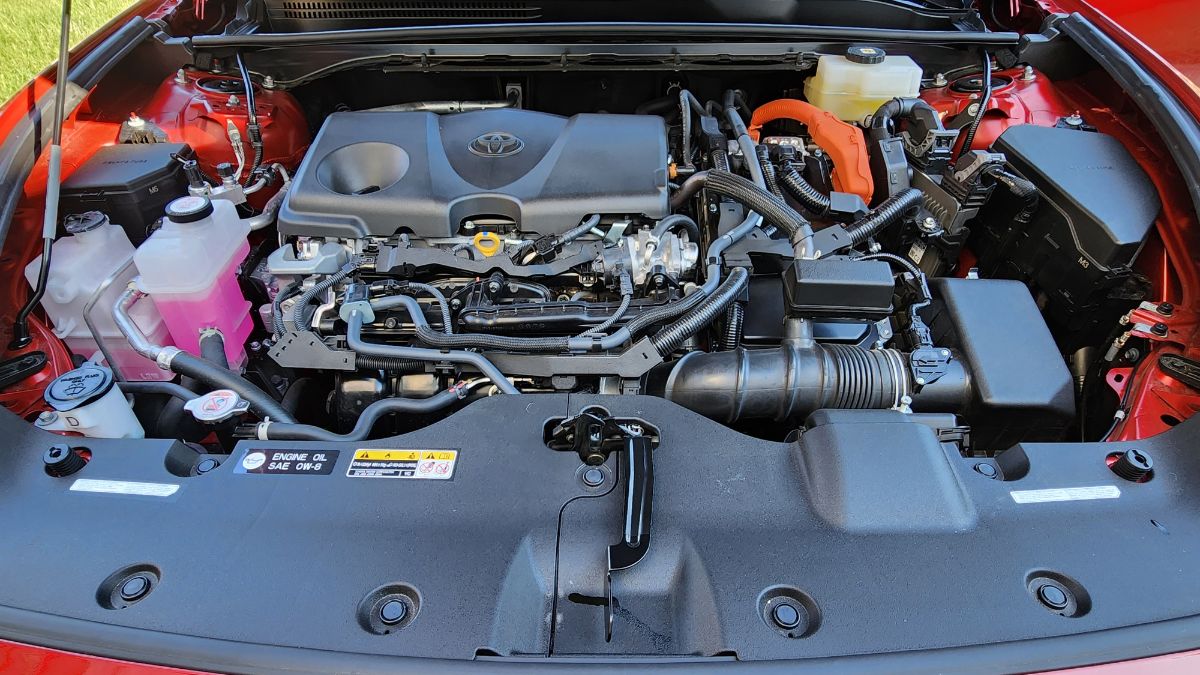 Hybrid Powertrain Across the Range: One key feature of the 2023 Crown is its hybrid powertrain. All Crown models are equipped with a hybrid setup, reflecting Toyota's commitment to eco-friendly driving.
The top-tier Platinum model stands out with Toyota's new Hybrid Max setup. This high-performance configuration combines a turbocharged 2.4-liter four-cylinder engine with an electric motor mounted on the rear axle, delivering an impressive combined power output of 340 horsepower. This translates to brisk acceleration and a thrilling driving experience.
XLE and Limited Models: The XLE and Limited models are powered by a slightly less powerful hybrid system. These models feature a 2.5-liter four-cylinder engine paired with three electric motors, generating 236 horsepower. While it may not match the Platinum's performance, it still offers a satisfying balance of power and efficiency.
Transmission Options: The 2023 Crown's transmission varies based on the trim level. The XLE and Limited models come with a continuously variable automatic transmission (CVT). In contrast, the Platinum model utilizes a six-speed automatic transmission. These transmission choices cater to different driving preferences and styles.
All-Wheel Drive Standard: Regardless of the trim level, all 2023 Crown models come standard with all-wheel drive. This feature enhances stability and traction, especially in diverse driving conditions.
In terms of acceleration, the Crown's base powertrain provides adequate performance. It's capable of reaching 60 mph in a respectable 7.2 seconds, making it suitable for most driving situations. However, the Platinum trim, with its more potent Hybrid Max setup, stands out with noticeably brisk acceleration. It impressively accelerates to 60 mph in just 5.1 seconds, catering to those who seek a more spirited driving experience.
Suspension and Handling: The Crown's suspension is tuned for a comfortable and relaxing ride, making it an ideal choice for long-distance travel and daily commuting. While it may not deliver sports car-level cornering performance, the Platinum model features adaptive dampers that enhance handling and provide a more enjoyable and dynamic driving experience.
Toyota Crown's MPG
Toyota says the 2023 Crown gets a 41 MPG City/Highway combined. My real-world MPG, driving mostly with 4 passengers, was 39.8, which I think is a great MPG for a sedan/crossover of this size.
The Drive
Look how the Crown drives. The 2023 Crown is not a light sedan designed for cruising around town and speeding along winding country roads. It is big and quite heavy, and you can feel it. We didn't drive the Platinum version which offers livelier acceleration, but the Limited variant, which gave us a great level of satisfaction. It's a beautiful sedan.
The ride from Charlotte to Atlanta and back was pleasant, quiet (except for the CVT when it's cranky), and comfortable with a suspension that leans toward the softer side. than the sporting side of the equation.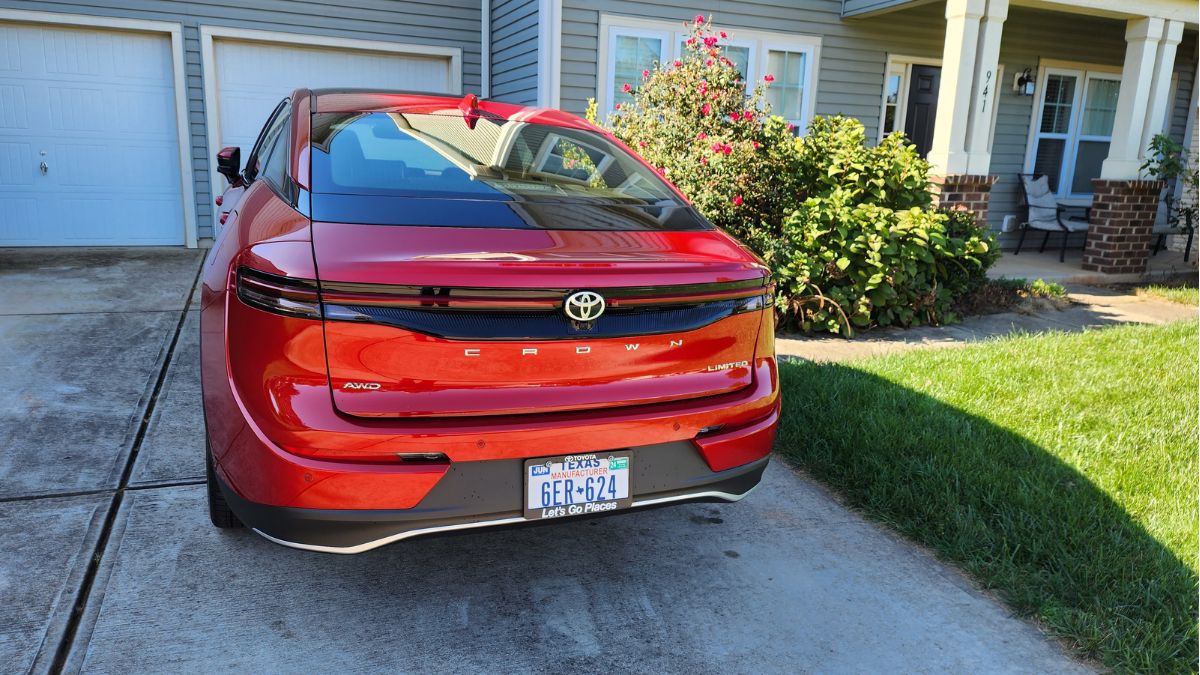 As I mentioned above, in my week-long test of the Crown for this review, I averaged 39.8 MPG.
Overall, I would like to express my appreciation to Toyota for putting a model on the market that does not follow the general trend. Still, you have to ask some questions about the Crown and what kind of market exists for it. Let's discuss in the comments section below.
Armen Hareyan is the founder and the Editor in Chief of Torque News. He founded TorqueNews.com in 2010, which since then has been publishing expert news and analysis about the automotive industry. He can be reached at Torque News Twitter, Facebok, Linkedin and Youtube. He has more than a decade of expertise in the automotive industry with a special interest in Tesla and electric vehicles.