The Mazda CX-30 is one of the cars that usually are recommended the most in its segment. It even appears on the select list of best buys in its category of subcompact sport utility vehicles. Since its very beginnings in 2020, it has demonstrated very good mechanical reliability. It must be said that the CX-30 is nothing more and nothing less than a raised Mazda3 from a technical point of view. Thus, the mechanical components of the 2023 Mazda CX-30 are proven, have demonstrated their durability in addition to being of good reliability for several years already.
The 2023 Mazda CX-30 finds itself in a competitive segment, contending with rivals like the Audi Q3 and the BMW X1, despite the fact that pricing often aligns more closely with similarly equipped versions of the Hyundai Kona and the Volkswagen Taos. It's also well compared with the Subaru Crosstrek.
While the CX-30 distinguishes itself with a higher ride height compared to the Mazda 3, it's crucial to note that it's not intended for off-roading adventures. In its base configuration, the CX-30 may leave enthusiasts wanting more, as its standard engine delivers only mediocre performance.
However, the real transformation occurs when you opt for the optional turbocharged engine. This upgrade catapults the CX-30 into the realm of driver-centric choices it was meticulously engineered to be, elevating the driving experience with added power and agility, making it a standout option in this competitive field.
The 2023 Mazda CX-30's Fuel Efficiency
The 2023 Mazda CX-30's Premium Plus Package AWD has an EPA-estimated fuel economy of 22 mpg city, 30 mpg highway, and 25 mpg combined. This is slightly lower than the non-turbocharged CX-30, but it is still very good fuel economy for a subcompact SUV.
The CX-30's fuel efficiency is due in part to its lightweight construction and efficient engine. The CX-30 also has a number of fuel-saving features, such as a stop-start system and cylinder deactivation.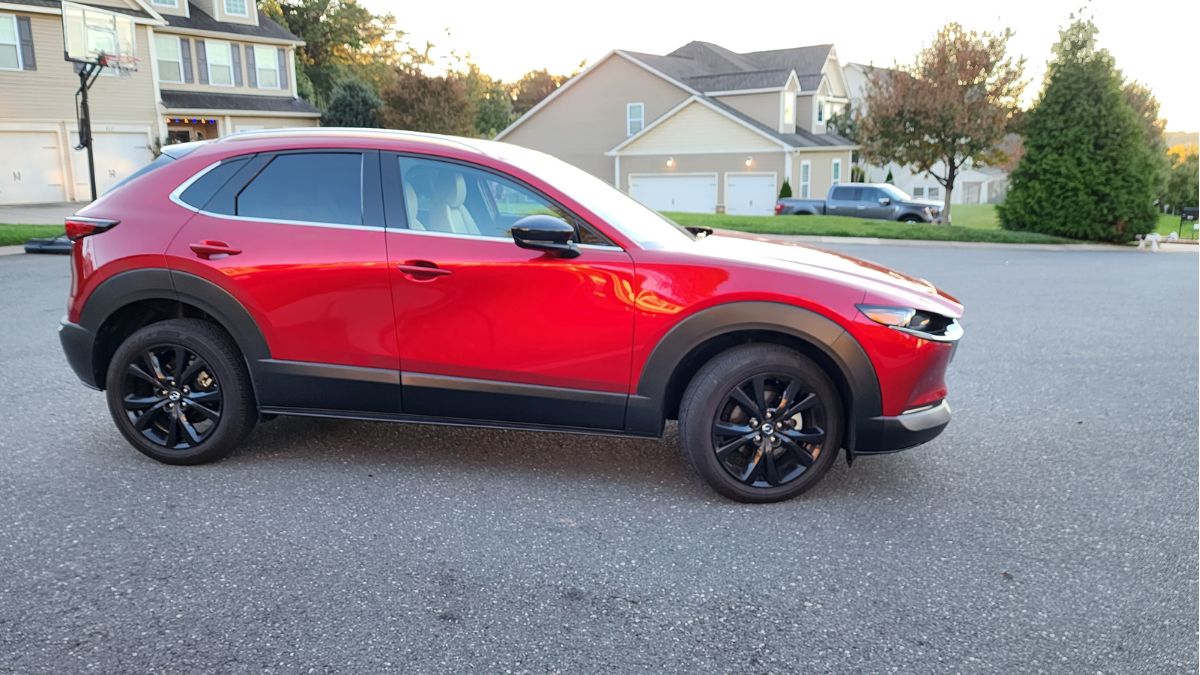 In real-world driving, the CX-30 Turbo Premium Plus can achieve fuel economy that is close to its EPA ratings. For example, in a recent test by Car and Driver, the CX-30 Turbo Premium Plus achieved 29 mpg on a 75-mph highway fuel economy test.
What's New in 2023 Mazda CX-30?
In the 2023 Mazda CX-30, there's one notable update that distinguishes it from its predecessors. The focus of this year's enhancement lies in the base 2.5-liter four-cylinder engine. While the changes are relatively mild, they contribute to an overall improved driving experience. The key upgrade is a boost in horsepower, with the engine's rating climbing from 186 to a more robust 191 horsepower. But the top Turbo Premium Plus trims that I was testing this week comes with 227 hp. This bump in power translates to more responsive acceleration and added confidence on the road.
Moreover, Mazda has also addressed fuel efficiency with the 2023 CX-30. The new fuel economy estimates demonstrate a positive shift, which is particularly important in today's automotive landscape. Previously rated at 24 mpg in the city, 31 mpg on the highway, and 26 mpg combined, the 2023 model shows improvements with estimates of 26 mpg in the city, 33 mpg on the highway, and 29 mpg combined. These enhancements cater to the demands of modern drivers, offering both a bit more pep under the hood and better efficiency for your daily commute.
While it might be just one change for the 2023 CX-30, it's a noteworthy one that enhances the overall appeal of this compact SUV, making it an even more compelling choice for those seeking a balance between performance and efficiency.
Trims and Pricing
The 2023 Mazda CX-30 offers a range of trims and pricing options to cater to diverse preferences and budgets:
Base - $24,325: This is the starting point for the CX-30, providing a solid foundation of features.
Select - $26,775: The Select trim offers a well-balanced combination of features and affordability, making it an attractive choice for most buyers.
Preferred - $29,925: The Preferred trim adds more premium features and comfort enhancements, ideal for those seeking extra luxury.
Carbon Edition - $30,665: The Carbon Edition focuses on a distinctive design and style, perfect for those who want their CX-30 to stand out.
Premium - $32,875: The Premium trim brings a host of advanced features and tech, elevating the driving experience.
Turbo Premium - $35,175: For performance enthusiasts, the Turbo Premium trim offers a significant power boost with a 250-hp turbocharged engine.
Turbo Premium Plus - $36,775: The top-tier Turbo Premium Plus includes additional premium features and enhancements.
It's worth noting that the optional 250-hp turbocharged engine is available on the two most expensive trims, Turbo Premium and Turbo Premium Plus. For most buyers, the standard offering should suffice, and we recommend opting for the Select trim. This trim includes blind-spot monitoring with rear cross-traffic alert, a leather-wrapped steering wheel and shift knob, and keyless entry.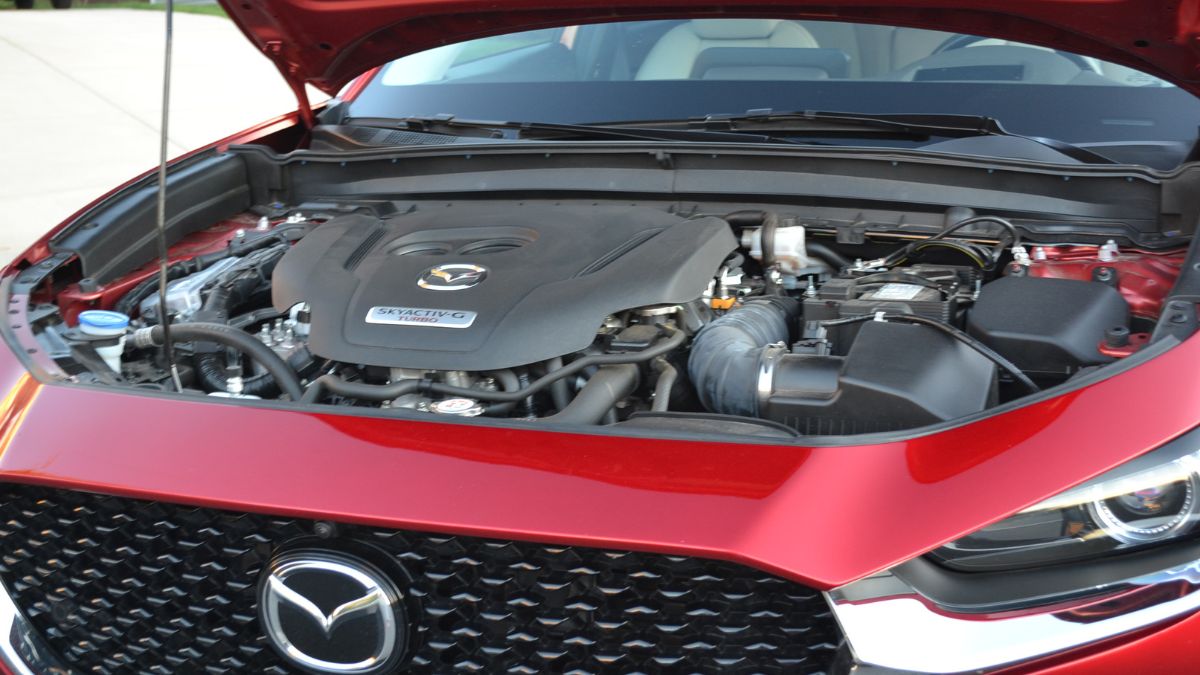 All non-turbo trim levels are equipped with the same 191-hp 2.5-liter engine, and all-wheel drive is a standard feature across the entire lineup. However, if you're a driving enthusiast and have the budget, the Turbo Premium trim might be worth considering to unlock the extra power and performance.
Exterior
The 2023 Mazda CX-30 boasts an eye-catching and distinctive exterior design that sets it apart in the crowded subcompact SUV segment. Here's a detailed description of its exterior.
Sophisticated Design: The CX-30 features a design that combines sophistication with a sporty flair. Its exterior is characterized by flowing, clean lines that create a harmonious and elegant appearance.
Distinctive Styling: Mazda's design philosophy shines through with a fluid and unique style. The exterior is free from harsh lines and instead emphasizes smooth and organic shapes, contributing to its overall sporty and attractive look.
Familiar Mazda Aesthetics: The CX-30 follows the design approach seen in other Mazda SUVs and crossovers. This consistency means that it carries forward the striking and recognizable design language that Mazda is known for.
Quality Craftsmanship: The exterior design reflects Mazda's commitment to high-quality materials and excellent build quality. It not only looks premium but also feels solid and well-constructed.
Interior of the 2023 Mazda CX-30
You know, the Mazda CX-30 may be the brand's best two-row SUV for drivers.
The interior of the CX-30 is "handsome and well-crafted." It shares its design with the Mazda 3, known for its quality, which indicates an attention to detail and premium materials.
Infotainment Centerpiece: The dashboard features an infotainment display at its center, providing easy access to vehicle information, entertainment, and navigation. It's controlled by a rotary knob on the center console, offering a user-friendly interface.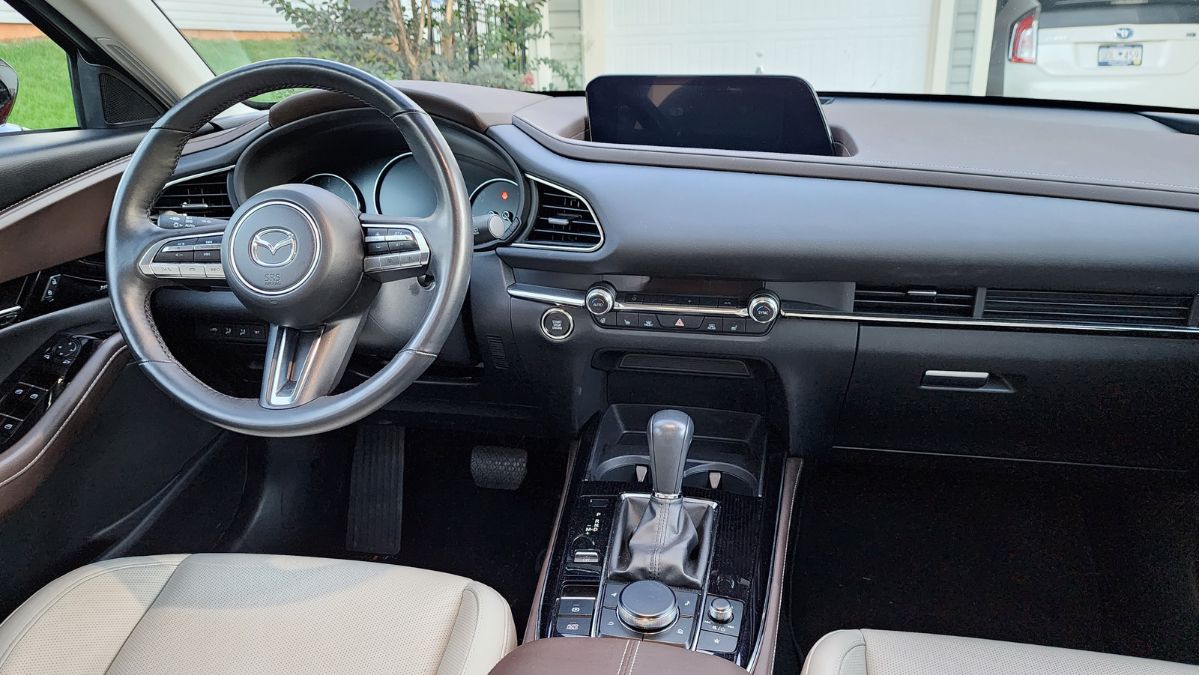 Climate Control and Comfort: The upper and lower dash panels are divided by a row of climate-control buttons, ensuring convenient access to climate settings. Buyers have the option to upgrade their seating comfort with available heated front seats, enhancing the overall driving experience.
Audio System Options: Buyers can choose between an eight- or 12-speaker audio system, allowing them to tailor the sound experience to their preferences. This adds another layer of customization to the interior.
Luxurious Upgrades: Opting for the top-spec Premium trim takes the CX-30 to the next level. It includes leather upholstery, a power-operated rear liftgate, and other luxury features, making the CX-30 competitive with higher-end brands like Lexus and Mini.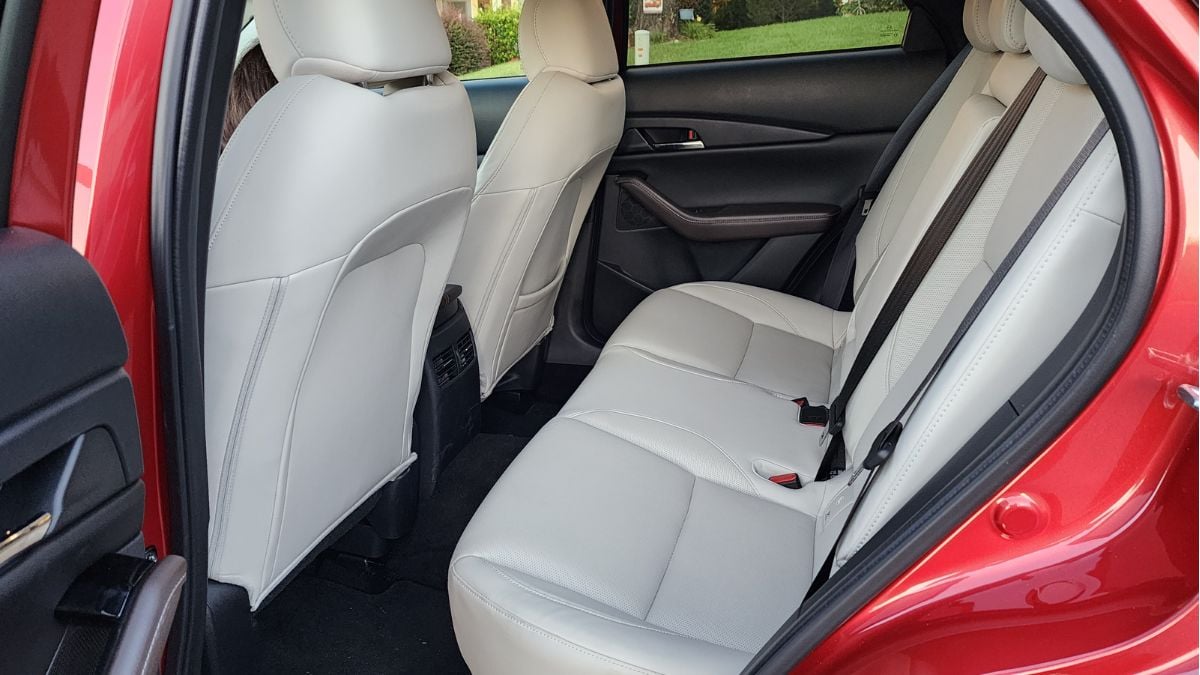 Cargo Capacity: While the CX-30 may not be the most capacious SUV, it offers practical cargo-carrying capabilities. You can fit six carry-on suitcases behind the rear seats and 16 in total with the rear seats folded, ensuring versatility for various needs.
Infotainment and Connectivity: The CX-30 features a standard 8.8-inch screen with Mazda Connected Services, allowing owners to control various vehicle functions through the MyMazda app. It's equipped with standard Bluetooth, two front USB inputs, and offers a Wi-Fi hotspot. Additional features include Apple CarPlay/Android Auto integration and SiriusXM satellite radio, ensuring a connected and entertaining driving experience.
How the CX-30's Turbo Premium Plus Trim Stands Out From The Other Options
The 2023 Mazda CX-30 Turbo Premium Plus trim stands out from the other trims in a number of ways. First and foremost, it is the only trim that comes with a turbocharged engine. This engine produces 227 horsepower and 310 lb-ft of torque, which makes the CX-30 Turbo Premium Plus the most powerful trim in the lineup. It is also the only trim that comes with standard all-wheel drive.
In addition to its more powerful engine and all-wheel drive, the CX-30 Turbo Premium Plus also comes with a number of other premium features, including:
Leather seats
Heated and ventilated front seats
Heated rear seats
Bose premium sound system
Surround-view parking camera system
Traffic jam assist
Smart brake support rear
Front and rear parking sensors
The CX-30 Turbo Premium Plus also has a number of exterior features that set it apart from the other trims, including:
18-inch alloy wheels
Black metallic side mirror caps
Black metallic grille
Dual bright finish exhaust outlets
The 2023 Mazda CX-30 Turbo Premium Plus is the most well-equipped and powerful trim in the lineup. It is also the most expensive trim, but it offers a number of features and performance upgrades that are not available on the other trims.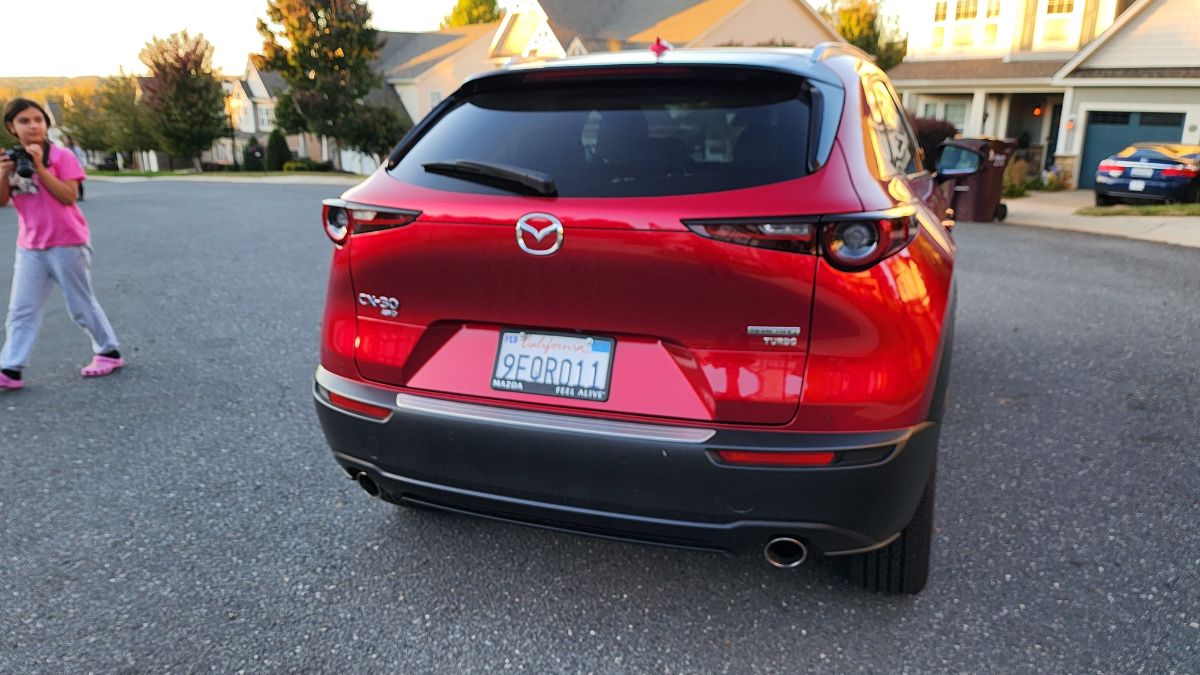 When I tested the CX-30 Turbo Premium Plus, I was immediately impressed by its performance. The turbocharged engine is very responsive and provides plenty of power for accelerating and merging onto highways. The all-wheel drive system also helps the CX-30 handle well in all types of weather conditions.
I was also very impressed with the CX-30 Turbo Premium Plus's interior. The leather seats are comfortable and supportive, and the heated and ventilated front seats are a great feature to have on cold and hot days. The Bose premium sound system is also excellent, and it provides a great listening experience for music, podcasts, and audiobooks.
I would say the 2023 CX-30 is a well-equipped and powerful SUV that offers a great driving experience. If you are looking for the most well-rounded CX-30 trim, then the Turbo Premium Plus is the trim for you.
Do you like Mazdas? Please, let us know which models of Mazda do you like the most or if you have an experience with the CX-30 in the comments section below for our disussion.
Armen Hareyan is the founder and the Editor in Chief of Torque News. He founded TorqueNews.com in 2010, which since then has been publishing expert news and analysis about the automotive industry. He can be reached at Torque News Twitter, Facebok, Linkedin and Youtube. He has more than a decade of expertise in the automotive industry with special interest in Tesla and electric vehicles.
Some photographs by Mariam Hareyan.