Power.
When we talk about a truck and its power, we do not always mean just the horsepower. There are many factors to consider when researching to see if a truck has strength.
Like the Toyota Tundra. A 2021 Tundra TRD Pro. Lunar Rock, in this specific case.
I researched several factors on this specific model to see what type of chops it has.
2021 Toyota Tundra TRD Pro
Toyota Tundra owners and potential buyers are more than aware of Tundra's reputation for toughness and long-term reliability. It has also consistently landed in the kbb.com Highest Resale Value top five list.
What about TRD Pro, though?
This is the trim level people often go to when looking for a truck to tackle the toughest of jobs. Whether it is exploring a remote trail or forging your own path through the woods or venturing out in the snow, TRD Pro may be the one for you.
2021 Tundra TRD Pro Powertrain
One of the most trusted and efficient Toyota engines around is the 5.7-liter V8 found in all 2021 Tundra grades. To be exact, it is a 5.7-liter aluminum i-Force V8 DOHC 32-valve with dual independent variable valve timing with intelligence.
You can also find this in Toyota Land Cruiser and Toyota Sequoia.
This proven engine produces 381 horsepower and 401 lb.-ft. torque. It is matched in the Tundra TRD Pro with a 6-speed electronically controlled automatic transmission.
When the 2022 next-gen Tundra is launched soon, unfortunately this 5.7-liter engine is sure to be left off the available powertrain choices list.
Part of me wishes this would still be included as an option, but I just do not see that happening. We could see a Tundra Hybrid, though, which is very intriguing.
Look for 2021 Tundra TRD Pro and its 5.7-liter V8 to successfully pull and tow just about anything you need.
Towing for 2021 Tundra TRD Pro
Speaking of Tundra towing capabilities, what exactly is a 2021 Tundra TRD Pro able to pull?
There is actually more than one right answer here. Tundra TRD Pro now comes in two different cab configurations – Double Cab and CrewMax.
RELATED VIDEO: Compare Tundra Double Cab vs Tundra CrewMax in my video review.
Double Cab has a good amount of back seat passenger leg room, along with a 6 ½ foot bed. CrewMax has an incredibly large amount of back seat space, and this comes standard with a 5 ½ foot bed.
Towing capacity for Tundra Double Cab is 9,900 pounds. Tundra CrewMax has a 9,200-pound tow capacity.
2021 Toyota Tundra TRD Pro Suspension
FOX shocks. Heavy duty FOX shocks. You can find these on popular TRD Pro models like Toyota Tacoma and Toyota 4Runner as well.
These are surrounded by TRD-tuned springs and allow your Tundra to absorb maximum impact on uneven trails and other challenging terrain.
The front FOX shocks feature a chunky 46-mm piston and 11 bypass zones. Rear suspension features FOX shocks with 2.5-inch piggyback reservoirs and 12 bypass zones.
An extra 1.5 inches of travel in the front and an extra 2 inches of travel in the rear are gained from this system.
Have you taken a Tacoma TRD Pro or 4Runner TRD Pro or Tundra TRD Pro on the trails and what are your impressions of the suspension and how it rides and handles?
I Will Take "TRD Pro Potpourri" for $1000 please
Other systems and features should be mentioned as well with Tundra TRD Pro.
Take the exhaust, for example. TRD Pro comes standard with a cat-back dual exhaust which highlights the muscular growl you will hear. Plus, it looks sharp in the process.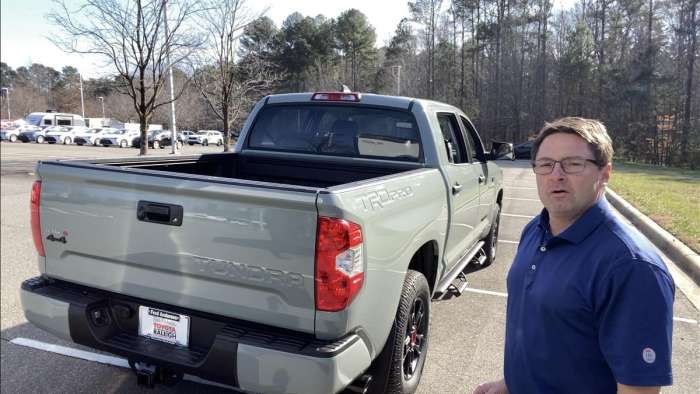 Look for a ¼-inch aluminum front skid plate that looks great with its red TRD lettering. Its main function is to protect Toyota Tundra underside from brush, stumps and rocks.
The 2021 Tundra TRD Pro rides around on 18-inch BBS wheels. Black with red TRD logo. These are matched up with P275/65R18 Michelin tires.
These wheels are made from aluminum. This lighter material, combined with an aerodynamic wheel design, reduces weight on each wheel over 3 pounds (3.35 pounds each, to be exact) versus 2020 models. This improves ride quality and cornering response.
LED headlights and LED accent lights provide a powerful guide for you and your Tundra at night. Rigid Industries LED fog lights have a 35-degree wide-angle beam pattern and an intense brightness to cut through fog and look great at the same time.
Time for your thoughts on Toyota Tundra
Thanks everyone for reading my story and for bookmarking my Toyota column. I hope I can help you research vehicles you are considering and learn more about them after you have made your purchase.
READ MORE:
- 5 things to know about 2021 Toyota Tundra before you buy.
- 3 reasons to buy 2021 Tacoma TRD Off-Road and 3 reasons for SR5.
- A new update for 2021 Tacoma that improves comfort on road trips.
Do you own a Tundra and how do you like it so far? What do you like or dislike most about it?
Are you looking forward to the next-gen Tundra? What features do you hope are included?
See you next story when I tell you about the feature for 2021 Venza you may want but may have trouble finding.
Follow Jeff Teague on social media:
- My Toyotajeff.com website
- My Torque News / Toyota News column
- YouTube channel - My "Toyotajeff" Toyota reviews
- My Facebook page
- Instagram @toyotajeff1
- Twitter @toyotajeff1
Thank you everyone for following me.