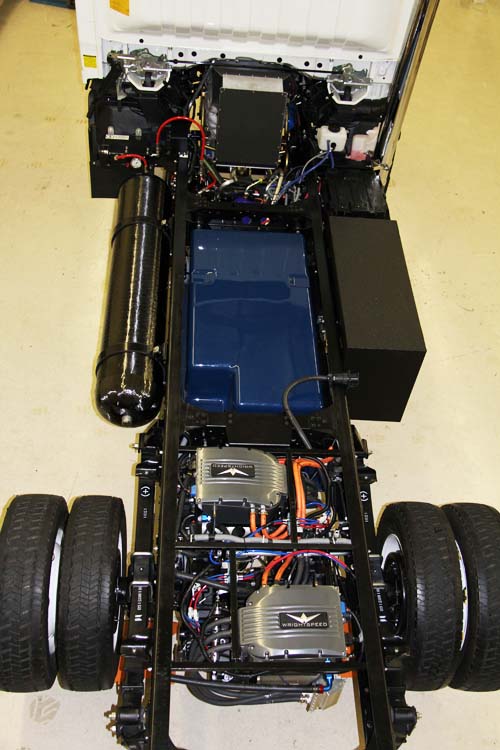 The time for the Hybrid Electric Fleet Truck is now
Please
SHARE
with friends and include TorqueNews in
Google Alerts
for tomorrow's interesting stories.
Wrightspeed is a provider of hybrid powertrains that can be retrofitted to existing delivery trucks to create a Hybrid Electric Fleet Truck (HEFT) with an electric motor drive and a diesel generator to create much greater fuel savings than passenger cars ever could, regardless of fuel efficiency.
The company is the brainchild of Ian Wright, a former employee of electric vehicle pioneer Tesla. The system he has devised removes heavy engine, transmission and drive elements, replacing them with a lighter weight electric drive and generator system that can achieve up to four times the mileage of the current fleet truck. Not only that, it can be charged up overnight to further extend its savings.
"For electric drive to make economic sense, you have to displace enough fuel to pay for the technology," Wright said, according to a post by Joe Duarte on AutoNet.ca. "That pretty much rules out passenger cars, because they don't burn enough fuel. Medium-duty trucks on commercial routes burn thousands of gallons of fuel annually."
According to the system's description the new system weighs less than the components it replaces since the system generates its own electricity with a diesel generator, the battery doesn't have to be as big.
Called The Route, the retrofit promises savings on fuel of up to 50 percent, while meeting the performance expectations of route drivers, without reducing the payload capacity of the vehicle.
"Urban cars average 12 miles per hour and drive an average of 12 hours per week. That's 7,500 miles per year. If that car got 100 mpg, it would burn 75 gallons annually. If that car were to replace a 40 mpg hybrid, which would burn, under the same conditions, 188 gallons, the fuel savings would be 113 gallons per year," states a company report. "However, the Route can get trucks 44 MPG (cost equivalent) at an average of 30,000 miles per year at, that's 700 gallons. When the Route replaces an 8 MPG conventional powertrain that burns 3,750 gallons annually, the fuel savings is 3,050 gallons. That's 27 times more fuel saved."
Please include TorqueNews in
Google Alerts
to receive tomorrow's stories and
SHARE
this with friends if it was interesting.
It would seem the HEFT has the potential for hefty fuel savings in the segment of vehicles burning the most fuel in the land.
It is the same approach used in the Chevy Volt and the Fisker Karma, simply because combustion engines create electricity much more efficiently than they do drive, getting more out of the energy dense fuel.
Since replacing powertrains in fleet trucks is just part of doing business and the system requires no alteration of the body or chassis, it can be absorbed as part of the normal process of maintaining a fleet.
Pages
Please
SHARE
with friends and include TorqueNews in
Google Alerts
for tomorrow's interesting stories.