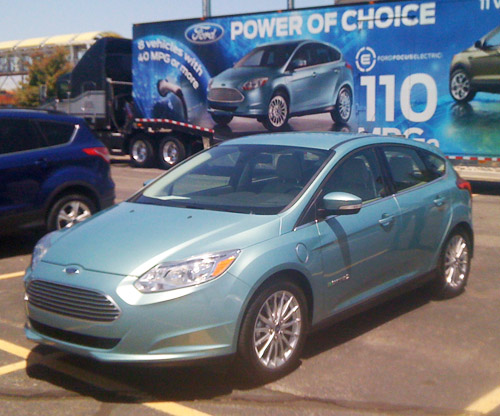 Obama insists America should stop burning oil ASAP
Please
SHARE
with friends and include TorqueNews in
Google Alerts
for tomorrow's interesting stories.
The speech was presented at the Argonne site because it was where the improvements in lithium ion batteries that made all the new plug-in hybrids hitting the market possible. Vehicles like the Ford Focus Electric, pictured here.
"So I chose Argonne National Lab because right now, few areas hold more promise for creating good jobs and growing our economy than how we use American energy," President Obama said.
"After years of talking about it, we're finally poised to take control of our energy future. We produce more oil than we have in 15 years," he continued. "We import less oil than we have in 20 years. We've doubled the amount of renewable energy that we generate from sources like wind and solar – with tens of thousands of good jobs to show for it. We're producing more natural gas than we ever have before – with hundreds of thousands of good jobs to show for it."
The President then cited the approval of the first new nuclear power plant in 30 years as more evidence of progress in taking charge of our energy choices. The new plant will be built in Georgia, despite concerns about natural disasters like the one that damaged the Fukushima site in Japan during 2011.
A partial meltdown of the reactor core at Three Mile Island in 1979 put a chill on the industry for a very long time. Though its not irrational to still have concerns about the virulent toxicity of the consumed power rods, at least it is much cleaner in atmospheric terms than the coal fired plants that are slowly giving way to the wind, solar or natural gas based generation of power.
"Over the past four years, we haven't just talked about it, we've actually started doing something about it," Obama stated proudly. "We've worked with the auto companies to put in place the toughest fuel economy standards in our history, and what that means is, by the middle of the next decade, our cars will go twice as far on a gallon of gas. The standards that we set are part of what's driving some of the amazing scientists and engineers who are working here at Argonne Labs."
Of course some of the speech was political as Obama pointed out how the sequester blindly reduces spending with no rhyme or reason to the process. One of the things that will suffer (so a few hundred thousand people with astronomical incomes can hang on to more of their money – of which they already have plenty) is funding for the research that drives innovation and keeps America a leader in technological advancement.
"That's why we have to keep investing in scientific research," he intoned. "It's why we have to maintain our edge – because the work you're doing today will end up in the products that we make and sell tomorrow. You're helping to secure our energy future. And if we do it well, then that's going to help us avoid some of the perils of climate change and leave a healthier planet for our kids."
The first president, George Washington, eschewed political parties, envisioning a despotism evolving out of views colored by ideology. We usually only recognize this in those we term fanatics and zealots, but does such categorization now apply to our two party system.
The greatest change in our political landscape over the last fifty years has been the growth of the independent voting block, varyingly reported to be from 30 to 44 percent of the voting public. Could this be a rejection of the strictly ideological view of everything?
Pages
Please
SHARE
with friends and include TorqueNews in
Google Alerts
for tomorrow's interesting stories.