The Must See Hyundai and Genesis Offerings From The Detroit Auto Show
Hyundai put much effort into the 2017 Consumer Electronics Show recently in Las Vegas and although there is no big extravaganza of fireworks at the Detroit show, the full range of what's coming from Hyundai in 2017 is on show. The full IONIQ electric range is on show which includes the 2017 Ioniq Plug-In, Ioniq Electric and Ioniq Hybrid Electric which is the first production car to offer all three variations of electric powertrain in one vehicle platform. This is ahead of an official public launch this coming spring.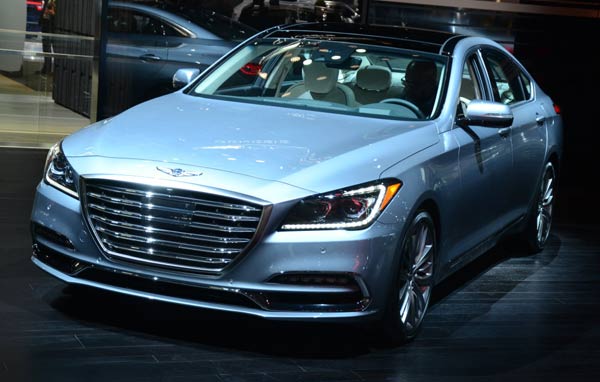 Most of the IONIQ's autonomous functionality was shown off at CES, which features the LiDAR system under the detection technology, such as radar and Lane Keep Assist cameras and had the Ioniq driving round the streets of Las Vegas in autonomous mode. Hyundai is currently working through the bugs in the system until they have a solid platform which will probably arrive in the next few years, possibly 2020.
Even though the buzz around Hyundai recently has been on their IONIQ range and autonomous driving, the rest of the Hyundai range of 27 models are being featured. The 2017 Elantra Sport is standing proud, which is an up-to-date and performance version of their leading compact vehicle. The Veloster Turbo is on show, which we have not heard that much about when it comes to updates, which means something will happen in 2017 with the model. The rest of the range from Hyundai is being displayed which includes the Accent, Elantra and Elantra GT, Sonata and Sonata PHEV, Santa Fe Sport, Sonata Plug-in Hybrid and Tucson. The Santa Fe is also on show showing the NFL Wrap displaying their relationship with the National Football League.
Hyundai's luxury brand, Genesis has its own area at the show to show off the 2018 G80, which features new sports trim and an updated 3.3 L turbocharged engine with eight speed automatic transmission, along with a fine set of 19 inch alloy wheels, redesigned bumpers, a new mesh grille and upgraded body kit. Carbon fibre replaces the traditional wood trim and sports seats and sporting steering wheel round off the interior. The transmission has also been tuned up for quicker shifting and more sports performance. The G80 Sport will be the new top performance vehicle from the luxury brand.
If after all of Hyundai's eye candy hasn't worn you out, you have a chance to play Madden NFL 17 and Gran Turismo 6 at the event, two fantastic games completely free.