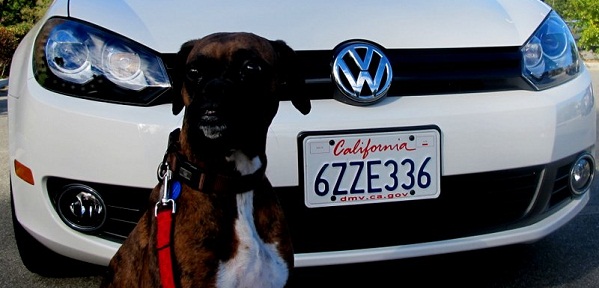 The Best and Worst New 2014 Volkswagen Models for Dog Owners
Please
SHARE
with friends and include TorqueNews in
Google Alerts
for tomorrow's interesting stories.
If you aren't one of the millions of Americans who owns a dog then perhaps you just wouldn't understand why so many dog owners bring man (and woman's) best friend with them everywhere they go even in the car. But when doing so you really do need to consider if the car you have is suitable for a canine passenger. That, of course, is why whenever we road test a new Volkswagen we bring along our very own canine road tester Roxy, a Boxer that we rescued after her previous owner decided they couldn't take care of her anymore.
Now Roxy considers more things than just the comfort of the back seat when she is riding around in a test Volkswagen. She likes to have a rear seat air conditioning vent for hot days like you can find in models such as the Golf and GTI and her personal driver likes it when the U-rings most owner's might use for car seats are easily accessible to attach her fitted safety harness. Roxy may only weigh 45 pounds but if we had an accident in one of our Volkswagen testers she could get seriously hurt without proper restraint just like any human occupant. So remember to always consider your dog's safety before heading to the mall in your Jetta or Passat.
So as follows is a list compiled by Roxy the dog and her human so that new car buyers who love to bring their dogs with them everywhere will pick out just the perfect Volkswagen for them. Because if you have a 150 pound Bull Mastiff you may want to reconsider that 2014 Beetle.
Excellent for all Breeds:
2014 Touareg SUV: This rough and tough SUV has an interior built to seemingly withstand a nuclear blast so even with two large breed dogs in the back we are confident that after a trip to the car wash the Touareg would be ready to take friends out to a night at the Opera. Add in the fact that there are vents for the back seat as well as handy folding rear seats that could allow you to make the entire cargo hold a canine automotive paradise and you have the formula for an SUV winner.
2014 Tiguan SUV: Not only is the Tiguan fun to drive thanks to its 200 horsepower 2.0 liter turbocharged 4-cyllinder motor but it makes for the perfect dog car. Honestly, what compact SUV doesn't? But we just so happen to really love the Tiguan.
2014 Passat Sedan: Roomy, solidly built with interior materials clearly chosen for their ability to take a beating as well as a trunk that is big enough to haul five 100 pound bags of kibble all contribute to make ta family sedan perfect for the kids and Fido. It also has vents for back seat passengers.
2014 Jetta Sedan/GLI/TDI: The Jetta sedan may lack the interior polish of the Golf and Jetta Sportwagen but it is definitely good enough to withstand any abuse from your dog. A fine choice.
Pages
Please
SHARE
with friends and include TorqueNews in
Google Alerts
for tomorrow's interesting stories.