Koenigsegg has released official pictures of the first Jesko Absolut, a car with which it hopes to break through the 300 mph speed barrier. Two years after giving us a glimpse of the Absolut prototype, the first car has been built and testing is underway.
The Absolut part of this wild megacar's name refers to the fact that this will be Koenigsegg's final super-high-speed hurrah, at least in terms of series production road cars. Knowing what we do about boutique brands and their penchant for building huge-money one-offs we'd bet there's potential for more like this out of Sweden in the future.
For now, we can get excited about the Jesko Absolut and its rumored 310+ mph top speed, though Koenigsegg is playing its cards close to its chest by simply saying that it'll be "unbelievably fast."
"The top speed of the Jesko Absolut is extremely high. How high depends on the conditions and location of a possible high-speed run. If the opportunity arises the Jesko Absolut will be ready to take the crown, regardless who holds it."
Strong words indeed, and they're backed up by an incredibly strong vehicle.
Body & Aerodynamics
The Absolut's body has been exhaustively tweaked and restyled to reduce drag and turbulence at the mind-bending speeds it's designed to travel at. With over 5000 additional design hours spent on top of those that went into the original Jesko, the Absolut is a "more seamless and stealthier interpretation" with emphasis placed on high-speed stability over downforce. To that end, the front splitter and dive planes are removed while the tail is re-sculpted and lengthened by 85mm. The most obvious change is the removal of the track-minded Jesko's enormous fixed rear wing, replaced by a pair of fins to aid stability. The difference in downforce is staggering: from 2200 lbs. with the wing down to just 330 lbs. for the Absolut.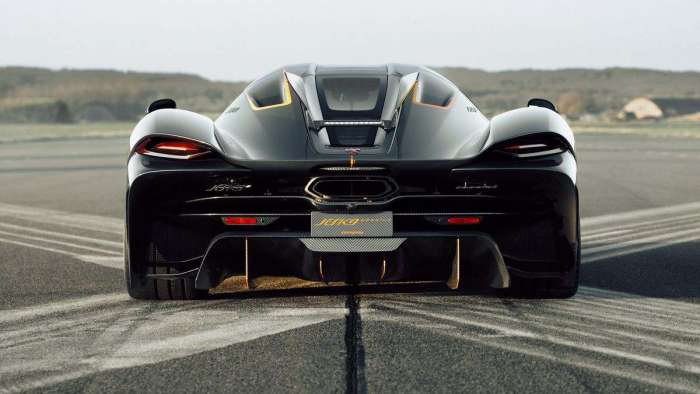 Engine & Light Speed Transmission
Powered by the same twin-turbo V8 as the Jesko, the Absolut packs 1600 horsepower, 1100 ft-lb of torque, and an 8500 rpm redline. All that power goes to the rear wheels thanks to another ingenious Koenigsegg design: a proprietary gearbox known as the LST (Light Speed Transmission). It's a multi-clutch system with "several" wet clutches and nine gears which reportedly allows drivers to change up and down ratios with speed the likes of which has never been seen in a road car, skipping two or three gears entirely if that's what's called for. Despite its abilities, the LST is reportedly half the size of previous Koenigsegg-designed transmissions and about a third lighter than comparable dual-clutch setups.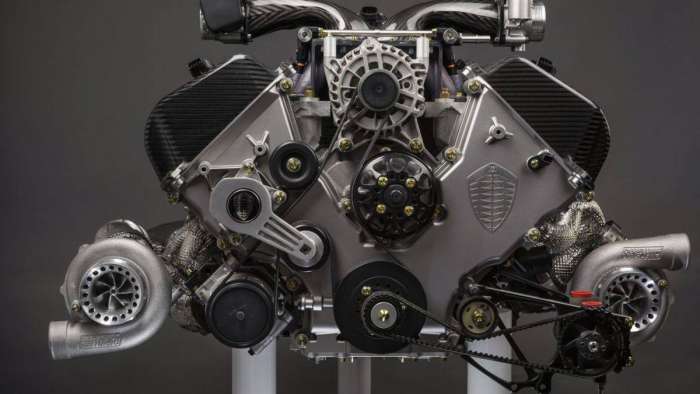 Suspension
The Jesko Absolut features heavily reworked suspension to account for the vastly decreased levels of downforce over its corner-loving brother. Running bespoke Ohlins suspension with adaptive control electronics developed by Koenigsegg it's a much softer setup than the one found on the car with more than a ton of downforce pushing it into the road. Koenigsegg's three-damper triplex system was found to be unfit for purpose at the front end so it was removed, allowing for "increased luggage space." Practicality never takes a back seat. Like other cars out of Angelholm, the Absolut's roof can be removed and stored in the front of the vehicle while the softer suspension provides a more forgiving ride and better handling at the sharp end of 250 miles per hour.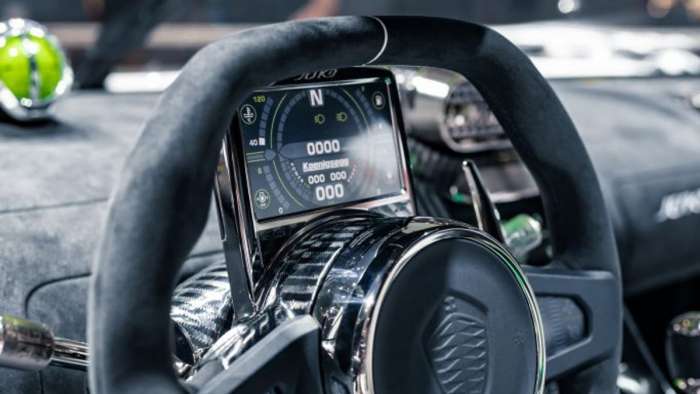 Interior
There's been no overly-spartan weigh savings inside the Absolut as everything's already made from carbon fiber. Koenigsegg says that the interior would be more at home in a grand tourer than a track weapon with leather, aluminum and glass complementing carbon fiber and alcantara. The carbon bucket seats are electrically operated and can be upholstered in any number of luxury materials. If there's one area of the Jesko Absolut's interior that causes some head scratching it's the increased reliance on touchscreens to operate settings. They're difficult enough to operate while driving at normal highway speeds, let alone at well over triple that. The instrument cluster takes the form of a small screen mounted to, and turning with, the steering wheel which also seems a curious idea, but when you consider that this is a car designed for blasting in a straight line perhaps makes more sense.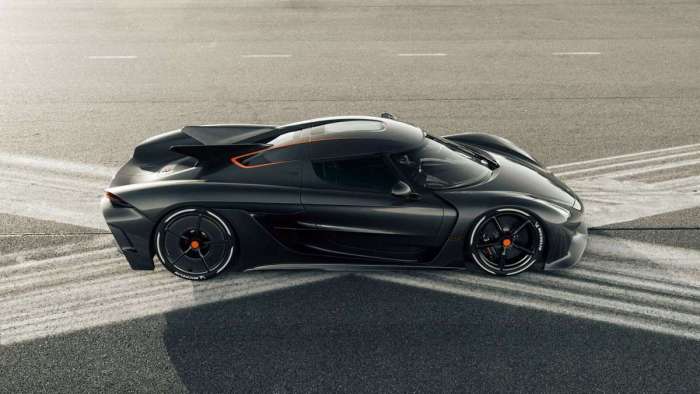 Either way, the Koenigsegg Jesko Absolut is a fascinating, exciting, bedroom wall poster vehicle and we can't wait to see if it manages to dethrone the 316 mph SSC Tuatara as the world's fastest production car.
Images by Koenigsegg licensed by CC BY 2.0.
James Walker is an Automotive Journalist at Torque News focusing on Lucid Motors. If it's got wheels he's interested, and he's looking forward to seeing what kind of cars the EV revolution brings us. Whether it's fast, slow, new, or old, James wants to have a look around it and share it in print and on video, ideally with some twisty roads involved. You can connect with James on Twitter, Instagram, and LinkedIn.