Top rated Honda Odyssey minivan carries over for 2017
With the reinvention of American Honda's lineup, there's more than a bit of speculation circulating the Web as to a totally redesigned Odyssey for 2017 -- not yet. A carried over Odyssey featuring all the 'goodness' of the 2016 offering with a minor change or two, including the much welcomed addition of an acoustic windshield to the SE and EL-X trim variants comes to dealerships next week.
I was more than impressed by how drive worthy Odyssey is on a long run
Back in November of 2015: I drove a then new 2016 Odyssey S.E. on a 4 day turnaround from Eugene, Oregon to the Las Vegas SEMA Show. Truthfully, while not a minivan fan per say, I was just a bit blown away by how comfortable my driving position was in Honda's V6 powered, 6 speed automatic front wheel drive minivan. By the time I got home, I was entertaining the idea of buying one. How does Honda Odyssey stack up against Toyota Sienna?
While the Odyssey S.E. is a bit spartan as to personal electronics connectivity, a dash integrated navigation system, and active safety features, it proved to be powerful, fuel efficient, soft of ride and relatively cab quiet. Read my Odyssey drive experience here. Interestingly enough, while driving Odyssey through high winds, snow, ice and a sand-blow or two, If I didn't know better, I would have assumed Odyssey to be all-wheel-drive, it tracked that well.
After 4 days and 2300 miles, with a (short) 4 a.m. overnight stay in a Walmart parking lot, and a 2-day Las Vegas SEMA Show thrown in for good measure, I made it back to Eugene, Oregon through winter driving conditions, dare I say it, relatively refreshed. Minivan or not, I liked my Odyssey experience. Just a bit of personal disclosure: We have an 09' Odyssey in our extended car family -- still trouble-free.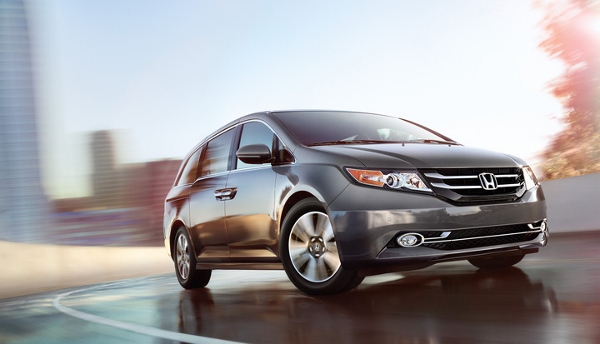 2017 Odyssey arrives at dealerships nationwide December 19
With all the family and group accommodations Odyssey is known for, including an optional rear integrated vacuum cleaner, award winning passive and active safety features, and a best in class MPG of 19 city/ 27 highway, and 22 combined, this up to 8 passenger people pleaser comes to market with a beginning MSRP of $29,850 Odyssey LX, and offers 8 trim options up to the limo-like accommodations of the 'over-the-top' Odyssey Touring Elite -- Captain Chairs and 2nd row digital entertainment included.
I recommend a Honda Odyssey test drive to anyone contemplating the purchase of a minivan.