2016 Honda HR-V earns 'Green' Kudos as viable SUV alternative
2016 HR-V crossover continues to gain sales as young and seasoned buyer alike look to Honda's latest and greatest Fit based crossover, as an alternative to larger and subsequently fuel-thirsty mid to full size SUVs. Thursday's news reported 2016 HR-V named Green Car Journal's "2016 Green SUV of the Year."
SUV, crossover, what's the difference?

These days, looking to manufacturing practice and all major brand finalist in Green Car's top 5, we don't find a true truck-based SUV. Regardless, the vehicles represented here, BMW X1, Hyundai Tucson, Mazda CX3, and RAV4 Hybrid, all offer an AWD (all-wheel-drive) option, feature hatchback utility, and can drive off road a bit, while averaging exceptional fuel economy and producing ultra low emissions.
No rock climbing in 2016 Honda HR-V

That's not what HR-V was designed for, nor can one pull a 5,000 lb. load behind it. But when looking to the MSRP,($19.215 to $$25,990) coupe inspired interior finishes and body line, exceptional standard features, the available AWD option, and 5 door hatchback utility, 2016 Honda HR-V can do most of the duties generally assigned to a midsize of larger SUV. Read our latest HR-V drive review here.
Best fuel economy in class and ultra low emissions

Here's what Honda tells us:The "Green SUV of the Year" award recognizes the all-new HR-V for its class-leading environmental performance – a top fuel economy rating of 35 mpg highway1 (2WD CVT) and additional designation as an Ultra Low Emissions Vehicle (LEV2 ULEV).
Looking to the very small environmental footprint that is 2016 Honda HR-V, total ownership costs, utility offered, safety ratings, and ultra-low emission standards, auto industry bellwether "Green Car Journal" named 2016 Honda CR-V " 2016 Green SUV of the Year." Yes, I know, HR-V is not an SUV. But in the theme of things, I'm not sure that that matters much.
Here's what Honda's Mr John Mendel, and Green Car's Ron Cogan had to say about HR-V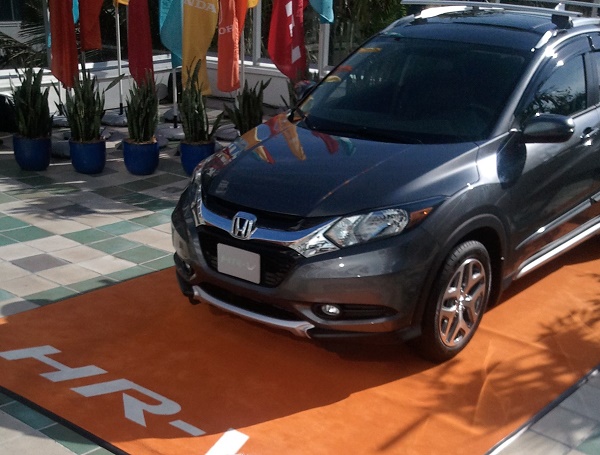 "The Honda HR-V is a truly unique new subcompact crossover, delivering the space, utility, comfort and feature content of a larger vehicle, with the sporty driving dynamics and class-leading fuel economy ratings on par with a small car," said John Mendel, executive vice president of Auto Sales for American Honda.
"All of us at Honda truly appreciate Green Car Journal for recognizing the HR-V as Green SUV of the Year and as the latest in a growing lineup of products with class-leading efficiency and low emissions."
"With its active styling, smart features, and fuel economy leadership, the 2016 Honda HR-V gives car buyers an entirely new option in the small SUV category," said Ron Cogan, editor and publisher of Green Car Journal and CarsOfChange.com.
"The HR-V brings true environmental performance to this fast-growing category, and drivers are taking notice, as are we here at Green Car Journal, making HR-V the perfect choice to take home 2016's "Green SUV of the Year" honor."
Torque News congratulates or friends in H.M.C.Light Trucks, 2016 Honda HR-V design and engineering team for a job well done.