Hong Guang MINI EV: A Master Microcar and Tesla's Biggest in China
The MINI EV, not to be confused with the MINI Cooper's electric variants, is offered only in China. The General Motors press release says that the MINI EV has a "small on the outside, big on the inside" philosophy. The car is tiny - it is only about 115 inches long, 59 inches wide, and 64 inches tall. This means that the MINI EV is shorter than an original Fiat 500 from the 1950s and about two whole feet shorter than the current Fiat 500.
SAIC Motor and General Motors managed to cram over 26 cubic feet of interior luggage space in the MINI EV with the back seats folded down. As a reference point, the much larger Fiat 500 only has 30.1 cubic feet of luggage space. The press release says that the MINI EV has 12 storage spaces - no more info about those is given.
The MINI EV has only about 27 horsepower and about 63 foot-pounds of torque. It can reach 62 miles per hour and can go up to 105 miles per charge. For a vehicle of its size, aimed mostly for city dwellers, 62 miles per hour will likely be more than enough, and 105 miles of range could last a few days.
A big issue with both microcars and electric cars is safety. General Motors has addressed issues with both types of vehicles. Regarding size-related safety, General Motors says that over 57% of the MINI EV's body is "high-strength steel." The car also features an anti-lock braking system, two child safety seat restraints, and reversing radar. Regarding battery safety, General Motors out the battery through 16 "rigorous safety tests" - what those tests were, we can only guess.
CNN Business says that the base model Hong Guang MINI EV starts at around $4,400. Over 270,000 have already been sold. This makes the MINI EV a better seller than all Tesla models in China (it should be noted, however, that Tesla does not offer an electric car in the same class as the MINI EV).
General Motors has announced a better-equipped, pastel-colored line of MINI EVs called "Macaron." Named for the colored meringue sweets, the new line was developed with Pantone Universe and includes three new colors: "Avocado Green," "Lemon Yellow," and "White Peach Pink." A solid colored roof is available. The MINI EV Macaron will start at about $5,700.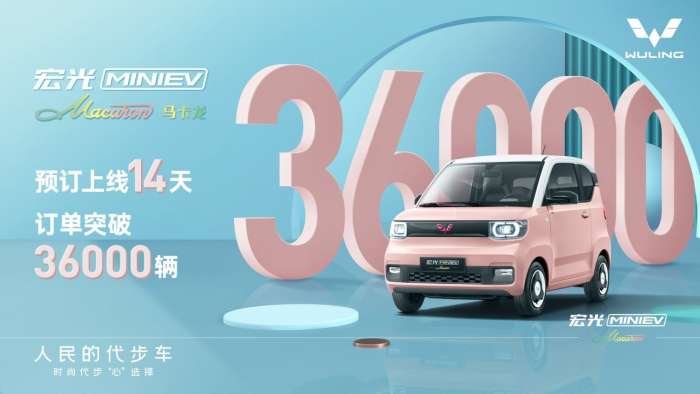 The MINI EV Macaron has additional safety features, including a standard driver air bag, low-speed pedestrian warning system, and reversing camera.
A new variant, the Hong Guang Mini EV Cabrio, introduced ahead of the Shanghai Motor Show, has a folding cloth roof. Prices have not yet been announced.
The LEGO brick styling and roller-skate wheels give the MINI EV a charming style. Its style, in conjunction with its low price and small size, gives the MINI EV the characteristics of a chic microcar. It is unlikely that it will ever be sold in the United States due to safety regulations and low demand for microcars, but a Latvian brand called FreZe is aiming to sell them as the Dartz FreZe Nikrob EV in Europe.
Check out how Chevrolet's Bolt EUV compares to Toyota's upcoming bZ4X.
Samuel Kricsfeld has a degree in journalism from the University of Kansas and reports news about General Motors at Torque News. You can follow him on Twitter, LinkedIn and Instagram for daily GM news.