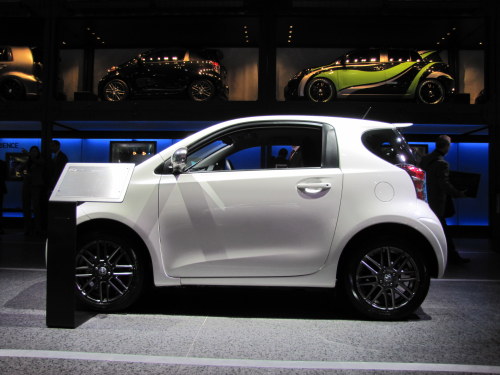 High-efficiency small cars shine at 2011 Detroit Auto Show
Please
SHARE
with friends and include TorqueNews in
Google Alerts
for tomorrow's interesting stories.
Few realize just how leaders in the auto industry really think behind the scenes. Ironically, sometimes they don't; hence the bankruptcies and lack of vision. At other times, the auto industry talks and walks like a sly fox; meaning, it knows precisely what it wants to do.
One of those bucket-list things that the auto industry definitely wants to do is meet America's fuel economy standards for 2016. Witness the fact that every automaker at 2011 NAIAS has at least one, new small-car entry. Beyond 2016, they know it's only going to get tougher, and are hoping for fuel cells and hydrogen. What about after?
Actually, 2016 is an official obligation, as a result of a comprehensive agreement with the federal government, state regulators and environmental groups, whereby the auto industry must meet a 35.5 mpg fleet-wide average; but note the words, "fleet-wide average." No matter how the fleet is dispersed via the segments, it is the public, not the automakers, that determines where sales will focus; and that's often a moving target.
So, the industry is hedging its bets against an economy that is still hurting, high unemployment, rising energy costs except for natural gas, and government mandates. So, despite all the rhetoric about a green planet and conservation, the industry is simply concerned for its own welfare; but, hey, who isn't?
After 2016, the regulations are expected to get even stiffer. California is trying again to get its own way. Even the Obama administration has issued a preliminary proposal to require automakers to increase the corporate average fuel economy of cars and lights trucks between 47 mpg and 62 mpg by the 2025 model year.
Now the conundrum

How will the public treat the push toward smaller cars when they are not deemed as safe as larger vehicles? How will a family of five travel with all that a family often transports in any car within the small-car segment? How will a family of five afford the next generation of hybrids? And nobody can afford 480V service to their home for fast charging; maybe 220V 3-phase.
The problem is that larger cars and mid-sizes need to get much better mileage than what the very best are getting right now at 2011 NAIAS. Don't be fooled by the highway numbers. It's the average of city and highway that counts, because that is how we drive. The other problem is that larger vehicles are not cheap by any means; and electrification is not making them cheaper.
We already have internal combustion engines (ICE) that have multiple valves, direct fuel injection, variable valve and cam timing, not to mention twin turbos. Fact is the efficiency has gone up significantly, but still not enough. So, what's left that will meet the mandates and allow the power to motivate a larger vehicle?
Pages
Please
SHARE
with friends and include TorqueNews in
Google Alerts
for tomorrow's interesting stories.