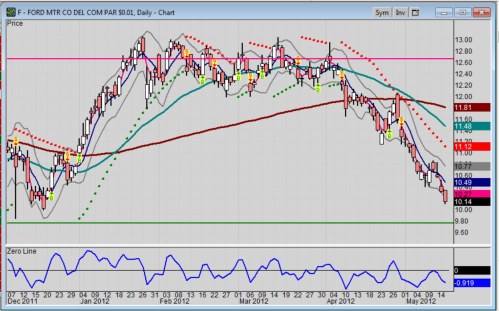 Ford stock diving faster toward key support level into option expiration
Please
SHARE
with friends and include TorqueNews in
Google Alerts
for tomorrow's interesting stories.
Ford Motor company (NYSE: F) stock closed Tuesday at $10.14 still above but diving fast toward that key support level of 9.75, where buyers overcame sellers in the past.
Perhaps it's not Ford's fault anymore than it is GM's fault that its stock has been tanking along with the rest of the market. After all, this is May, the anniversary month of the great flash crash; and people are skittish. However, anytime Ford stock tests the $10 mark, one has to wonder if this is a gift that will pay off for investors who believe in the fundamental outlook of the Blue Oval.
Perhaps it's all a matter of perspective even more so this time; often is with market entities. After all, May is also the month when the adage, 'Sell in May and go away' is invoked by many talking heads on CNBC. After the sell-off these past two weeks, though, it is hard to dismiss.
Main question is, how long shall we stay away? And should we stay away from everything that is an equity? Is Ford an exception considering its product lineup and EcoBoost™ line of engines, not to mention its new hybrids followed by that new Ford Focus EV?
Ford Stock Chart
Not too much has changed for Ford stock since I reported last, except the trend bias towards the downside has indeed gotten worse. Sure, this Friday is option expiration, when volatility fills the air for all stocks. Then again, the JP Morgan (NYSE: JPM) bank trade bumble of $2 billion, along with Greece who still cannot decide on how austere it needs to be, are taking its toll on trading mindsets these days; albeit JPM had a decent day today rebounding.
Looking above at the Ford stock chart, though, we still see 12.65 as major resistance which has been tested and failed; and 9.75 as a lower support level about to be tested. Recall, that 9.75 level gets repeated as far back as 2010. One important difference this time, though: Ford stock has been accelerating its dive toward that 9.75 level; perhaps too fast to stop right at that level, or perhaps it's option expiration volatility in action.
Regardless of your own analysis or trend bias, the technical patterns and levels such as these that define the limits of any stock's price dynamics do not lie. It is the only real truth that we have. Support implies a level where buyers came in the market in the past; resistance implies a level where sellers took control. That being noted, Ford's stock pattern is still far from bullish.
Some traders, though, prefer to buy when all others have given up hope, especially the rookies and the uneducated; where their blood is in the streets as they say. Well, my own chart reading methods prefer to see proof of a turnaround let alone a pause, whether bloody or not.
Pages
Please
SHARE
with friends and include TorqueNews in
Google Alerts
for tomorrow's interesting stories.