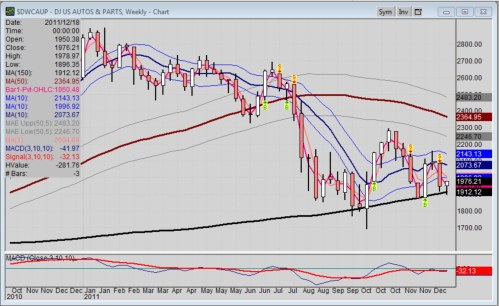 Auto Sector Stocks: investor resolution ideas for 2012
Please
SHARE
with friends and include TorqueNews in
Google Alerts
for tomorrow's interesting stories.
As a trader, I review a lot of stock charts, like the weekly chart of the Dow Jones US Autos & Parts ($DWCAUP), which implies I look for patterns and repeatable similarities as well as differences of price action. That's my personal research niche. Nonetheless, I also research many news and views by specialists about the economy, which is not my niche. Even there, I believe every trader has to have a method.
As the primary auto secor stock writer for Torquenews.com , I get quite a few letters. Problem is, I cannot legally advise on what to buy or sell; and I wouldn't if I could. I treat stock purchases like religion; meaning, it's private. Besides, following someone else is seldom in your best interest. Education, yes, blind following, no. What is in your best interest as an investor is to think fully and act fully on your own. That requires education and dedication. I hope the following resolution ideas help.
1) Develop a method to track the trend bias of the general market: I paid dearly for that advice. The mentor that I was assigned was very clear that trading against a trend bias was a clear violation of economic sanity. Fact is, only large hedge funds have the cash and the fortitude to stomach large drawdowns that naturally come with trying to be a contrarian.
Some people use a pay system like Investools or Vector Vest to know if the light is green, red or yellow. There is a cheaper way, though: use moving averages. The market majors are the 20-day, the 50-day and the 200-day. On the longer term, I prefer the 150-day, because I have witnessed its success via Carter Braxton Worth on CNBC's Fast Money.
2) Buy stocks only when the general trend bias is in your favor: Regardless of your system, just be sure to always honor it. For the record, Larry Connors of http://www.tradingmarkets.com/ has the data to prove that buying stocks only that are above their 200-day moving average make money than those that don't.
3) Learn to use options: Contrary to some beliefs, options are your friends, not your enemies. Options give you the right but not the obligation to purchase very expensive stocks with far less outlay of cash. Put options allow you to short a stock as well as perform as a hedge in case of downturn.
For more information, please visit the Chicago Board of Options Exchange website where there are free educational tools: http://www.cboe.com/
4) Let the fundamental research determine what you buy: Quality or what Jim Cramer of CNBC's Mad Money calls "best of breed" is best determined through research. There are many resources for this like, Investor's Business Daily and CANSLIM, Investools, Vector Vest, MarketWatch, etc. Regardless of what you choose, you still have to have a basis for choosing the best or a method to choose those that have potential to be the best.
5) Use technical analysis to help define timing or purchases and sells: W.D. Gann once wrote, "Time is more important than price." In that respect, a price-time chart becomes the basis for determining entry because it reflects the dynamics of prices.
T.A. requires a lot of study in the beginning. However, after some time, it becomes a part of you, rather natural. You begin to see repeatable price patterns, upswings, downswings, support, resistance. In time, you can learn to project.
Pages
Please
SHARE
with friends and include TorqueNews in
Google Alerts
for tomorrow's interesting stories.