Subaru has done it again with the Subaru WRX STI They just recorded the fastest-ever lap for a sedan at the Nurburgring today in Germany. This was the Prodrive-built STI Type RA specifically designed for this record attempt. When Subaru and Provide hook up, good things happen.
It happened today at the 12.8-mile Nurburgring Nordschleife race track. The STI driven by FIA World Endurance race driver Richie Stanaway from New Zealand, hit a record sub-seven time of 6:57.5. Subaru says this time was achieved using Nurburgring timing equipment and was officially verified by track officials today.
Dominick Infante, Product Communications manager for Subaru of America commented: "We brought the WRX STI Type RA NBR Special here to set a record and call attention to the WRX STI Type RA that we will launch later this year. The WRX STI Type RA promises a great deal, with improved performance and styling and even better handling dynamics than the current car."
The Prodrive-built STI Type RA is nothing like the production car. It runs a modified EJ20 2.0-liter WRC-spec boxer powerplant. It uses a 75-mm intake, the turbo runs at 250 psi of boost and pumps out more than 600 horsepower at 8,500 rpm. The STI Type RA NBR Special is a unique race machine, with the interior gutted, a full roll cage, special Dunlop racing tires, race suspension, engine mods, body kit, adjustable rear wing and a carbon fiber roof.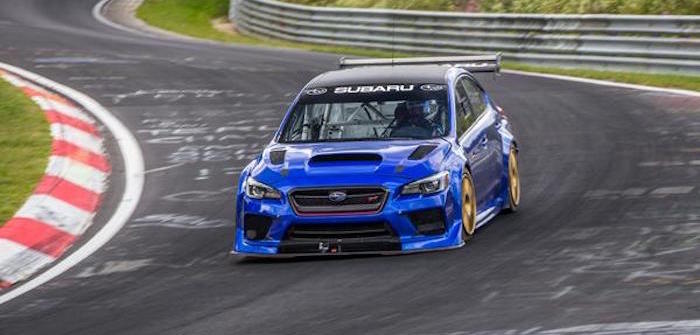 Prodrive calculated the top speed at the 'Ring' today to be 179 mph at 8,500 rpm in top gear. The STI used 9-inch-wide slick tires all around to keep it stable on the track at those high speeds. The specially-built 6-speed semi-automatic sequential transmission, modified with hydraulics for paddle-shift operation, shifts at a lighting speed of 20 to 25 milliseconds.
Prodrive and Subaru set another record run, now with the 2018 Subaru WRX STI Type RA NBR. The performance machine conquered the 12.8-mile (20.6-kilometer) lap around the Nurburgring Nordschleife in less than seven minutes. Next, Subaru will launch a 2018 WRX STI Type RA production model limited to just 500 examples. The performance car will be released early next year. A video of the record run will be released soon. Stay tuned.
Photo credit: Prodrive