If you've ever driven a car, you have been distracted while driving. It only takes a few seconds of taking your eyes off the road and the results can be deadly. The 2019 Subaru Forester SUV and new 2020 Legacy sedan both come with an available DriverFocus facial recognition technology that is designed to help with distracted driving and driver fatigue. Subaru's new DriverFocus was recently named Best Safety Innovation for 2019 by the Automobile Journalists Association of Canada (AJAC).
What does it mean for customers?
The new 2019 Forester SUV and 2020 Legacy DriverFocus is designed to help drivers who may be distracted. The vehicles have been equipped with a system that uses facial recognition technology to determine if a driver is fatigued or distracted. It's similar technology used on the new iPhone X and is the first of its kind in the compact SUV segment. More expensive cars like Lexus employ this type of technology, but Subaru offers it on the new-generation Forester and Legacy for under $40,000.
This technology is a segment first for Subaru. DriverFocus works with Subaru's EyeSight driver assist technology all with the purpose of reducing accidents. The system will also automatically adjust driver settings for seat position, door mirror angles, and air-conditioning preferences at startup. DriverFocus can recognize up to five drivers.
How DriverFocus works
DriverFocus provides support for the driver by providing a warning when it detects signs of distraction or drowsiness at the wheel. The safety system uses facial recognition software to identify signs of driver fatigue or driver distraction, and the 2019 Forester and 2020 Legacy come with a small infra-red camera mounted on the top of the dashboard and in tandem with its twin forward-facing EyeSight cameras, can detect when a collision is imminent, sound a warning, and even activate safety features such as emergency brakes.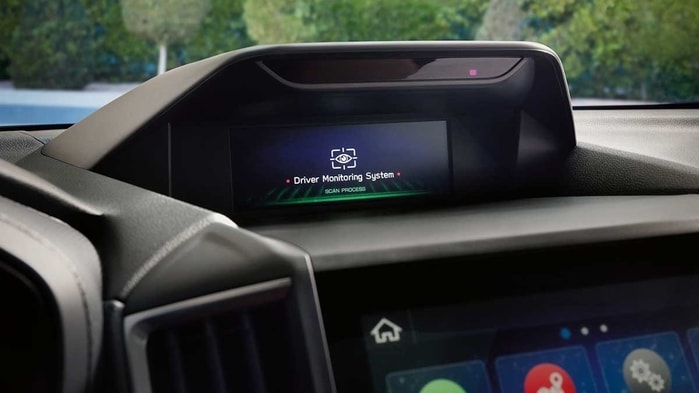 How do families benefit?
The new Subaru DriverFocus can distinguish between family members driving the vehicle with facial recognition using five parameters–relation between,, yes, nose, mouth and chin–and then it automatically adjusts the driver's seat and mirrors to suit that driver. Subaru says that the infra-red camera can even decipher identities when you are wearing sunglasses.
"The Innovation Awards now recognize safety, environmental awareness and technology," said Mark Richardson, president, Automobile Journalists Association of Canada. "This is an opportunity to recognize the very best and most innovative examples of new automotive products available to Canadian drivers."
Distracted driving can be dangerous
Whenever a driver does anything to divert their attention from the road, it's called distracted driving. Doing things like eating, adjusting the climate control, changing the radio station on the infotainment screen, or putting on makeup can all lead to being distracted. Driving while you are fatigued is common on a long road trip or commuting home after a particularly busy day at work.
The most dangerous activity done while driving is texting on your cell phone. According to the National Highway Traffic Safety Administration (NHTSA), the process of sending or reading a text can take a driver's eyes off the road for a full 5 seconds. If you're traveling at 55 miles per hour, that's the equivalent of driving the length of a football field while wearing a blindfold. The results can be deadly. The NHTSA reports that distracted drivers were involved in 3,450 traffic deaths in 2016.
Subaru Corp now offers this new safety feature on the 2019 Forester and 2020 Legacy for customers. AJAC names it the Best Safety Innovation for 2019.
Leave your comments below, share the article with friends and tweet it out to your followers!
Follow all Subaru news on Facebook, Twitter and Instagram
Photo credit: Subaru USA