Just when you think a model has reached the top and can't be improved on, BMW brings out the all-new 2016 7 Series luxury sedan and elevates their flagship model to another level. This week we test drive the 2016 BMW 750i xDrive and check out the new enhancements that sets this model apart from the rest. We'll see why it keeps pace with the competition.
What's new for 2016?
The BMW 7 Series has been fully redesigned for 2016 and gets standard long-wheelbase dimensions, a raft of new technologies and continues with proven powertrains. The 750i's 4.4-liter 445-hp V8 is a straight carryover from 2015 and that's a good thing for performance enthusiasts. Outside, the big sedan gets clean styling with an enlarged grille, which BMW calls an Active Kidney Grille, with flaps that manage airflow. The belt line is newly-sculpted, rising from the hood to the rear tail lamps. A chiseled strip of brightwork runs low along the side, running from the front wheel well. It's inside where driver and passengers will want to spend some quality time. We'll check out the new creature comforts.
Standard features
The 2016 BMW 750i xDrive comes loaded with standard features. This tester also comes with a plethora of options. First, the things you get for the MSRP ($97,400). 750i xDrive comes with 19-inch wheels, unique LED headlights, upgraded leather upholstery, 20-way multi-contour power front seats (with four-way power lumbar), a head-up display and a power rear-window sunshade.
Other standard features include run-flat tires, adaptive LED headlights with automatic high beams, automatic windshield wipers, LED fog lights, a dual-pane panoramic sunroof, auto-dimming, power-folding heated side mirrors, an adaptive air suspension, adjustable drive and suspension settings, front and rear parking sensors, power-closing doors, keyless entry and ignition, a power-adjustable steering wheel, wood trim, four-zone climate control, leather upholstery, 10-way power-adjustable heated front seats (with four-way power lumbar), driver memory settings and an auto-dimming rearview mirror.
Optional packages
This 750i xDrive tester came loaded with these options. The Autobahn package ($4,100) with variable-ratio steering and camera-based Active Comfort Drive with Road Preview system, which anticipates changing road conditions and adjusts the dampers accordingly.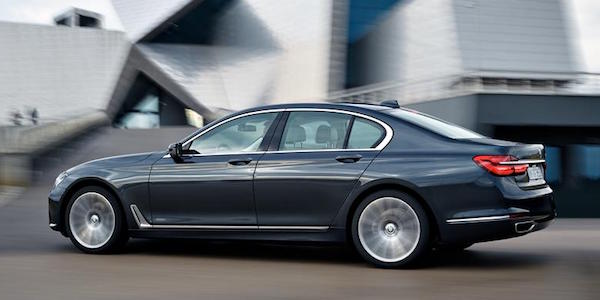 Driver Assistance Plus ($1,900) features lane-departure warning, speed limit info, automated parking, blind-spot monitoring, frontal collision mitigation with automatic braking and a surround-view camera with driver-selectable camera views.
The Executive package ($3,200) added power side window shades, ventilated front seats and extended leather trim with contrast stitching. The 750i xDrive's Executive package also includes massaging front seats.
The Interior Design package ($1,800) comes with custom wood trim and accents, an Alcantara headliner and wood-trimmed seatbelt covers (yes, really).
Other options on this tester were the Luxury seating with cold weather package ($3,900) with a heated steering wheel and front and rear heated arm rests.
Offered exclusively on the 750i xDrive is an Executive Lounge Seating package ($5,750 that added rear ventilated seats with a power-adjustable footrest, a foldable table, dual rear entertainment screens and rear massaging seats.
Other options included on this tester: 20-inch alloy wheels ($1,300), Sky lounge LED roof ($900), Bowes and Wilkins premium sound ($3,400) and NightVision with pedestrian detection ($2,300). Total sticker price including destination: $129,245.
Interior highlights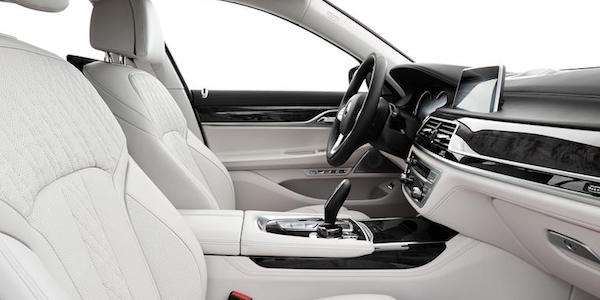 For this price you expect an extra level of attention to detail and the newly-redesigned 2016 BMW 750i xDrive does not disappoint. With the wood treatments throughout the cabin and Ceramic controls, it feels quite formal. The cabin is a place we didn't mind sitting in traffic this week. We cranked up the 16-speaker Bowers & Wilkins surround sound, turned on the heated and massaging front seats and whiled away the time relaxing in total comfort. While the rest of the drivers around us were stressed, we felt like we were at the spa getting pampered.
Add in things like ambient lighting, the available fragrance to personalize your car, and panoramic LED roof, and you've got the opulence that's expected from the BMW flagship. And that's just the front seat. When you get to the back lounging area, it gets even better. We felt like this car needs to be chauffeur-driven to fully appreciate what the luxury sedan has to offer. This was the only time I've ever been jealous of the back seat passengers.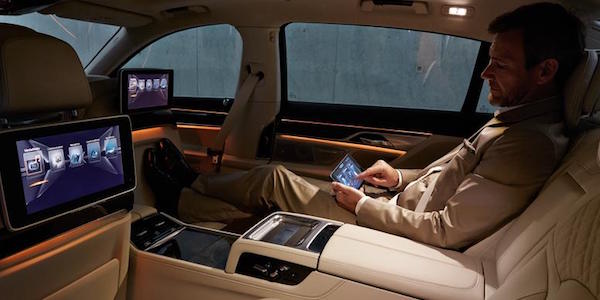 Our passengers this week got to enjoy an uncommon amount of attention and luxury as we drove to lunch. We took the long route so they could soak in the ambiance a little longer. They didn't seem to notice the traffic jam in Denver on 6th Avenue. The BMW 750i xDrive that's imported into the U.S. is the longer-wheelbase model. It features an inch more rear legroom. With the Luxury Rear Seating Package, the seats are heated all the way down to the armrests, and ventilated. This tester also came with the Rear Executive Lounge Seating Package, providing massaging rear seats and the right rear passenger gets another 3.5 inches of legroom and a footrest.
In addition to those extra luxury features, The rear seating area also gets a fold-out table and two cupholders. On top of the console resides a removable Touch Command Tablet that has a wireless hotspot for rear passengers. Our rear passengers were able to get a massage while they were online checking out the latest sports scores.
Rear passengers can also check their makeup on the duel rear vanity mirrors. If they get bored, a rear entertainment system is included to watch a movie. After the comfortable ride, all you need to do is barley close the doors and the soft-close feature finishes the job. The cabin is a most comfortable place.
Engine and fuel mileage specs
The 750i xDrive features an eight-speed sport automatic transmission delivering power to all four wheels., A TwinPower turbocharged 4.4-liter V8 engine provides plenty of power that delivers 445 hp and 480 lb-ft of torque anytime you need it. It also comes with Sport and Manual shift modes, steering wheel paddle shifters and Launch Control (yes, really). EPA fuel economy estimates are 16/25 city/highway and 19 combined mpg.
Driving dynamics
For those who are performance enthusiasts, the BMW 750i xDrive is a driving enthusiasts dream. For those who could care less, the 750i xDrive is a comfortable smooth ride that is tireless to drive with power when you need it. We are thankful BMW didn't change the 4.4-liter 445hp V8 engine in the big sedan. BMW says the 750i xDrive will sprint from 0-60 in just 4.3 seconds and we believe them. BMW's heritage is building sports cars and the new 7 Series gets every bit of that DNA. We pushed the big luxury sedan hard and it responded with incredible power delivery in every situation.
The 2016 750i Drive drives like a much smaller car and it made us forget it's such a big sedan this week. We would call this tester with the Autobahn package, a full-fledged performance car because of its impressive flat cornering attitude in the tight mountain curves. Press hard on the brakes and it slows the big sedan down quickly. Hit the pedal, and the 750i xDrive moves out like a vehicle half its size.
The head up display was useful and helped us keep our eyes on the road as we powered up I-70 into the mountains. It also displayed the current speed limit and our speed next to it. We wore sunglasses during the day and realized we couldn't see our speed at times and could at other times. On the drive home at night with regular glasses, we found out our current speed read-out was white under and at the speed limit, then it turns to red over the speed limit. With sunglasses we couldn't see the red as we exceeded the speed limit which was much of the time.
The Autobahn package's predictive suspension not only produces sporty driving dynamics, it also provides a ride that is supple on virtually all surfaces. The eight-speed sport automatic transmission comes with five selectable drive settings: Eco Pro, Adaptive, Comfort, Sport and Sport Plus. We left it in Sport mode most of the week because it delivered a perfect balance between gracefully soaking up the bumps while at the same time keeping body motions disciplined. We used the paddle shifters for more spirited driving this week. The eight-speed automatic is one of the best in the industry, delivering buttery shifts right on time. On the road, the 750i is quiet and we could barely hear any wind or tire noise.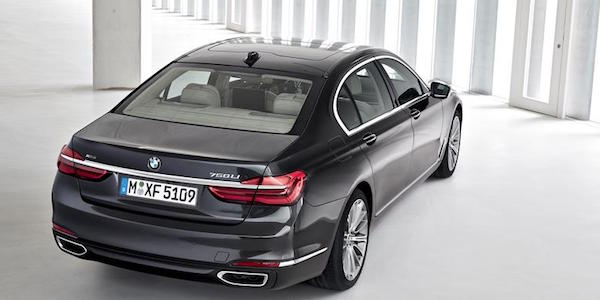 Conclusion
With abundant rear legroom, reclining heated and cooled massaging rear seats and rear seat technology and entertainment, the 750i with Rear Executive Lounge Seating, it's better to be driven around by a chauffeur. If you are a driving enthusiast, you won't mind being the chauffeur because with the Autobahn package and 4.4-liter 445hp V8 engine, the luxury sedan pegs the fun-to-drive meter. The all-new 2016 BMW 750i xDrive is an impressive machine that will compete with the very best from Mercedes-Benz, Porsche, Jaguar and Audi.
There's so much impressive technology on this 750i, we didn't have time to use all of it. If there's a downside to the new BMW flagship, it's that it will take time to figure out all the useful technology.
Check out more of the 2016 BMW 750i technology in the video below.