The new 2018 BRZ STI Sport will be unveiled at the Tokyo Motor Show along with the WRX STI S208 on October 25, and the new coupe is a preview of the new 2018 BRZ tS that's set to launch in the US. next year. The Japan-spec model reveals a few things about the special edition models (limited to 500 in the US) and future U.S. models. It also reveals changes made to the standard BRZ trims.
Subaru Corporation has been busy improving the BRZ's body rigidity which they say will enhance ride quality and handling stability of the BRZ STI. This should translate to all new 2018 models not just the special edition trims. The BRZ STI will get "exclusive suspension tuning" from Subaru Tecnica International (STI) for improved handling performance over the standard model.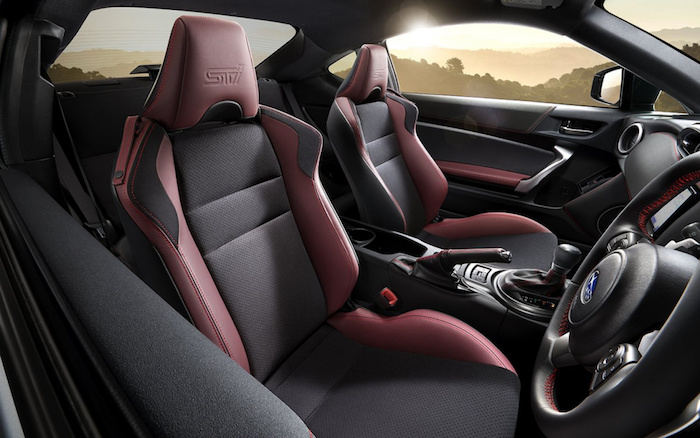 The Japan-only BRZ STI Sport will also get exterior and interior modifications exclusive to the limited edition sports coupe. From the image released this week, it looks like new BRZ STI will get new performance seats with the STI logo in special brown leather trim. Subaru will produce 100 Japan-only models in the Cool Grey Khaki exterior color. One of our readers reported the The BRZ STI can be purchased in the regular BRZ colors without limitation in Japan. Subaru has not announced any changes to the 2.0-liter boxer engine.
The U.S. spec 2018 BRZ tS sports coupe will be limited to 500 units and the coupe gets the same STI revised suspension, a new rear wing, and exterior upgrades, It will also feature new 18-inch lightweight STI wheels and Brembo brakes to round-out the BRZ tS performance package. But no power upgrades for this model either.
The 500 examples of the 2018 Subaru BRZ tS will arrive sometime in early 2018 as Subaru celebrates 50 years in the US. The rear-drive BRZ isn't due for a complete remodel until 2020, but look for all 2018 BRZ trims to get improved body rigidity which will enhance ride quality and handling stability over previous models.
Photo credit: Subaru Global